The Who Info Blog:
June 23, 2022
Pete Townshend - Psychoderelict - 1993 USA CD (Autographed)
Prior to Psychodelerict's release, I picked up a CD single promo copy (censored dialog/no dialog) of English Boy at a local record show. I remember the excitement of having brand new Pete Townshend music in my hands. I recall the dialog immediately rubbing me the wrong way as if "there's something here that doesn't belong" and ended up playing the non-dialog version over and over.
Fast forward to release day. At the time, only the dialog version (pictured below) was released as well as (2) two CD promo featuring the first CD with censored dialog and the 2nd CD, no dialog. I remember struggling a bit listening to the album with the dialog. It didn't seem "natural". However, after getting the promo (with no dialog), while I liked it and found parts not included in the dialog version, I felt there was something missing. After so many multiple listens, had I finally "bought in" to the dialog? (It seems I had.)
With each additional listen, I realized how integral and clever the dialog was to the music and began to enjoy the album more and more... The problem (for Pete and Who fans) is the vast majority didn't get that far. "Psychoderelict", allegedly sold only ~60,000 copies world wide. Was it the long gaps between Pete solo albums (i.e. Iron Man - (4) four years earlier?) or... The dialog? Apparently the record company realized "the problem" and released the non-dialog version with different artwork. However, it may have been too late. Fans just didn't give it a chance. If you polled Who/Pete fans about the album, you'd get a wide range of responses to "It's the next 'Quadrophenia' - absolutely brilliant!" to "I hate the dialog, I can't listen to it." ("Each to their own sewage.")
Some of you may recall, Pete went on tour with the "actors" from "Psychoderelict" and put on a series of brilliant shows (which cost Pete more money than he received - at one point, Pete "joked" that he was paying people to come see him).
The tragedy of the commercial failure to sell the album resulted in a future with no more Pete Townshend albums (of new material). Like it or not, the album is extremely creative and features some of Pete's best work. Dialog (or not). After putting in this kind of effort, Pete no longer bothered. Some of you may recall that several years ago, Pete was extensively working on "Floss" (The Tooth Opera? :) ), but what happened to that? Did its songs get cannibalized for Who? As some might say... SAD!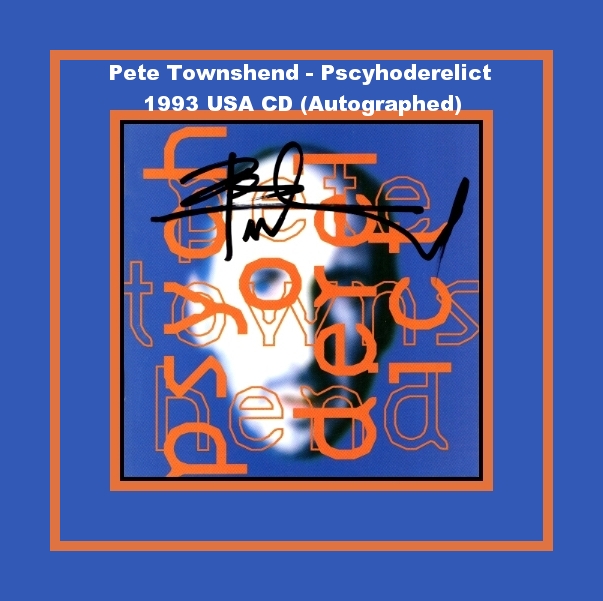 -------------------------------------------------------------
June 22, 2022
The Who - I Can See For Miles - 1967 Portugal 45 (EP)
What looks like an ordinary 1966 (or reissue) The Who LP, but is actually a very rare Portugal EP loaded with John Entwistle tracks? Often overlooked (perhaps due to their rarity) are the fabulous EPs and singles from Portugal. Mostly unique onto their own, this unassuming 1967 EP is no exception.
Its common LP cover miniaturized as an EP includes, I Can See For Miles, "Boris The Spider", "Whiskey Man" and "Someone's Coming". Not just a rare combination of songs, but 75% John Entwistle tracks... Not only are these tough enough to find, but even tougher in great condition.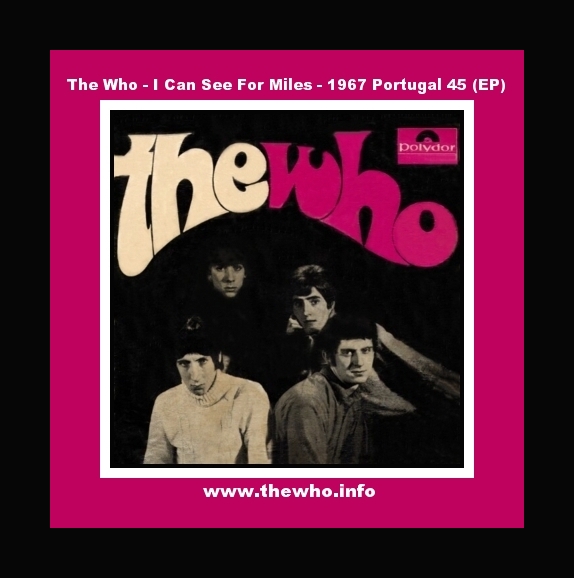 -------------------------------------------------------------
June 21, 2022
The Who - Raw - 1976 Canada LP(s)
If you take a peek at my live section, you might not guess that I was never a fan of audience recordings. Starting with LPs, I bought these albums in the hope that one might actually sound good (but they really never did). So for years, I had them more for "nostalgia" and "reference" purposes than for any other reason.
Fast forward to the website... Somewhere along the way, I thought it would be a good idea to not only give "sound quality ratings", but to provide "sound samples" (30 second clips), so the visitor could make up their own mind. As I started to record these albums, I have to admit that I began to enjoy these historic performances, even though the quality was "less than perfect". In fact, for the purposes of "web site demonstration", even on some of the "stinkers", the quality is good enough and enjoyable to listen from your computer speakers. After all, how can "getting a taste" of a 1975 Who concert be a "bad thing"?
For close to (40) forty years, I've had the blue splash wax version of "Raw". Other than the cool artwork and colored wax, I never thought much of it. However, when I saw a friend post his red wax version in a Who forum, I put that on my "mental list" of items I needed. Fortunately, another friend just went through his collection and I spotted the pink cover art from his photos. Sure enough, it was the red version! (Apparently some of these have printed designs vs. blank labels in either color).
Hence, I proceeded to record sound samples of The Who's great performance from December 11, 1975. The LP is not the complete show, but very cool as is...
The track list is: I Can't Explain, Substitute, My Wife, Baba O'Riley, Squeeze Box, Behind Blue Eyes, Dreaming From The Waist, Boris The Spider, Magic Bus (and you can find sound samples of all of these... here).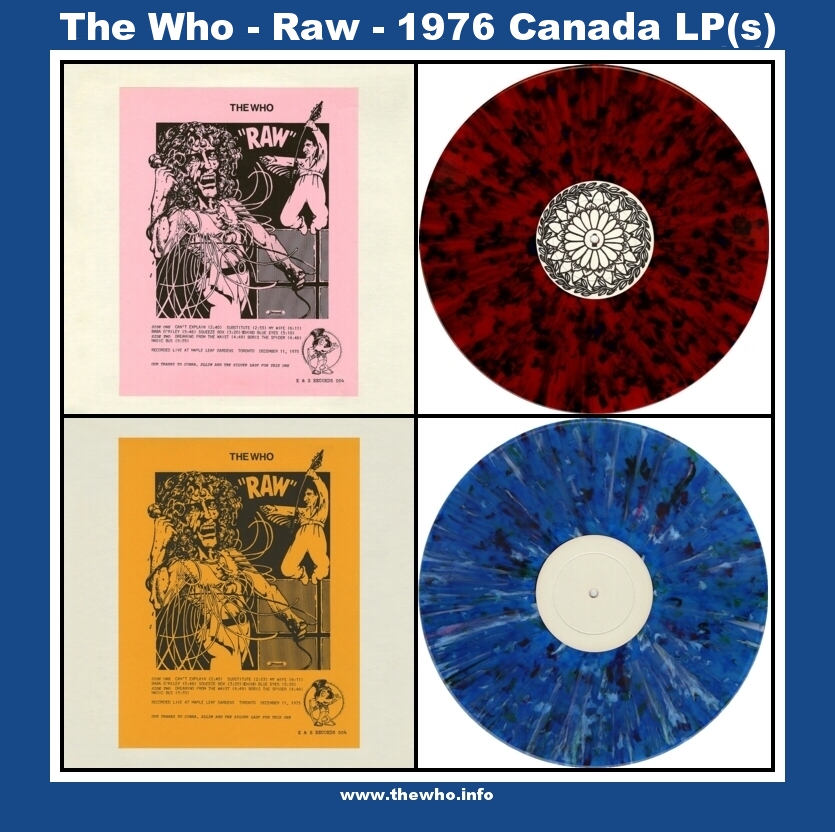 -------------------------------------------------------------
June 19, 2022
The Who - It's Hard - 2022 Germany Record Store Day (RSD) LP
In 1997, I was chatting with someone in "The Who Camp" on the other side of the pond, who informed me that, "The remix/remaster of Face Dances and It's Hard has been cancelled." I hadn't heard this, but I got on the phone with my contact at MCA in California and he said, "Bullsh*t, MCA and Polydor have a contract and we ARE re-releasing these albums!" (Note: This was prior to the (2) two record companies merging.) Shortly thereafter, I got a call from the UK and... "It seems the project was back on."
With that being said, I was asked for recommendations for live bonus tracks. At the time, I thought the use of the "It's Hard" tracks from the Orlando, 1982 show would be outstanding (little did I know then, that all that would be included from Orlando was the Pete Townshend "Magic Kingdom" sound bite!). At one point I was on the phone with producer Jon Astley and remix engineer, Andy Macpherson, who both explained that the "It's Hard" tracks from Toronto were remixed and they came out fantastically. Somehow the conversation turned into the studio tracks from "It's Hard" and almost by way of passing, "Oh, and did you know that on the multi-track of Eminence Front, there are unused Roger Daltrey lead vocals?" Whaaaaat??? Hold the press! Can they still be mixed for a bonus track? "No, sorry, it's too late now, there's a schedule to keep..." I also learned at the time that there was a version of One Life's Enough with Pete Townshend on lead vocal. Wow! How do we get those tracks released??? Well... That was 25 years ago...
Fast forward to 2015... After the successful My Generation remix, we started discussing a new Rarities album to essentially, "clean the vault" of remaining rarities." One of the first tracks I recommended went back to the 1997 conversation of "Eminence Front". I recall getting a phone call from Jon and Andy (who had just remixed it) and they said, "You're going to disappointed." Why??? What happened? "Well... there weren't enough vocals for 100% Roger lead, so it becomes a duet." Roger and Pete vocals? Wow! That's even better! Some of the best Who songs feature dueling Roger and Pete vocals (can you say... "Naked Eye" or "Bargain"?) When I was sent a copy, I was absolutely in heaven. It exceeded all of my expectations (a 30 second sound bite doesn't do it justice). The exchange of Roger and Pete vocals is pure "Who heaven".
Last year I was told the record co wanted to release a 40th anniversary "It's Hard". Both the Roger vocal "Eminence Front" and Pete vocal "One Life's Enough" were already in the bag... There was supposed to be a disc of newly released live tracks (i.e. "Athena"), but unfortunately, that got shelved.
The RSD release is really great. nicely packaged (also includes an exclusive Poster). (You can read further comments on the It's Hard page.)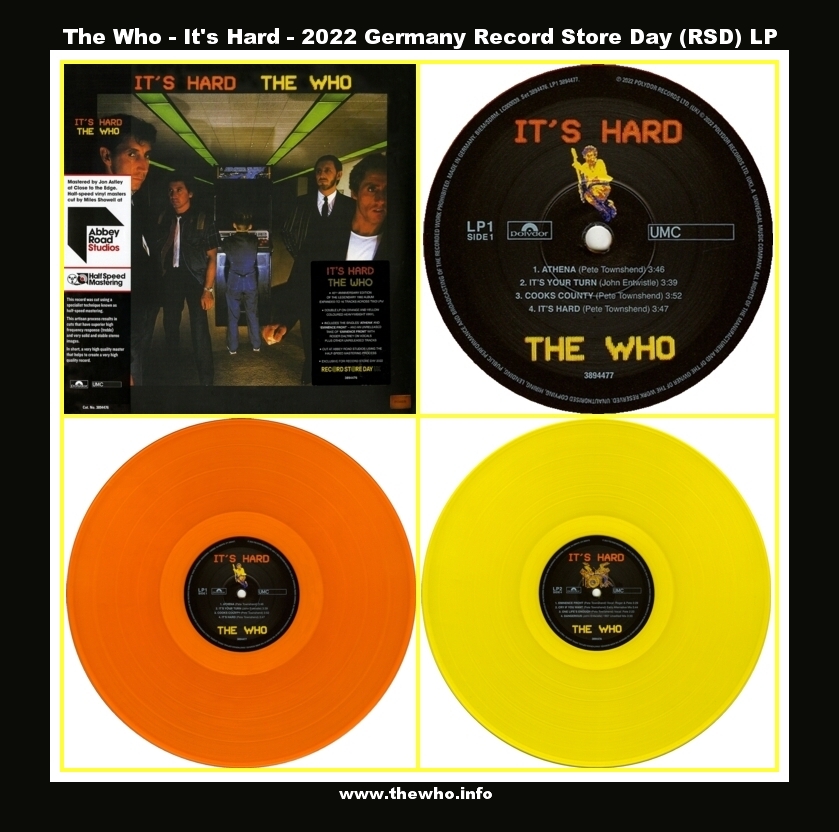 -------------------------------------------------------------
June 17, 2022
The Who - Young Man Blues - 1970 USA 45(s)
Way back in 1984... I was at the Montvale, NJ record show (which was held often) and spotted the promo version of Young Man Blues. How much do you want for it? "Let's take a walk... OK, here's the deal. I will sell it to you for $40, but you have to come to my store in Montclair, NJ tomorrow (Monday) and I can't discuss it with you any further now." Sure... So, I continue my shopping, scratched my head a bit and showed up at the guy's store the next day.
I have your $40, but what's this all about? As he hands me the record, he says, "Moments before you walked in, I bought this record from the seller right next to me for $5. If he knew I flipped it for $40, he'd kill me!" No problem... At the time, $40 was the going price and even back then, it was a rare and "hot" collectable. I was pleased...
Fast forward several years... It seems that Decca had made a stock copy (intending to release it), but the plan was aborted. Copies existed, but in small numbers. The first copy I saw had no picture sleeve and was sold for about $500. At the time, I neither appreciated the value nor was excited by expensive singles without sleeves. At some point, copies with sleeves were being sold on eBay (very few and very far in-between). My first (2) two tries were failures as they sold just above my bidding price (a little over $700 each). With many years going by, another opportunity presented itself. At this point, I was prepared to "go to the mattresses" and ended up winning an expensive bidding war. Other bidders must have felt like I did and seemed to go all out. I never really like to overpay for anything, but the goal posts have moved on this one and its rarity/value increased quite a bit. Looking at it another way... when "collectors" are willing to pay ~$700 for a <homemade> fake Mexican picture sleeve, this turned out to be a "bargain"...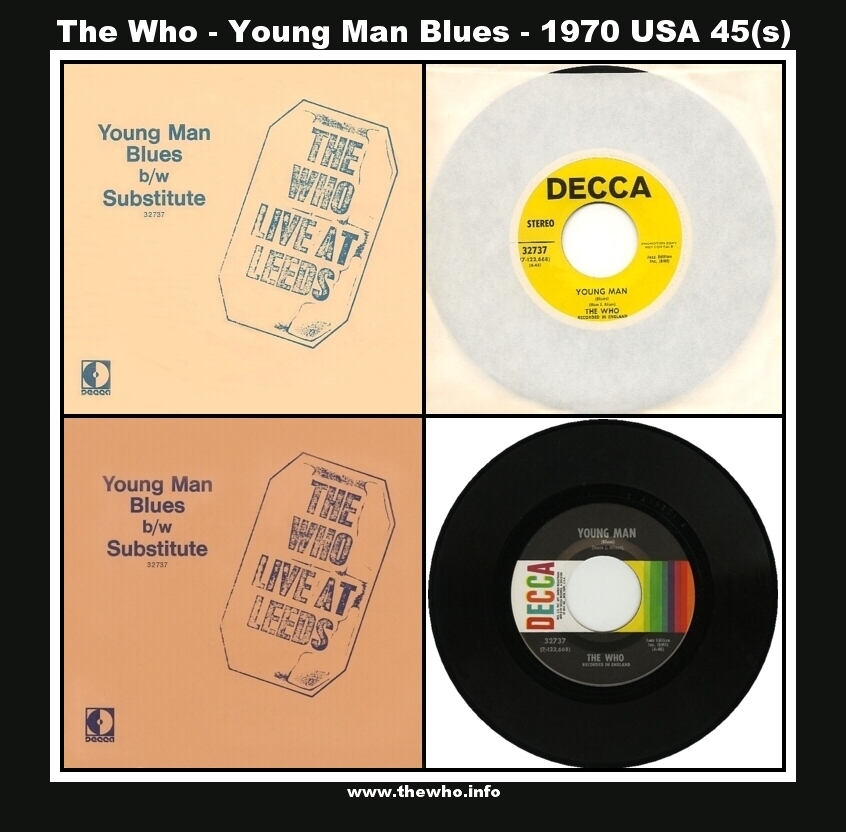 -------------------------------------------------------------
June 16, 2022
The Who - A Quick One - 1970 Malaysia LP(s)
Malaysia is an interesting country for Who releases. In addition to sharing some production with Singapore and Hong Kong (on several releases), they seem to mix it up a bit in terms of "official" and "unofficial" releases. In the matter of A Quick One, they released it on both Polydor (official) and SAS (unofficial) labels.
While the rest of the world was struggling to figure out mono, fake stereo and true "A Quick One" stereo tracks, Malaysia released them in <mostly> true stereo. The Polydor release uses the Germany printed cover as well as the Germany master tapes (but the vinyl is pressed in Malaysia*). These feature true stereo (except for "See My Way" and "So Sad About Us"). SAS then came along and produced a semi-knock off, utilizing part of the artwork (which actually emanated from the later UK Backtrack series), but also added the titles (in reverse side order) on the cover (note: The LP itself is in the correct running order as evidenced by the label).
The same <Polydor> artwork was used in Germany, Austria and Italy, but extremely tough to find from Malaysia. This may have been the only copy I've seen. The SAS label version is very rare, but I have seen multiple copies over the years. So... there you have it (unless you don't).
* When I first saw this LP listed as "Malaysia" (and never seeing it before), I actually argued with the seller telling him this is a Germany LP. He kept insisting I was wrong and... he was right! I went back and compared labels between the other pressings and sure enough - this was unique - so... I grabbed it.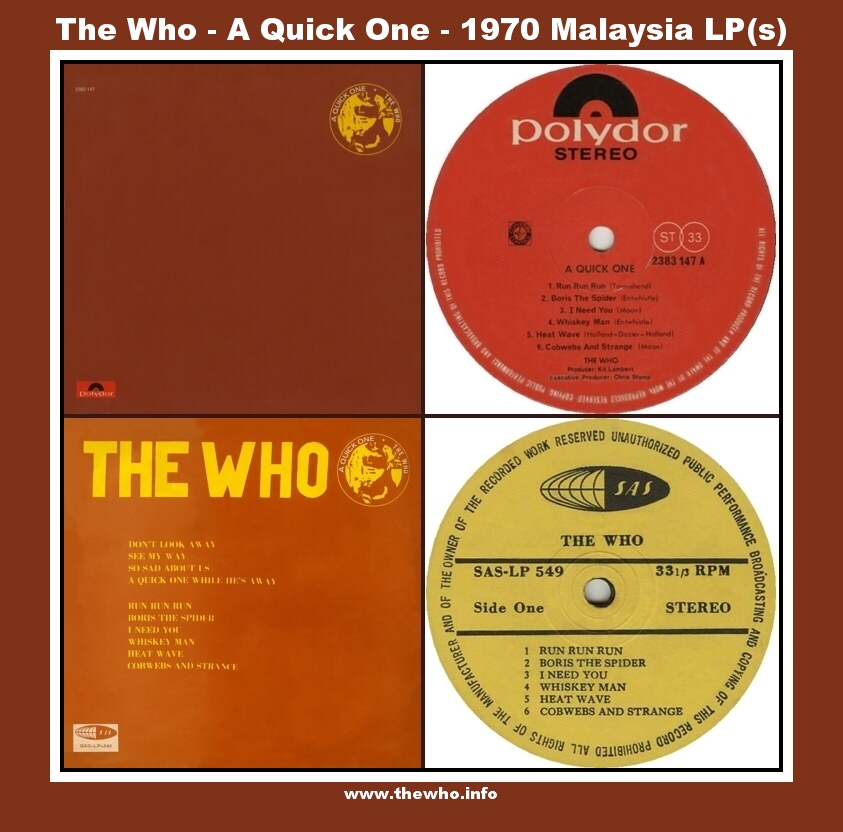 -------------------------------------------------------------
June 15, 2022
The Who - I Can't Explain - 1965 USA 45(s) Promo(s)
I Can't Explain - the tale of (2) two Townshend's... Until recently, I never really cared about minute variations - i.e. it was "good enough" to have (1) one copy of a single like this, regardless of the minor differences. As time went on, it has become more and more difficult to find new and interesting vinyl items (although collecting The Who always seems to be endless). So, why not go back and take a look at these kinds of variations?
As it turns out, I had (3) three copies of this promo (but I never really bothered to take a close look). As it came to my attention that some of the early Who releases had misspellings (i.e. Daltry vs Daltrey, Entwhistle vs Entwistle) there was also the Townshend with (and without) the "h" (Pete spells his name, "Townshend", not "Townsend" - although oddly, his father, Cliff is always credited as "Townsend").
So, (as I do care now) pictured here is the first USA Who single promo (released in either December, 1964 or January 1965) with a "Townsend" and corrected "Townshend" version(s).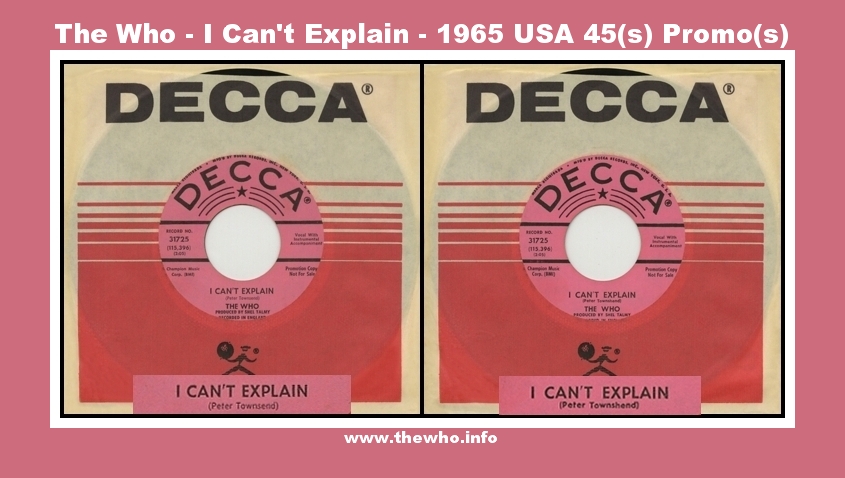 -------------------------------------------------------------
June 14, 2022
The Who - Meaty Beaty Big & Bouncy - 1971 Greece LP
This is another cool variation of Meaty Beaty Big & Bouncy. I tend to prefer the "reverse cover versions" (where The Who are on the front cover). However, this version doesn't even have the title on the front cover. The back cover has the title, but entirely printed without color.
I really love Greece Who albums and singles. They tend to be different than the standard releases and as a collector, interesting variations are always great...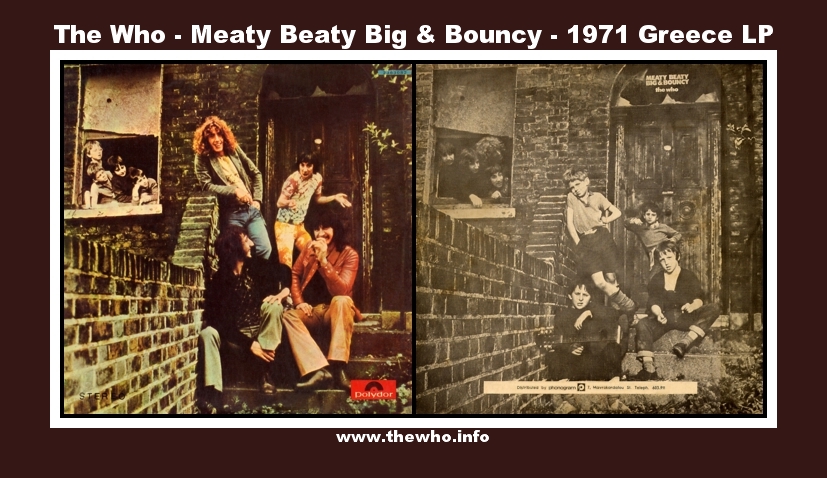 -------------------------------------------------------------
June 13, 2022
The Who - My Generation - 1965 Mexico 45 (EP)
"Con Coros y Conjunto" translates to "With Choirs and Ensembles". However, I'm not sure what that has to do with this EP (or for that matter, the woman on the cover)... The titles on the cover are also semi-reversed. Side (1) one actually is My Generation, followed by "Out In The Street", not the other way around. Explanations and corrections aside, this is a really cool EP, sort of in the vain of the Japan My Generation LP (but with no pictures of The Who on the cover)...
For me, getting this was a matter of "three times a charm" (and all three on eBay). The first time I saw it, I lost the auction. It sold for ~$100, which now doesn't seem to be all that much, but 20+ years ago, seemed <somewhat> high. The next shot, I won the auction. However... The "seller" actually hijacked a legitimate account and was running fake auctions. After some ado, I got my money back, but I was really hoping to get the EP instead. Finally (and probably within a 3-year span), I got the EP and probably for about $120... It seemed to take forever to arrive (about a month), but well worth the wait! As they say in Galaxy Quest, "Never give up; never surrender!"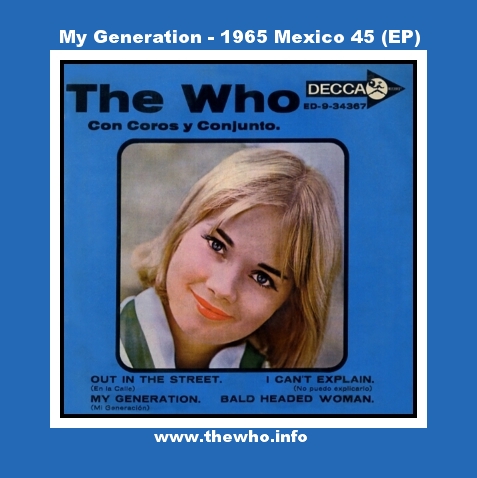 -------------------------------------------------------------
June 10, 2022
The Who - Les Who - My Generation - 1965 France / Belgium 45
This is another one of those confusing import/export 45s. If I recall, I bought one copy at an Utrecht Record Fair and another online. At some point, several people (who were original owners) had to explain this to me, because 20 years ago, it didn't make much sense.
For starters, this sleeve and record (My Generation/You're Gonna Know Me (Out In The Street)), was released in France as promo. The same sleeve (made in France) was also exported to Belgium, but combined with an imported Germany record (My Generation/I'm A Man).
Collectors love to say, "...have you checked Discogs?" As I was writing this, I was curious what I would find there. It seems it's listed under France, but in the comments section folks are fighting over the origins. I hope this helps clarify the same.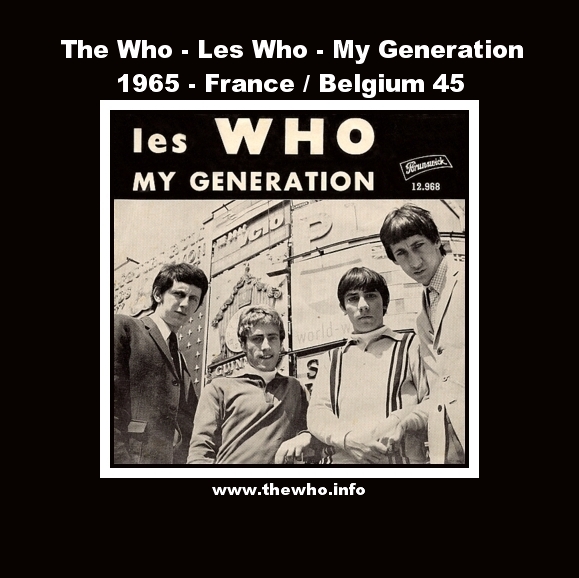 -------------------------------------------------------------
June 9, 2022
The Who - Tommy (Sound Track) - 1975 Austria LP(s)
In the winter of 2002, I was on a quest for the Austria pressing of The Who By Numbers (black cover). I had a list of Austria record stores in Vienna and sent out a bunch of emails. I got lucky and found one (and for only $25). Before we got into shipping details, I asked if he could hold it for me, I was going to make arraignments to pick it up. As it turned out, there was a record fair the following week at the Wiener Stadthalle (Vienna). It was December, I had never been to Austria before and I heard Vienna was a beautiful city.
As it turned out, the nice Mercedes cab ride was about the most I saw of Vienna (and the little I saw was beautiful). It was freezing cold, but not cold enough for me to walk several blocks to this great record store to pick up my "The Who By Numbers" they were holding for me. While there, I grabbed some other items I didn't have and at the same time, gazed at the alternate cover (Tommy Soundtrack) (pictured right) for the very first time. Wow! This is the rare, Club Edition. My price? Another $25. The store had several things I wanted and all of them priced so low. The only bad part was facing the freezing cold to get back to the hotel...
The record fair at the Stadthalle was OK. It was relatively smaller than most of the other European fairs I attended and mostly dealers from Germany and Austria. I managed to find a few more things and I didn't stay too long. An interesting aspect of the location was that The Who had played there in 1972, 1980 and 1997 (prior to my visit and 2016 thereafter).
A long flight (x2), quick scenery, extremely cold weather, good food, some great Who records and a bit of Who history. Not a bad trip at all...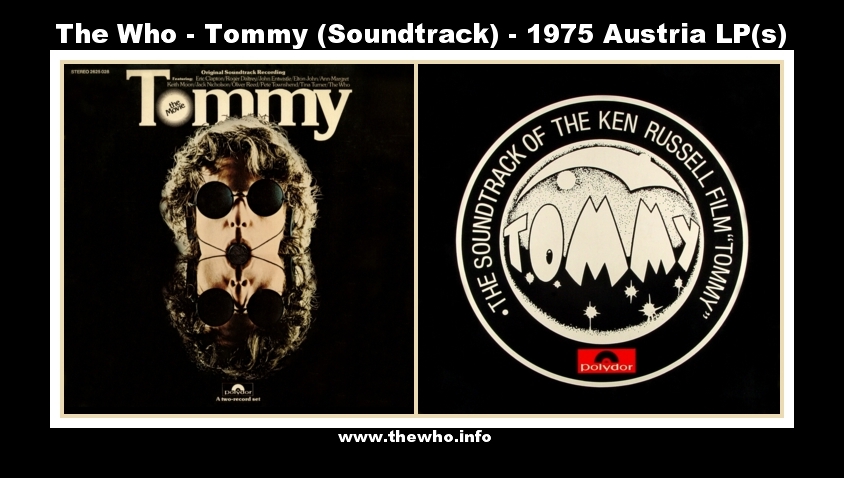 -------------------------------------------------------------
June 8, 2022
Pete Townshend (Sewing) - 1966 UK Press Photo
After the September, 1995 Who Convention, I had a few days to spend in London before traveling across the English Channel. At the Convention, all of the collectors I met said, "You have to go to Hanway Street for all the little record shops!" Great, that's exactly what I wanted to do! :) One of the <now defunct> stores, was Vinyl Experience. A nice shop with (2) two floors. They were selling Who box sets called, A Quick Sell Out (which included a book, t-Shirt, CD of The Who Sell Out, etc). With box in hand, I explored the rest of the store. On the 2nd floor, there was a poster section. Included in their selection was this fantastic poster of Pete Townshend using a sewing machine. However, there were no prices on their posters. For some collectors (i.e. myself), having to ask the price typically gets dicey. I had no idea if they wanted 10 or 150 GBP and I was thinking about how I was going to get it safely home with ~(8) eight more days of travel throughout Europe. So, I didn't even ask and I completely passed.
For 20+ years, I never found the poster again. One day, I saw the same picture as a press photo being sold on eBay. Wow! Couldn't wait for it to arrive. I made an oversized scan of it so I could send the same to a canvas poster maker and now I have it hanging on my office wall.
Back in the 1990's, I had no idea that I might never see something again (which I took for granted at the time). In this case, the store made (or purchased) a custom poster that wasn't commonly sold. 20+ years is too long to wait for something you really want. Life is too short...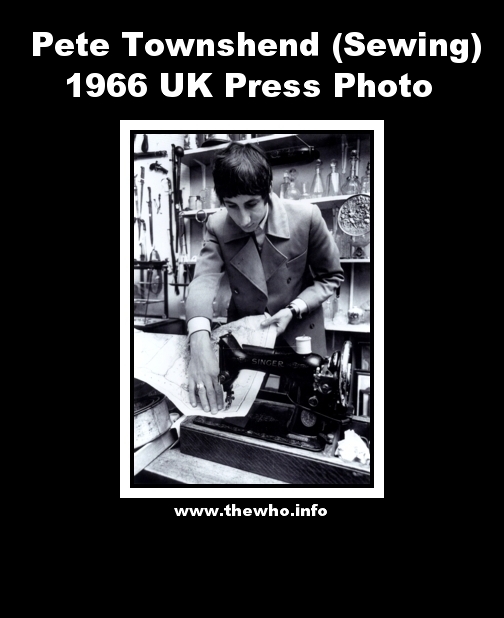 -------------------------------------------------------------
June 7, 2022
The Who Sell Out - 1967 Mexico LP (Promo) (USA Export)
"Latest from The Who" is the translation of "Lo ultimo de The Who". Coincidentally, this just arrived from Mexico, so it is my "latest". I spent quite a while carefully scanning it as this is the only copy that I have seen to-date and I'm not aware of The Who Sell Out being issued in Mexico (although it is possible <but not likely> it may exist).
Exporting music (records/tapes/CDs) from one country to another is something that commonly happens (i.e. most of the "UK" Who CDs are made in Germany). This particular LP started out as a USA, mono, banded (each track is completely separated and the songs don't run into one another) promo and apparently sent to Mexico, possibly for radio station promotion. Theories aside, it's pretty cool!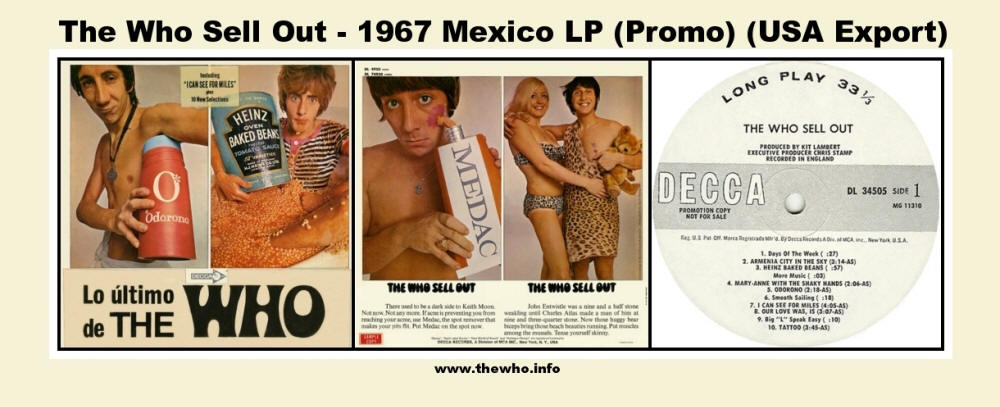 -------------------------------------------------------------
June 6, 2022
The Who - Who Are You / The Kids Are Alright - 1978 / 1979 USA Cassette(s)
Everything starts somewhere... As I mentioned in a previous post, I didn't start listening to music until I started driving (i.e. music and cars). While most kids in their tweens began their music development, I was too busy engaging my wits on the CB Radio. I was certainly aware of music, forced to take music lessons, etc. - but I had no interest what-so-ever. The moment I got my driver's license, all that changed. Perhaps a factor of ADD, multi-tasking, etc., but as soon as I was behind the wheel, the radio was on. My father loved "big band", jazz, etc. and I absolutely hated it. What seemed to be played on the radio at the time, were tracks from Billy Joel's The Stranger. Songs like "Moving Out", the title track, "Just The Way You Are", etc. Great lyrics that at the time, I couldn't get enough of. My second car had a cassette deck in the glove box. I always saw those ads for the "tape of the month club", so I sent my penny in and received like (12) twelve tapes. ELO, The Cars, Joe Jackson, David Bowie, Boston, J. Geils Band, etc. My commute to high school was about 30 miles each way, so these tapes got worn out pretty quickly...
In my freshman year of college, Who Are You was just released and the air play from the title track saturated the airwaves. At first, I didn't like the song (too may "who who" in the lyrics), but it grew on me. I used to play pinball a lot (coincidentally, Captain Fantastic was my favorite machine) and the place that had all the video machines was then playing Had Enough all the time. I thought perhaps it was time to buy the tape and see what else was on the album.
There was a large, discount department store chain called, Korvettes (long defunct) that had a decent record and tape department and was sorta in-between home and school. I bought "Who Are You" there. Once inserted into my cassette player, I was in love with the music. When I occasionally tried to switch to another band's cassette, it seemed weak in comparison and "Who Are You" got reinserted. At some point about (6) six months later, The Kids Are Alright came out and I bought that cassette. Some of the tracks seemed poorly recorded (they were) and others were absolutely fantastic. I remember playing "Baba O'Riley" and "Won't Get Fooled Again" over and over and over again. Could music really be any better than this?
I had actually been "exposed" to The Who since ~1967. My ex-sister used to constantly play her stereo and it would "bleed" through my bedroom wall. I heard a lot of I Can See For Miles (top 10 hit) over and over as a kid. Ironically, when I was 16, I dated a self-described "Who-Freak". But, since I didn't listen to music at the time, we didn't have that in common and when we broke up, my ex-best friend (at the time) started dating her! (He was into The Beatles, she into The Who (no wonder they didn't last). She and I became friends again many years later...)
As my musical listening habits seemed to revolve around these (2) two tapes, my best friend at the time, Bobby The Clown, kindly offered to make me more Who tapes. He had seen The Who in 1968 and was a huge fan ever since. The first tape he made for me was Quadrophenia. I was absolutely amazed over it. How could music be this good??? At this point there was no going back. Every time I tried listening to another band, it was like "OK", but weak in comparison to The Who. If you drive a Porsche, but get a Ford as a rental/loaner car, it's OK, but you just want to get back in the Porsche. It's the same thing.
When people ask me, "Don't you listen to anything else?" Sure. I listen to Roger Daltrey, Pete Townshend, John Entwistle, Keith Moon and Simon Townshend <solo> music. Part of the greater "Who family", but with some diversity... "Each to their own sewage..."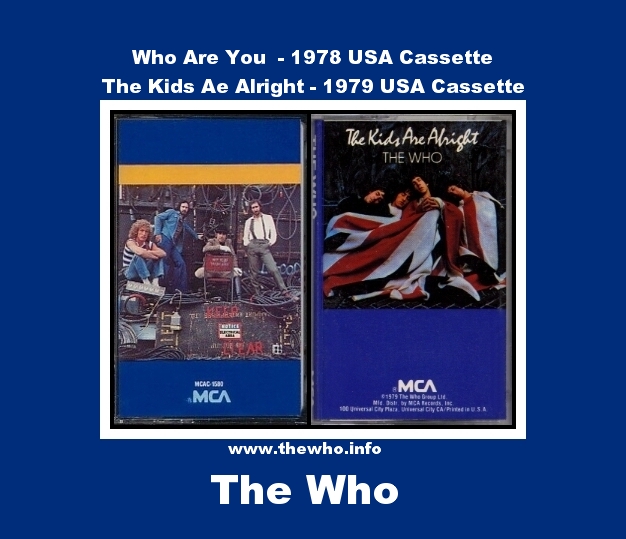 -------------------------------------------------------------
June 3, 2022
The Who - Live In Orlando, Florida - November 27, 1982
My first Who concert was supposed to take place at Madison Square Garden in 1979. However, "...here by the sea and sand, nothing ever goes as a planned..." By the time, The Who "Farewell Tour" was announced, there was no doubt in my mind I was getting tickets and going. I remember waiting on line to get tickets for what was a 64,000 seat, sold-out, general admission show. I bought (2) two tickets, but the show was over a holiday weekend and everyone I knew (living in Florida) was traveling home to see family. It probably was just as well because what happened that day was too much for some folks.
Florida is a pretty big state, but with great highways. It probably took about 3-3.5 hours to travel from Miami to Orlando, early on a Saturday morning. I found my way to the <then> Tangerine Bowl (a very large football stadium) with no problems and found myself a "spot" on the field at about 10AM. At the time there were many people there, but nowhere near capacity.
As the day progressed in the Florida heat, the crowd began to pack it in. Staff on the stage used water hoses to cool the folks up front down. When it was mid afternoon, people began to pack in even tighter and the shorter people in the crowd had trouble breathing and they passed out. Bodies of people were being carried overhead to the stage.
Joan Jett was the first opening act and sounded terrible. It was as if she was just screaming in the mic. The crowd had no tolerance for her and began pelting her and her band members with anything and everything. Shoes, ketchup, etc. The band were using their guitars to protect their bodies. After about 20 minutes they gave up.
The next band to come out was The B-52s. They actually sounded really good, but it didn't matter. This crowd didn't care and they received the same treatment as Joan Jett, except they didn't make it past (3) three songs. Kind of a shame since The Who weren't going on stage any sooner and there wasn't a whole lot to do, stuck in the middle of a rowdy crowd.
As the time for The Who to get on stage approached, the tight, packed crowd became worse. I was originally about (10) ten people deep from John Entwistle and with the crowd pushing and shoving, I somehow managed to be (3) three people deep. After seeing passed out bodies of people lifted to the stage and now this, it was easy to picture another Cincinnati (1979) tragedy all over again.
So, The Who came out and roared right into "My Generation". Wow! There was John Entwistle in his Too Late The Hero outfit and I was standing right in front of the band while everyone in a crazy crowd was going wild. The Who had just rested for several days in sunny Florida and their performance was completely outstanding. Everything you could possibly want (other than Keith Moon) was present at this show. From start to finish an entire show of pure energy and excitement. An entire day you can never forget.
It was a long drive home after the show, but I finally saw The Who and it was fantastic...
The set list was: My Generation, I Can't Explain, Dangerous, Sister Disco, The Quiet One, It's Hard, Eminence Front, Behind Blue Eyes, Baba O'Riley, I Can See For Miles, Drowned, Tattoo, Cry If You Want, Who Are You, Pinball Wizard, See Me, Feel Me, 5:15, Love Reign O'er Me, Long Live Rock, Won't Get Fooled Again, Squeeze Box, Magic Bus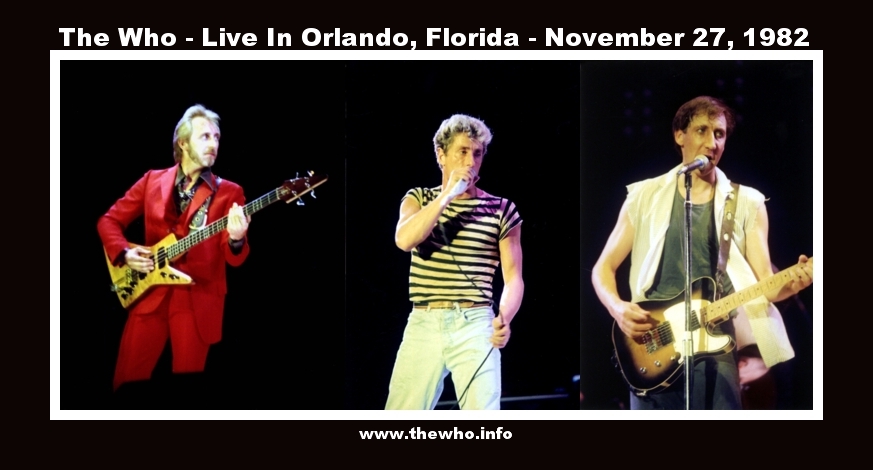 -------------------------------------------------------------
June 2, 2022
The Who - The Illustrated Biography - 1982 Book (by Chris Charlesworth)
It was the Fall of 1982. I was living in Coral Gables, Florida (Miami) and my passion for The Who was growing by leaps and bounds. Perhaps grad school and the beaches weren't enough. I didn't listen to music until I was 17. For me, music and driving always went together. So... the moment I got my driver's license, that all changed. If I was driving, I was listening to music and by this time, exclusively The Who.
I'm in Florida with lots of roads and scenery to explore. I never liked to wander aimlessly, but rather "mission driven". I initially started collecting Who records to increase my "play list". So, my driving became a hunt for record stores and at the time, the greater Miami area was loaded with them (really good ones too!).
Ironically, with all the great independent stores I found, I bought my first ever Who book at the <then> local Specs store. Specs Records & Tapes was a chain store like Sam Goody. I had no preferences at the time. I just wanted to "buy stuff".
This book was an absolute pleasure to read. I knew so little about The Who then (the music, stories of concerts from friends, etc.), and now I understood the history and felt like an even bigger fan. To this day, it's one of my favorite Who books, because the tone, positive outlook and great Chris Charlesworth writing. If you want to learn about The Who, start here...
The "red" book pictured (right) is the German language version. It ended up being an "eBay hoax". After buying countless items on eBay, I saw this as a "buy it now" for ~$5 USD. The seller had used some type of software, which changed the price at checkout to over $300. Apparently, they weren't in the business of selling "discount books", but fraud. This type of fraud was so new, that eBay and PayPal didn't understand it. It took about (6) six weeks, but I got a full refund and I got to keep the book for my troubles.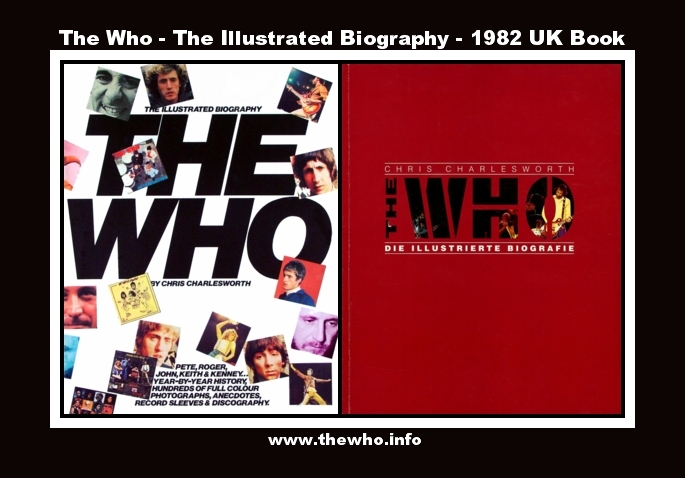 -------------------------------------------------------------
June 1, 2022
Eric Clapton's Rainbow Concert - 1973 Israel and Venezuela LP(s)
Without getting into the story of how Pete Townshend intervened and saved Eric Clapton's life, this is simply about the alternate cover art of the album (and featuring Pete Townshend)...
I've never been a fan of this album. While it features Pete Townshend, I can't really hear him in any meaningful way. Pete's played other concerts with Eric Clapton, where Pete actually performed songs (i.e. Baby Don't You Do It). However, what I really like about these (2) two LPs is the cover art. Not only do they feature Pete Townshend prominently on the cover, but they added a rainbow. The Greece LP version also uses similar cover art, but without the rainbow. After all, it's the rainbow concert, why shouldn't there be a rainbow on the cover? A bit odd that Israel and Venezuela are the only (2) two countries to use this particular artwork, but it is what it is...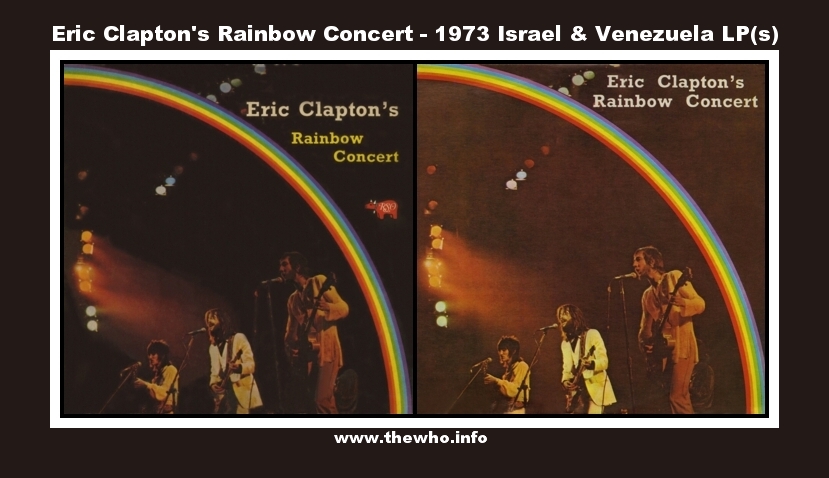 -------------------------------------------------------------
May 31, 2022
The Who - Anyway, Anyhow, Anywhere - 1965 UK 45 Acetate & My Generation (Deluxe Edition) - 2002 USA CD (First Pressing)
Now here's an odd comparison... What do these (2) two releases have in common? First, is the 1965 acetate. If you look closely, it is actually titled, "Anyhow, Anyway, Anywhere". (Also notable is that the "b" side is "Anytime You Want Me" - which was how the actual single was released in North America vs. the UK.)
In 2002, the first USA pressings of My Generation (Deluxe Edition) also had the wrong title. This time, "Anyhow, Anywhere, Anyway". The day it was released I called my contact at MCA and informed him thusly. They made an immediate change and corrected the title for all subsequent copies. Unfortunately, nobody spoke to the nice folks at Polydor, UK. The 2002 promos and the subsequent 2003 pressings of their version went uncorrected. <Picard> happens...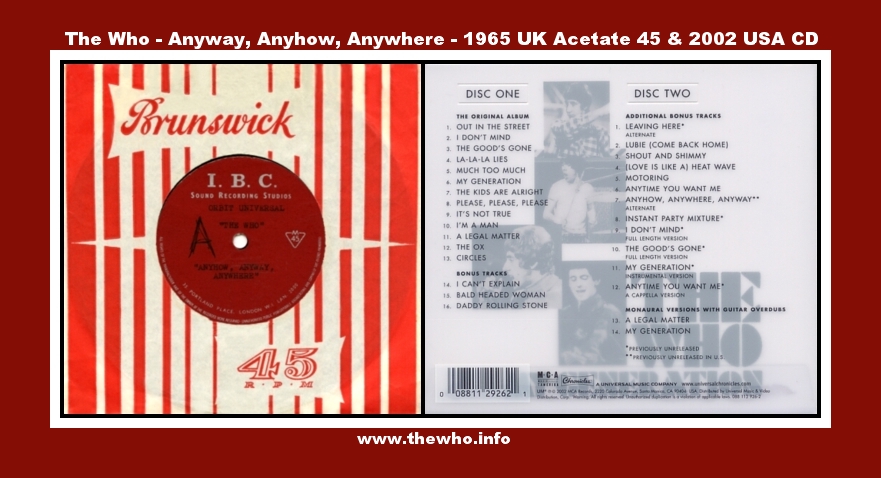 -------------------------------------------------------------
May 30, 2022
Pete Townshend - All The Best Cowboys Have Chinese Eyes - 1982 Test Pressing LP
About 40 years ago, I read in a Who discography, that there was a track called Vivienne, left off at the last minute of All The Best Cowboys Have Chinese Eyes. I believe it implied or stated that this rare track could be found on the test pressing versions. Fast forward, there was a big Who auction (which I believe was advertised in Goldmine Magazine) in the 1990's by a record store in Colorado called Black And Read. Included in the long list of items, was... the test pressing.
By today's standards (i.e. eBay) It was an odd auction because you phoned in your price. In fact, on a few items, there were multiple callers bidding at the same time and the "auctioneer" went back and forth on these. At one point, I was bidding on several items against another bidder and suggested that he take X and I'll take Y and a deal was made... However, this item, I wanted and wasn't going to give up. Fortunately, I seemed to be the only bidder and probably paid about $120.
When the records from the auction arrived, I immediately grabbed this one and put it on the turntable. hMMM... No "Vivienne". Not on the spot where its supposed to be, not anywhere. It's listed on the cover (last track, side 1 of a rearranged track listing), but not on the vinyl...
I ended up obtaining various UK and USA test pressings, none of them had the track. An interesting cover... yes. But, not the result I wanted. Fortunately, in 2006, Vivienne was finally released as a bonus track on the USA and Germany CD releases.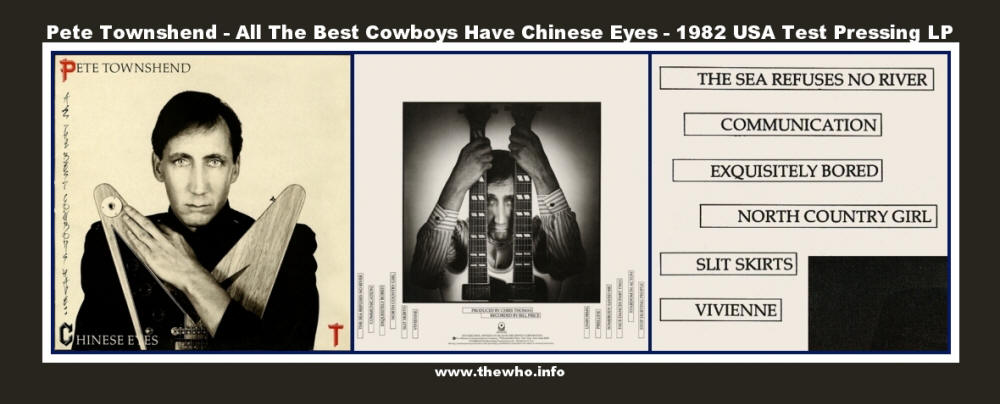 -------------------------------------------------------------
May 29, 2022
The Who - Who Is This? / Live In Munich - September 4, 1972 - 3 LP Versions
For years, a good friend of mine insisted I buy Who Is This? on the Rubber Dubber label (left). At the time (+20 years ago), he was really big on Who LP bootlegs and this may have been his favorite. Yesterday I had the privilege of receiving the version on the right (Circa 1980), so I pulled out the other (2) two LPs and recorded sound samples to compare. I hadn't played any of these in many years, so it was nice to get a fresh perspective.
As my friend rightfully pointed out, the Rubber Dubber label version was superior to the "copies". It's in stereo, the other (2) two are in mono. They all share the same track list, except that the version on the right is missing "I Can't Explain" and includes a 2nd LP of The Fillmore East concert. Clearly, the Live In Munich LP is a copy of Rubber Dubber version and even though the cover says "stereo", it's not. The 1980 reissue appears to be a dub off the "Live In Munich", oops...
So, I recorded a bunch of sound samples from each, which you can listen to yourself to "compare". Enjoy!
Addendum: Sound samples have been added for the CD, Olympic Magic Bus, which appear to be a lift from "Live In Munich" (center).
-------------------------------------------------------------
May 27, 2022
The Who Sell Out - 1967 Thailand 45 (EP)
I always loved mini-album covers on 7" singles/EPs. The Who Sell Out from Thailand is no exception. I'm pretty sure I bought this for like $50 (or less) on eBay circa 1998. I may have seen (1) one other copy since then. It's very rare... Check out the track listing of: Armenia City In The Sky, Mary-Anne With The Shaky Hands, I Can't Reach You, Spotted Henry, Odorono. Pretty cool...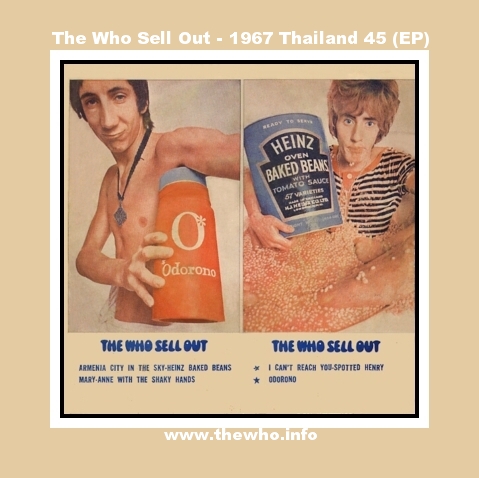 -------------------------------------------------------------
May 26, 2022
Pete Townshend - I Won't Run Anymore - 1989 UK CD Single
Way back in 1989, A Friend Is A Friend, the first single from Pete Townshend's Iron Man was released as a 7", 12" and CD single. Sometime thereafter, I recall being in a small shop in Greenwich Village, NY and seeing the 12" of I Won't Run Anymore hanging from a rope with 2 clothespins and bought it. A nice single, but no sign of a 7" or CD single like "A Friend Is A Friend". Also surprising... there was no bonus track(s). OK, it is what it is and I'm happy to have it regardless.
Sometime in the summer of 1995, I learned that there not only was a 7" and CD single, but that the latter had the Dig demo as a bonus track! The same demo was included on the Timothy White Iron Age radio show, but only about 1/2 of it. It seemed crazy that with all the record stores and record shows I attended over that ~6 year period, I never came across this CD single. I was on a mission to track it down.
OK, it's now September, 1995 and I'm going to the Who Convention in Shepherd's Bush (UK). A (10) day European trip to record stores and record fairs. Surely, I would find a copy of this single. As <bad> luck would have it, I found a ton of other items, but not this. As irony had it, after I returned, I was on the phone with my friend, Greg (CVC Collectables) and was telling him about the trip, all the records I found, etc and mentioned my frustration with the CD single. "Oh! I have that!" Really? Do you want to sell it? "No, I only have one copy and..." So, like the Who shirt story in Utrecht, I ended up making Greg an offer he couldn't refuse and he sent it to me. Finally!
Fast forward to 1998 and the early days of eBay... Look at all the copies of "I Won't Run Anymore"! This is one of those examples of "over compensating" as a collector because you tried so hard, failed and now it was raining what you were "desperate" to find. I think I ended up with (6) six to (8) eight copies... (and they were all relatively cheap!) I also obtained the 7" (UK & Germany) to complete the "collection".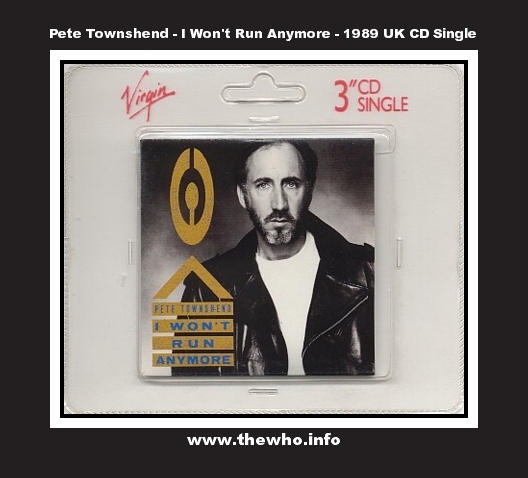 -------------------------------------------------------------
May 25, 2022
The Who - Picture(s) Of Lily - 1967 France 45 (EP)s
"From wiser folks who've been through it all..." Picture? Pictures??? If I recall, I bought "Pictures" (plural) in a New York City shop in the early 1980's. Nice EP, another notch on the France EP collection, etc...
Fast forward to the late 1990's. eBay - the best invention that ever happened for collectors. I must have scrolled past quite a few of the "Picture" EP, without even noticing it's different. When you are looking for so many different (and new) items, you tend to not have the time for "close examinations" of items you "think" you already have. So, I completely missed the fact there were two versions...
In March of 2001, I successfully re-launched my website. With that, lots of emails from Who fans around the world with comments, questions, arguments and lots of stuff in-between. So, someone wrote me and said, "You are missing the France 'Picture' EP." I wrote back with the link that 'Pictures' was on and said, "No, check again..." Sure enough, after a brief conversation, he explained the difference. hMMM... Wow!
Of course the item you are always looking for just happens to disappear when you want to buy it. It took me a while, but I tracked down a nice "Picture". If you look at the two EPs carefully... Besides the "S", there are slight placement differences. I am grateful for the "wiser folks" (who've been through it all) to help "push me" in the right direction when I needed it.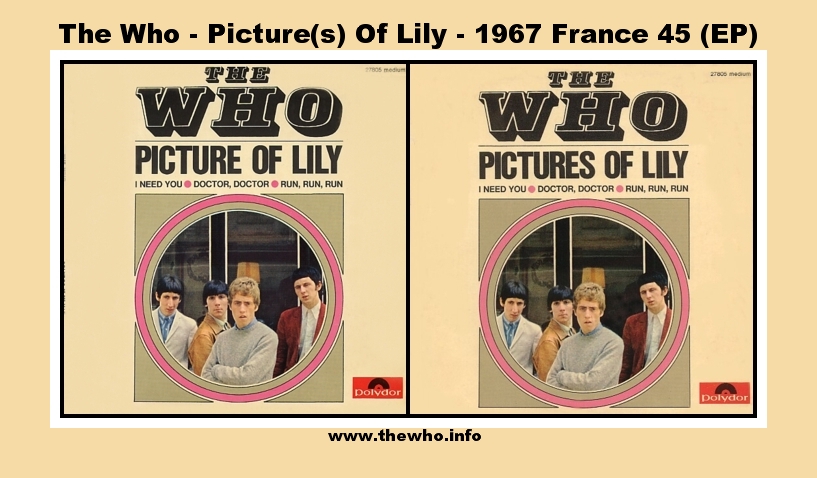 -------------------------------------------------------------
May 24, 2022
Roger Daltrey - 1983 - Parting Should Be Painless Outtake Reel
I bought this sometime in the 1990's. I don't recall if it was at a record show or perhaps the early days of eBay. Occasionally I would see studio reel-to-reels for sale, but at the time, I didn't have a deck and had no way to play/record them. I probably paid less than $100 for it and was intrigued by the fact it said "outtakes" on it. So, thinking "one day" I might have the opportunity (to do something with it), I bought it. The only person I knew (at the time) with a professional reel deck, was my friend, Phil in Miami. He actually had a recording studio in his bedroom, which was always a really cool thing. It was probably on the 2000 trip to Florida to see The Who in West Palm Beach (and other things), that I brought the reel with me in the hope that Phil could dub the contents. Once Phil got the reel on his deck (an Otari MX-5050), the "fun" began. Nothing was coming out. Was the tape wiped? As we heard "nothing", we saw the meters move ever so slightly. Phil turned the volume up and there was a faint recording way down in the bowels of the tape. As it turned out, it was a low-fi analog mono guide. The tape box was marked "digital" and we suspected the tape was an odd digital format and therefore incompatible with the Otari.
Every now and then I would do some research to figure out what format this tape actually was. I came across an article about Roger Daltrey's recording sessions and apparently they used a Mitsubishi X-86 digital reel-to-reel to make their master tapes. So, after owning this tape for ~15 years, I tracked down a studio in Queens, NY, which happen to have one of these rare/odd machines. The engineer loaded the tape and sure enough, perfect sound came out of the speakers.
Getting the damn tape to play (with the right equipment) now seemed easy, but unraveling the mystery of its contents was the "nail biter". There was only (3) three songs on this tape, was all this trouble worth it?
As the tape played and I listened carefully... Track 1: One Day. hMMM... nothing special. Perhaps a slightly different mix. Track 2: Walking In My Sleep (same reaction as "One Day"). Track 3: Don't Wait On The Stairs. I'm thinking at this point, what a waste of time and money. Mystery solved, but... as in who cares? However... "Don't Wait On The Stairs" is DIFFERENT!!! Not only was it more musical, but it was over 30 seconds longer! My first reaction was, why is this the outtake instead of the album version since it's so much better???
Anytime you thinking about buying something like this, there's always risk. Old tapes, incompatible equipment and... At the end of the day was it something special or just another "box of tape" with a fancy label? In this case, I am really happy with it even if its just for one song. I love Parting Should Be Painless and this version of the song is great.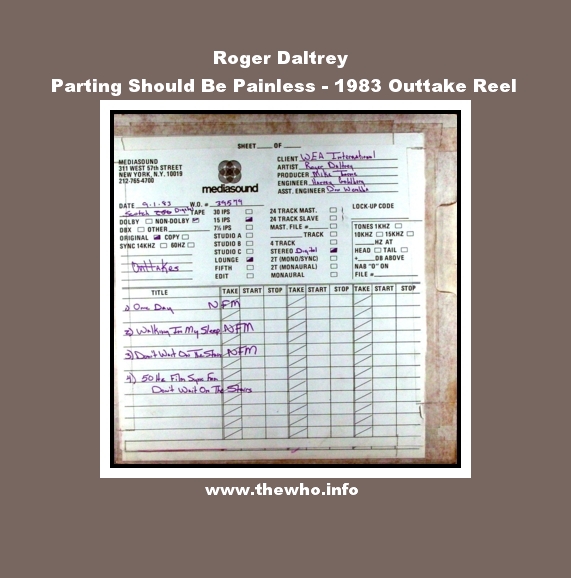 -------------------------------------------------------------
May 23, 2022
The Who - 2000 Tour Shirt & John Entwistle - 1988 Tour T-Shirt
I met my friend Bjorn (from Holland) at one of The Who 2000 "shed shows" in the New York area. He was wearing the shirt on the left, which they sold at the concession stands. After the tour, I saw one on eBay and bought it. It was so bright and colorful, it was almost like a walking "billboard" for The Who. I always wore "Who shirts" to record shows. It was a way of tipping off merchants as to what I was looking for. Sometimes it started conversations leading to, "I think I have something rare you might be interested in..." and most times... nothing. So, at the November 2002 Record Fair in Utrecht (Holland), I thought it was a good idea to wear this shirt. The weather at that time of year could be like Fall or Winter - that year it was like Winter.

While at one table, there was a guy standing next to me trying to speak German to me. I understand a little German, but not enough to have a conversation. The table owner was from Holland, who spoke German and English. He said, "That gentleman is interested in your shirt." Tell him I said, "Danke". "He wants to know if he can buy it." Buy my shirt??? Why would I want to sell him my shirt? Thanks, but no thanks. "He said he will pay you 50 Euro." No thanks, not interested... It seems he wouldn't take "no" for an answer and kept "bidding" up his price. I really had no intention of "selling my shirt" and I kept saying "no". Finally, when he got to 100 Euro, I saw that look in his eye. He REALLY wanted it. I tried to put myself in his position thinking, what if I really wanted something and someone kept saying "no"? I thought <perhaps> I could always find another shirt. At this point, it wasn't about the money (I'm fairly confident he would have paid me 300 Euro or more). I decided to sell it to him for the 100 Euro. I literally sold the shirt off my back. OMG, was this guy so happy. I couldn't understand his words (other than many "Danke!"), but the look in his eye made it worth it. On one hand, I felt stupid, but on the other, I felt I did a "good deed" to another collector.
Fortunately, I had my trusty, John Entwistle 1988 tour t-shirt underneath. This is a really cool shirt as it glows in the dark! However, after I was done shopping and wanted to make the sprint back to the hotel, I stepped out into light, freezing rain with just a t-shirt on. Oops. Obviously I survived and so did the shirt.
Fast forward, I found another shirt on eBay for about $20. Unfortunately, I had a cat who was spraying and he decided to "pee" on the shirt. Washing it didn't get the "smell" out and the shirt had to be tossed. However, I did find yet another one for about $50 (also eBay) and I still have that one.
PS: I used to refer to Bjorn as "The Mayor of Utrecht". Almost every time I went there (which was 2x a year for many years), I'd run into him! Small Who world...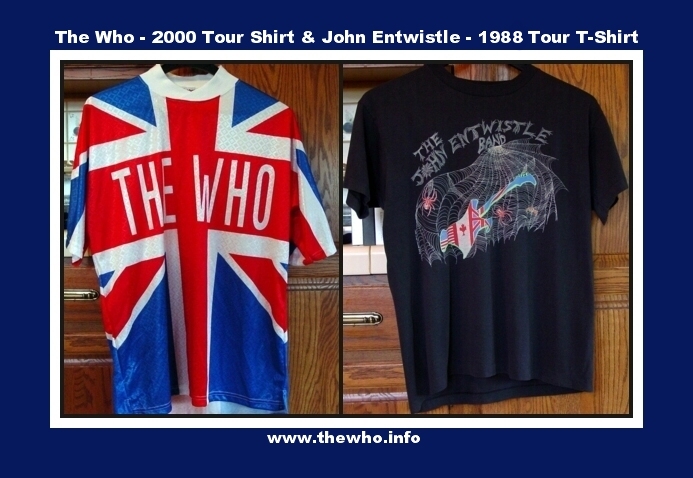 -------------------------------------------------------------
May 22, 2022
The Who - A Legal Matter - 1966 Holland 45 (EP)
One of the rarest of The Who EPs, I somehow ended up with (2) two copies. If I remember correctly, my first copy came from the early days of eBay (circa 1998). That copy was not quite "pristine" (i.e. the kinda collectable you are very happy to have, but hope one day you can upgrade) and then (if memory serves me), when a friend (who had one of the nicest and largest Who collections on the planet) decided to sell off his collection, I believe I may have purchased this copy from him. So, I have (2) two... Collectors generally have duplicates for a variety of reasons: Hoarders; intend to trade some day (but never do), savers (I better save it because nobody wants it right now but someday they will); bargain (I can't believe how cheap this is, just one more copy...); rubber band snapped (I searched so long to find one copy and look - here's another) and so on... I do try to resist the temptation to obtain duplicates. Sometimes there's an extraordinary deal online and and I have to say, "I'm sure it's going to a good home..." :)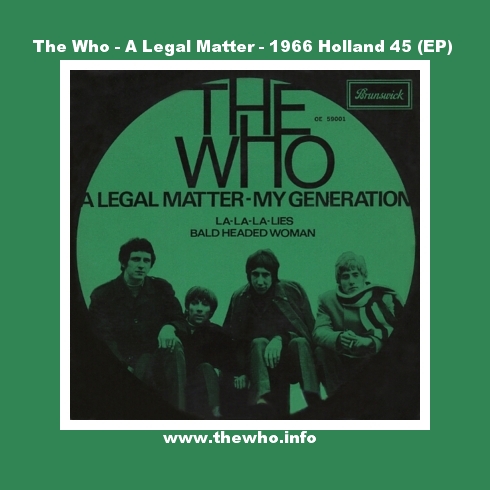 -------------------------------------------------------------
May 21, 2022
The Who - You Better You Bet - UK / Hungary / Portugal (Promo) - 1981 45(s)
On the left is the UK single of You Better You Bet which shares the same artwork with (11) eleven other countries. I was never a big fan of the photo used. John and Pete look great, but Kenney and Roger should have been "posed" much better. On the other hand, look at the great artwork of the Hungary single (center). Extracted from the Face Dances album cover, upfront and colorful. Lastly, a rare Portugal promo (right). Similar layout to the Hungary 45, but utilizing different background colors and print. The Hungary copies are fairly easy to find and no Who collection should be without one. Portugal promos are extremely rare and were issued both with this sleeve and a miniature "Face Dances" sleeve.

-------------------------------------------------------------
May 20, 2022
The Who - Battle Of The Who & Jimi Hendrix - 1971 Japan LP(s)
"I always feel I must get things in the can..." Way back in the mid 1980's, I used to frequent all of the record shows in greater New York City area. There were always tons of Who stuff, including many items I now regret not buying (i.e. concert posters). What I did see occasionally, were these odd Who records "in the can". At the time, they were priced at ~$75 each and as I skipped right over them, I would always say to myself, why would I want a Who record in a can??? There was something about them I just didn't like and never bothered.

Years later, other collectors would ask me, "How come you don't have... ???" hMMM... So, I added them to my list an eventually tracked them down. Prices of course were no longer $75, but rather more like $200-$300 at the time...Basically, you have a studio version (left) and the live version (right), whereas the latter is Live At Leeds and the former just a collection of songs from 1966-1969 (plus Jimi Hendrix content).

I've learned to appreciate them over time and for whatever reason, the live version's price seems to have grown much higher than the studio version and is in greater market demand... I just picked up a nice ad for the series (pictured center), which is also kinda cool...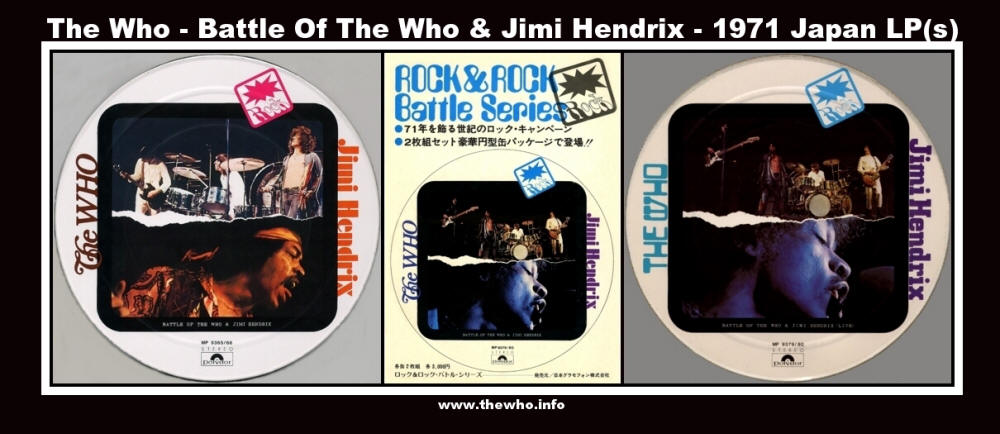 -------------------------------------------------------------
May 19, 2022
Roger Daltrey - 1995 - The Wizard Of Oz In Concert
The end of 1995 saw a flurry of Who activity, but not in the traditional sense... On September 10, Pete Townshend played a small set with Paul Simon at the Paramount in New York (sort of a mini-set of what was yet to come the following year at The Supper Club). On September 16, The Who Convention in Shepherds Bush, London, UK and... Roger Daltrey in a various artists production of The Wizard Of Oz In Concert. I was fortunate enough to see all (3) three. The show was at the Avery Fisher Hall at Carnegie Hall on November 5 and I had no idea what to expect. Roger was going to perform and (at the time), that was good enough for me.
The show was extremely well done. Jewel played Dorothy, Jackson Browne the Scarecrow, Roger Daltrey the Tin Man and Nathan "Birdcage" Lane was the Cowardly Lion. It was great and each performer stood out in their role. However... the moment Roger stepped on stage to sing, If I Only Had A Heart, he brought the house down. The volume was up, the mic was swinging and he sang his heart out. A true Who performance for a classic role. Unfortunately, the video versions of the performance don't share the volume increase or the sudden rush Roger created when he came on stage and started singing, but it was there in person. This was a one-off show for charity and I'm really glad I went.
(Incidentally, today is Pete Townshend's birthday!)

-------------------------------------------------------------
May 18, 2022
The Who - A Quick One: 1974 USA LP b/w The Who Sell Out & 2022 Germany 1/2 Speed <Stereo> Master LP
"There are black cats, Cheshire cats, tricky cats and kitty cats..." (unused lyrics from the 1st Pete Townshend demo of "Run Run Run")... Back around 1980, after my initial 1978 Who purchases of Who Are You and The Kids Are Alright (cassette tapes), my friend Bobby The Clown started making me cassette tapes from his Who LP catalogue. I recall how fantastic it was to hear Quadrophenia for the first time and so much other music I never heard before (other than The Who radio hits). At one point, he made me tapes of The Who's "older music" (the first four USA Who LPs: My Generation, Happy Jack, The Who Sell Out & Magic Bus). He dubbed them from the 1980 "double LP reissues" (see pic). These albums didn't have the feel of the 1970's albums and I quickly dismissed them as "not good". Fast forward two years later... I was living in Miami and began to shop at the wonderful Yesterday and Today record store. The owner was a Who fan and the store was full of Who collectables. During one of our many conversations, we discussed "older Who" and he was surprised that I didn't like any of it. When he questioned what I had listened to, he basically said, "...that's junk!" And then he began my "education" about sound quality and imports.

In his Who bin, he had LPs from the Phases box set (at the time, "Phases" wasn't a great seller and he did better selling the albums individually). He strongly recommended I "give a try" to one of the early LPs and if I liked it (which he assured me I would), I would be back to buy the rest... I don't recall exactly which one I tried first, but he was absolutely right. It wasn't the music that was bad, it was the sound quality. It was like going from a $10 transistor radio to a $50,000 stereo system. I didn't know anything about "imports" or "sound quality" back then - but one play gave me an immediate education. I got it. Naturally, I went back and bought the rest. Getting back to A Quick One... So, my "go to" "A Quick One" was the <mostly> true stereo "Phases" LP. I subsequently learned that the 1966 USA Happy Jack LP had a stereo version of "So Sad About Us" and I was very happy with the version I combined. Over time, it became my favorite Who album. This album comes from the time when the band tried to make it on their own. Its creative, entertaining, well performed and fun. Somewhere along the line, I bought an original, 1966 UK Reaction LP and hated it. The mono presentation felt "depressing" compared to the stereo version (which to me, brought the album to life). In 1988 (while CDs were still being released first-run), there was debate whether Polydor (Europe) would release "A Quick One" in stereo or mono and unfortunately... (they went for the mono).

Fast forward to the 1990's. The Who had started their CD reissue program, remixing and remastering their catalog. I thought for sure "A Quick One" would be a marvelous, upgraded stereo CD. Unfortunately, that was not the case. Instead of true stereo, an odd hybrid. At the 1995 Who Convention, I was determined to meet Jon Astley (the producer of the reissue program) and discuss it with him. Jon basically said, "If you can find me the tapes, I will reissue it." The proposition was fair enough, but good luck "finding the tapes". Three months later I sat down with John Entwistle for the first time and he said, "I looked for those tapes for years with no luck. They sank in Venice with Kit Lambert." Apparently John was a big fan of the album and had no luck finding the tapes either... However, if Polydor Germany had stereo tapes in 1981 (to make the "Phases" box), why wouldn't they still be there? In 2000, I sent a sample CDr (made from my best LP sources) to Pete Townshend (in an effort to put some immediacy to this project). Pete thanked me, didn't think the font on the "custom artwork" really fit the period (he said it in a funny way) and was candid that while he liked it, he also liked the mono version too. Disappointed, but "never give up, never surrender"...

About two years later, I met a new friend online who happened to work for Polydor Holland. He was very interested in my "project" and was able to use his "tape locator" to check inventory in the various international Polydor tape warehouses and believed he found several leads. What he also did was write an amazing letter to Pete imploring him to release the album in stereo. Pete agreed. Shortly thereafter, I was told "...we've got multitracks - but not all of them. We're doing a remix!" Fantastic news! So, in 2002 (USA), 2003 (UK/Europe), the true stereo "A Quick One" CD was released! Seven long years of not giving up, but... Unfortunately, the record companies were pushing for "loud mastering" at the time and the remix fell victim to it. Over-compressed and un-dynamic, it didn't sound like it could have. While fans rushed to the stores to buy the new CD, MCA (USA) never changed the catalog number. People were buying leftover inventory because they looked identical. I called my friend at MCA, who explained the difficulty in changing catalog numbers, etc. so I said... Can't you add a sticker? It's marketing!!! "Yes! I can and will do that immediately!" Phew...

Fast forward (again) to 2012... In Japan, a new CD version was released using the original stereo master tapes (vs. remixed versions). No compression, just pure "A Quick One". It was a pretty good CD... Last week I received the 2022 1/2 speed <stereo> master LP in the mail. This is the first true stereo version on LP since "Phases" - but unlike "Phases", "So Sad About Us" is in true stereo (unfortunately, "See My Way" is not). Its sorta like coming full circle. Before leaving the topic of this album, it's also interesting to note that there are several variations/rarities associated with it. The most common one is the mono version of Run, Run, Run with different guitar parts. However, there's also the unedited I Need You (the carnival and dialog continues. Note: The annoying "click track" was added to prevent bootlegging) and the original vocal section of Whiskey Man, whereas Keith and John sing together (this vocal section was overdubbed by John on the mono version and on the stereo version, Keith's vocal was just not included, except for a split second at the end).

At some point in the future, I would hope that the rest of the multitracks would be found and an extended box set could be released which features rarities, remixes and Pete's demos. Who knows? PS: If nothing else is gleamed out of this story, the lesson on sound quality is most important. I didn't know why I didn't like the early Who albums. I couldn't say, "they have bad sound quality". I had nothing to compare them with. It's one thing not to like the music, quite another for the music to be poorly presented not giving the listener a chance. This is why it is ultra important to release the best sound quality on every single release...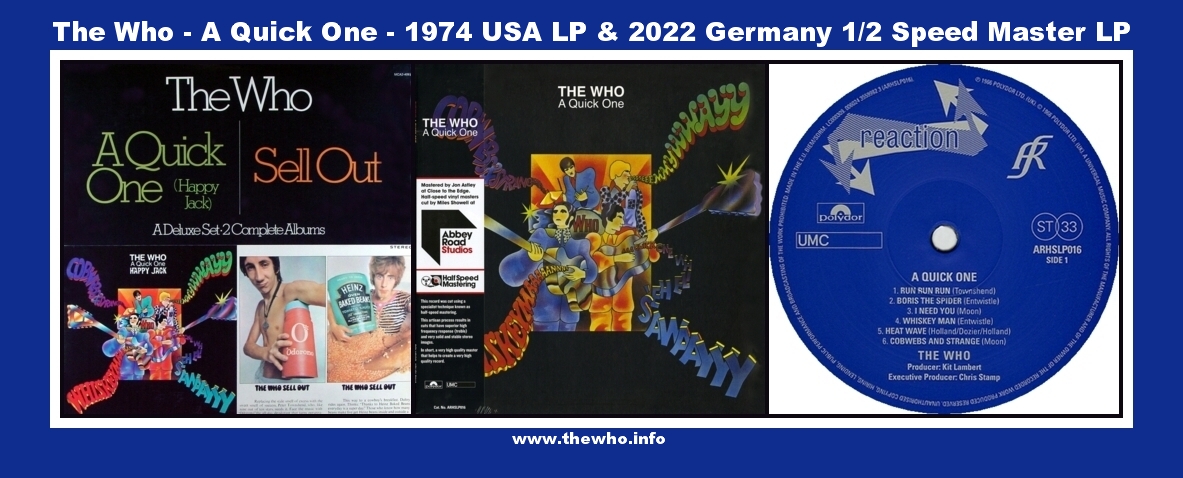 -------------------------------------------------------------
May 11, 2022
John Entwistle - 1996 USA Tourbook & The Who - 1978 UK Who Are You Music Book
"My name is 905 and I just became alive..." These are (2) two unlikely combinations of pictures but... In late 1995, I met the "manager" for The John Entwistle Band. He had popped into a Who forum that I participated in and I recognized his name immediately and we made contact. John hadn't been active since the September Who Convention and asked him what was up. Seems that John wanted to revive his solo career and they were just finalizing that and going out on tour in January (1996). I asked what type of set list they were thinking of and he responded with "My Generation, Long Live Rock, Won't Get Fooled Again..." So... you want to be a Who cover band? You sorta did that already with the Rat Race Choir/John combo in 1987. The fans weren't happy about that. "Oh? What do you suggest?" John's fans want to hear John's music. It's OK to sprinkle some Who songs in, but the set list needs to be primarily John's solo and Who songs - not Pete Townshend songs. "Well, I consider John's music, 'Joke Rock'." Joke Rock? "Yeah, it's not serious music." To John's fans it is... I sent him my proposed set list (cassette tapes), he sent a copy to John. John was very happy with <most of> it and loved the inclusion of "Under A Raging Moon". (John loved talking about Keith Moon.) Fast forward, we got together in the White Plains NY Bowling Alley and sat down to discuss "The Tour". They wanted a tourbook and coincidentally, Mrs. Fang is <among other things> a graphic artist. "We'd like to do a 4-pager that includes..." May I make a suggestion? Nobody really knows a whole lot about John. You know, 'the quiet one'? He lives in a cool castle, but... Why not illustrate his life/lifestyle and make the tourbook all about John? "Wow! That's a great idea. John carries around a box of personal photos with him every time he's out on the road - they would be perfect for this!" So, besides working on the tourbook, Mrs. Fang ended up designing most/all of the swag, the layout for The Rock (I suggested releasing and selling the CD on tour), etc. So... one night at about 2AM, Mrs. Fang, John and 'The Manager' were on the phone (finalizing the tour book), when John wanted to know if I had the music for "905". He looked all over Quarwood and couldn't find a copy of Who Are You since, 1978 was the last time he played the song and couldn't recall all the details. Suddenly woken up, "John needs the words and music to '905'!!! I looked around and couldn't find them anywhere." Whaaaaaaat? So, I get out of bed, grab the "Who Are You" songbook and the next thing I know, I'm faxing "905" to John. Sadly, they didn't end up playing it for the 1996 tour, but added it subsequently...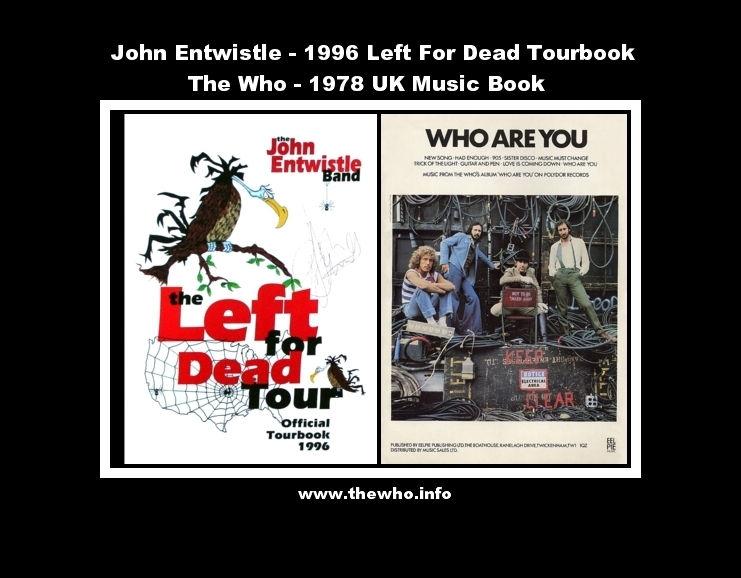 -------------------------------------------------------------
May 10, 2022
The Who - Who-La-Hoop - 1980 USA LP (Bootleg)
About 40 years ago I went "Who shopping" with Bobby The Clown. He wasn't a real clown (as in a circus clown), but rather everything he did or touched was hysterically funny (mostly unintentional). Bobby had a photographic memory, but couldn't think... His family owned a car dealership, but he couldn't drive... He had an indoor swimming pool, but couldn't swim (he did once take a bar of soap in the pool and got "caught")... But... Bobby was a HUGE Who fan (first saw them in 1967). In fact, Bobby really introduced me to The Who - making "Who tapes" for me, which I got hooked on and that was that... Since Bobby couldn't drive, occasionally I would take him with me... "Who shopping". One day, he saw this record, Who-La-Hoop for $30. He asked the store manager, "How is it?" "Not very good Bobby, you want me to play some of it for you?" "No, that's OK, I think I'll buy it anyway!" So, I said to Bobby... in other words, you are attracted to the cover art? :) "Yeah, f*ck you!" So, Bobby was all jazzed up about his latest purchase. We get back to his house, he turns on the stereo and plops it on the turntable. The smile quickly faded into a frown. Bobby, looks like you got f*cked again! This recording sounds like sh*t! "Yeah, f*ck you! F*ck you!!!" What? You really don't like it??? "Yeah, f*ck you!" Bobby was the type of guy who would buy something, be immediately unhappy with it and offer it for a fraction of what he paid. "Hey, do you want it???" Me? This thing sounds like sh*t! "Yeah, f*ck you! And... F*ck everyone who looks like you! I'll tell you what... You can have it for $10." Why would I want this POS for $10??? "Alright, how about $3???" $3 for a POS? "Yeah, f*ck you!" I think at this point he would have paid me to take it. Either I gave him $3 for it then, or waited until he sold me a bunch of other stuff (at a fraction of what he paid) and had him "throw this in" to the deal for $3. As it turned out, I ended up selling it to a record store owner for about $25 (but I told him it was a POS and he didn't care). As I was assembling my website, I looked all over for this record and <temporarily> forgot I sold it. So... I had to buy another copy! Since I was talking about this album recently, I decided to pull it out and record some sound samples. (You can find them towards the bottom of the page, here.) The cover art is Pedro On A Wooden Horse by Colombian artist Fernando Botero. I included a picture of the original so you can compare. How this artwork ended up on a Who <boot> LP is anyone's guess. The concert is from the Philadelphia <PA> Spectrum, December 11, 1979. A great show, but unfortunately, the story behind the LP is much better than the LP itself! Playing the LP was kinda fun. My "replacement copy" was sealed as I hadn't listened to this record since ~1983 (clearly it left a distinct impression on me). My equipment made it sound better than it actually is, but there are worse. There was a surprise inclusion of "Sparks", which wasn't on the track listing and <unfortunately>, Won't Get Fooled Again fades prematurely... Oh well...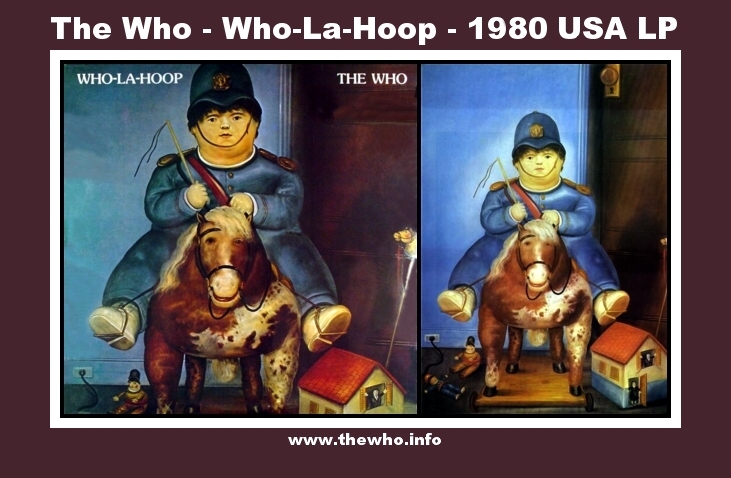 -------------------------------------------------------------
May 9, 2022
The High Numbers / The Who - Zoot Suit / I'm The Face - 1964 UK 45
"I asked Bobby Dylan, I asked The Beatles. I asked Timothy Leary, but he couldn't help me either..." 20+ years ago, while John Entwistle was still alive... I was trying to figure out the "mystery" behind this record. What mystery??? As the "story" went, the single was first pressed with "I'm The Face" as the "a" side, then, "Zoot Suit" as the "a" side. Except... Nobody had a picture of the former. Several friends in the record business claimed they had and then sold several copies over the years. Got any pictures? Can you put me in touch with the person(s) you sold them to? "No...." Separately, I asked John Entwistle, Pete Townshend and Roger Daltrey what they recalled. Unfortunately, not a single thing. I'm certain it was a whirlwind back then... After "searching high and low" for any sort of clue, it seems there weren't any. "I'm The Face" as the "a" side (of this record) never existed. What did appear to happen is this... In 1964, just prior to The Who becoming The High Numbers, The Who (quick name history: The Detours -> The Who - The High Numbers -> The Who) first recorded a different version of I'm The Face and then, Pete's first <written> song, It Was You (which a different version was previously recorded as The Detours). They probably planned on using "I'm The Face" as an "a" side, but someone probably thought it was a "bad idea" because the previous version "didn't work out". So, "Zoot Suit" was released in the UK and that was that (in the USA and South Africa acetates featuring "I'm The Face" as the "a" side were pressed, but never released as official singles). As a "serious" collector, I was a little late to the game in getting this single. Back when I started collecting, I was primarily interested in picture sleeves and had no/little interest in paying a premium for a single without one. Eventually, I realized that was foolish as I had serious gaps in my collection - perhaps starting with this one. In the early days of eBay (late 1990's), many folks from the UK didn't use scanners or camera pictures. This exact copy was listed for $140 (no picture) and from a seller with little feedback. With a leap of faith, I put my bid in and was pleasantly surprised... A "Bargain"...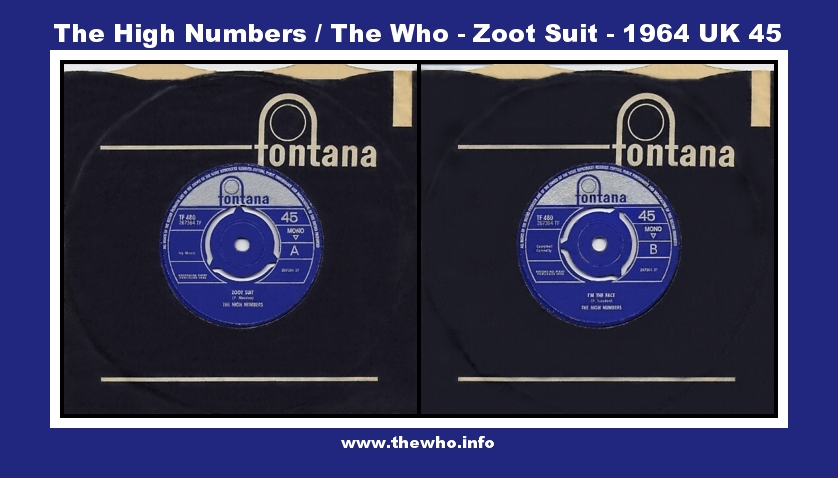 -------------------------------------------------------------
May 8, 2022
Pete Townshend - Somebody Saved Me - 2022 <Online> Audio Book
I saw a bunch of very enthusiastic ads/member postings of this on Facebook. So, yesterday morning I decided to check it out for myself. What is it? This is a very cool <and currently free> audio book (a combination of Pete Townshend's spoken words and music), which you can find online here: adbl.co/PeteTownshend. The music includes (10) ten full/partial demos written circa 1980-1982. If you look at the chapters and think you already have <some of> these, you probably don't. These demos are different versions, making them unique to this audio book. For the first time ever, Pete has made his complete Eminence Front demo available and its really spectacular. (MP3 Sound Sample) If you think the synthesizer part (completely different than any previously released versions) sounds familiar, the Who (on their 2022 tour) is using this instead of the familiar version (a very clever Pete cross promotion). So, if you love Pete's stories about The Who (and himself) and/or his demos, this is for you. Enjoy! (Like anything else online, catch it quickly before it disappears.)
The demos included are: Let My Love Open The Door, A Little Is Enough, Rough Boys, I Am An Animal, Somebody Saved Me, The Sea Refuses No River, Don't Let Go The Coat, Eminence Front, Slit Skirts, You Better You Bet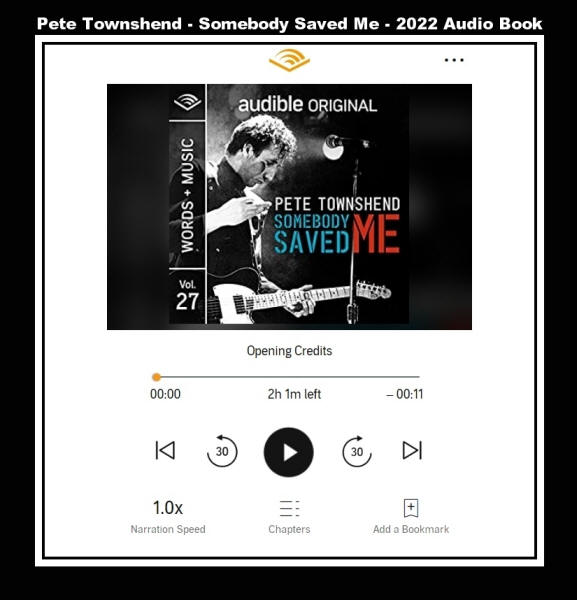 -------------------------------------------------------------
May 6, 2022
The Who - 79 Tour Gonna R*pe You - 1980 USA LP (Bootleg) - Part 2
After a bunch of discussion about this "non-excellent" bootleg yesterday, I thought it would be a good idea to actually record sound samples (30 second sound clips) from each of the tracks, so the folks that never heard it (or just wanted to get a good feel for what The Who in 1979 sounded like), could have a better understanding of the same... You can find (23) twenty three sound samples here (scroll down to 12/15/79 under this title) Enjoy!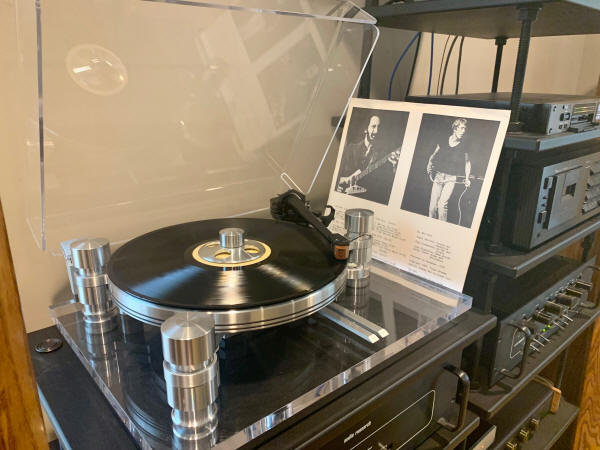 -------------------------------------------------------------
May 6, 2022
The Who - 79 Tour Gonna R*pe You - 1980 USA LP (Bootleg)
Getting past the tasteless title (a line from We're Not Gonna Take It)... This was supposed to be one of those "must have" bootlegs. Back in the early 80's, the Illustrated Discography was the "it" book to have for collectors. All those records Who fans could only hope to dream about. And, included with the same was a fairly extensive bootleg section, which in some cases, included a "rating". This one was "rated" as "excellent". Who wouldn't want to add an "excellent" live recording to their collection??? Unfortunately, this seemed to be a really rare record and driving all over Manhattan from one record store to another was... fruitless. Nobody even heard of this album! Before the days of the internet, I would find a Manhattan Yellow Pages (a really, really big phonebook) and look through it to find names and addresses of record stores. One day, I found a name - Pyramid Records. It was around the corner from Midnight Records (which I often went to), so I made a special trip there. The place was a dump, but loaded with bootlegs. They didn't just have one copy of this album, but several. In fact, there was another copy (same label), which featured slightly different artwork (the print was different). I bought both! Wow! Finally located and purchased this "excellent" recording. I couldn't wait to get home and play it! Reminiscent of the smile disappearing from Bobby The Clown's face when he played Who-La-Hoop, I thought... this can't be right? This is a crappy audience recording, nothing "excellent" about it! So, I grabbed the other copy, thinking maybe one was an "upgrade" over the other. No, same crap. "Excellent"??? No way. I latter learned that the book claiming its excellence, had those descriptions from the contributor (vs. the book author). Opinions vary. Some folks believe that poor audience recordings are "excellent", others (like myself) believe they are crap. ("Each to their own sewage!") However, it was that experience, which influenced my decision to rate each and every one of my "descriptions" for my website, myself. I wanted people to get a fair review and not be accidentally misled. Oh well... Incidentally, this poor audience <non-excellent> 3 LP recording is from December 15, 1979 from the Memorial Coliseum in New Haven, CT. (Incidentally, I no longer have the 2nd copy of this album. I must have "loved" it so much, I gave it away...)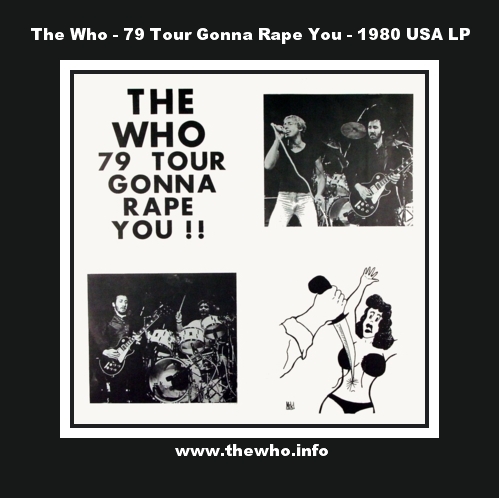 -------------------------------------------------------------
May 5, 2022
The Who - Pictures Of Lily - 1967 USA Ad
This ad seems to pack the "kitchen sink" of themes while promoting the new single, Pictures Of Lily. Modified artwork for The Who Sings My Generation and Happy Jack albums as well as the Steadman artwork used on the USA Happy Jack single. Four ads for the price of one!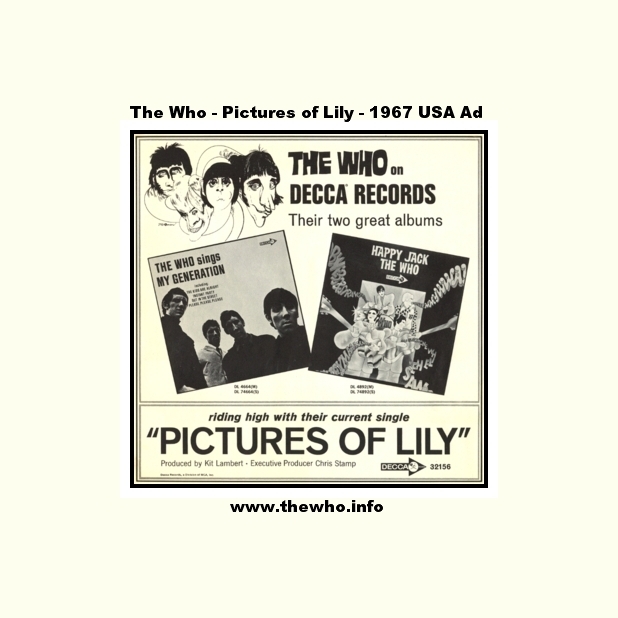 -------------------------------------------------------------
May 4, 2022
The Who - The Who By Numbers - 1975 Italy Cassette & Squeeze Box - 1975 France 45
Besides John Entwistle's artwork, these (2) two releases are unique that they have factory drawn lines. Like with the Austria LP (where the factory thought there was a mistake and used the negative to produce a black cover), the respective factories here thought the artwork was incomplete and drew the lines in themselves. I don't believe I owned these while John (Entwistle) was still alive, but I think he would have laughed his "arse" off if he saw these.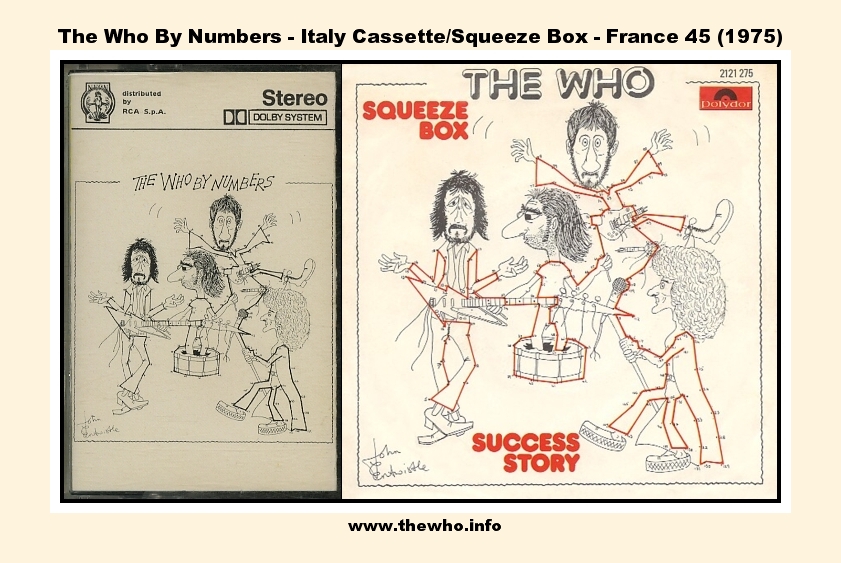 -------------------------------------------------------------
May 3, 2022
The Who - Golden Double Album - 1971 Japan LP
In September, 1995 I flew to London (UK) to attend The Who Convention. It seemed like a good time to travel around Europe in pursuit of records (and it was). Aside from buying records at the Convention, there was a VIP Record Fair in London at Victoria Station, The Paris (France) Record Fair and, a Record Fair in Brighton (UK). Besides hitting all the record stores in-between, I went to all these fairs as well. It was a long trip (~10 days) and came back with a lot of Who "stuff". The plan was to stay in London for a few days and then take the Hovercraft to France. This involved taking ~3 hour train ride from London to the white cliffs of Dover. The Hovercraft was a lot of fun and before we knew it, we were in Calais, France. At the port, rented a Renault and headed to Belgium. Stayed in Bruges for a few days (more record stores) and then left for Holland. Loved Holland, but there was too much traffic heading into Amsterdam, so we cut the Holland trip short and headed towards Paris. I was warned by one of my best friends not to drive in Paris. Driving in New York so many times, I thought perhaps the advice was too harsh. It wasn't. Never saw traffic like this in my life. It took 5 hours to get from one end of Paris to the other and it seemed like every car was dented. Crazy folks drove on the sidewalk, but it just seemed like we were sitting forever. Finally, when things moved, I decided to bypass Paris and find a hotel in Versailles. From there, we would get a ride to the edge of Paris subway system and it was an easy and hassle free way to get around Paris. There was about a day or two before the Paris fair, so did some sightseeing (i.e. Eiffel Tower) and hit as many record stores as possible. The Paris Record Fair was huge, packed and seemingly everyone smoked. I'm not sure how I was able to breathe, but I found a lot of Who records. Mrs. Fang spotted the Golden Double Album - "Do you have this one?: NO! I don't think I ever saw a copy before (pre-internet) and I loved it. It probably cost about $120, which seemed reasonable (however, you can find copies today, cheaper). In many cases, nobody spoke English, so the price negotiation was done with a paper and pencil. Whatever worked... After the fair, we grabbed some French Pizza (which was good), but... Mrs. Fang got sick from all the smoke at the fair. We left back to Calais after lunch and about 3/4 of the way to the Hovercraft, she wanted me to "pull over". However, there was no shoulder, there was no place to pull over. So... she barfed all over herself and the passenger side. Still with no place to pull over, it was beyond disgusting. (My friend suggested that if something like that happens, open your shirt and throw-up onto yourself to "contain it".) So, the Hovercraft journey back didn't seem to help and Mrs. Fang was "out of it". Rather than take a train, I sprung for a taxi to Brighton. It seemed like a good idea, except that the driver was very chatty. He wanted to know what I collected, because he wanted to talk about his "sea shell collection" (which he did for three long hours). Got to the hotel, had some sleep and the next morning ran around Brighton. Just like in the Quadrophenia movie, Brighton was beautiful. Went to the pier, the aquarium, some shops and historical places. The Brighton Record Fair was the next day, but that was disappointing. Unlike the other fairs, there was hardly any Who items. However, on my list was the 1966 Oscar 45, Join My Gang (written by Pete Townshend) and I snagged it. Took the train back to London, shopped a bit more and back to the USA. Other than the barf, a great trip! The Golden Double Album features great artwork and a cool track list: I'm A Boy, Whisky Man, In The City, Pictures Of Lily, Under My Thumb, I Need You, Happy Jack, Armenia City In The Sky, The Last Time, Substitute, Dogs, Magic Bus, Call Me Lightning, I Can See For Miles, Pinball Wizard, Circles, Sensation, I'm Free, The Seeker, Summertime Blues, Young Man Blues, Shakin' All Over, We're Not Gonna Take It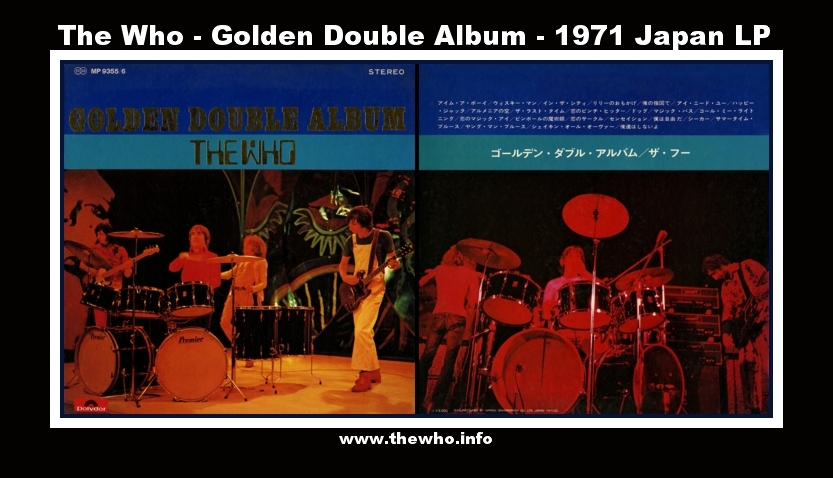 -------------------------------------------------------------
May 2, 2022
The Who - Live At Leeds - 1970 Peru LP & Promo
My first trip to the Utrecht Record Fair (2001) was amazing. One of the first vendors I encountered had many tables full of LPs from South America. Rifling through the Who bin, I saw so many records for the very first time. What I found most amazing was all of the variations of Live At Leeds. I knew the back cover of the Spain LP had a live cover and I had purchased the live cover Brazil LP in New York City in the 1980's. However... These were just too cool.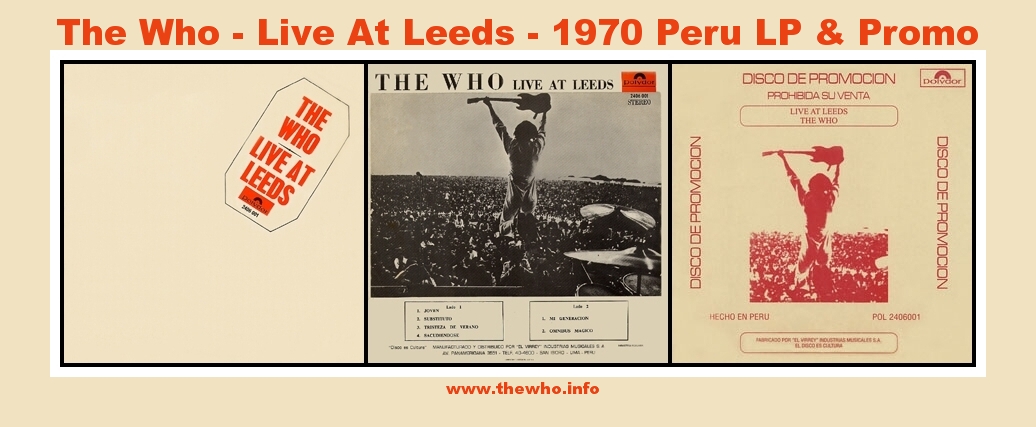 -------------------------------------------------------------
April 29, 2022
Pete Townshend - 1979 USA Poster
This was my first ever Who poster. I bought it in September, 1982 and pasted it to the outside door of my grad school dorm room. Besides a nice "welcome" every time I went "to and fro", it became a conversation piece amongst other folks living in the dorm or visiting. "You're a Who fan! So am I!" "My favorite album is Rough Mix. Those two guys, Pete and Ronnie Lane made such great music together!" At that time, The Who were at their height of popularity. It's Hard was just released, they were embarking on their farewell tour to sold out stadiums across the USA and everyone was talking about... The Who. My original copy of the poster got lost/destroyed, but I was fortunate enough to find another and scan it.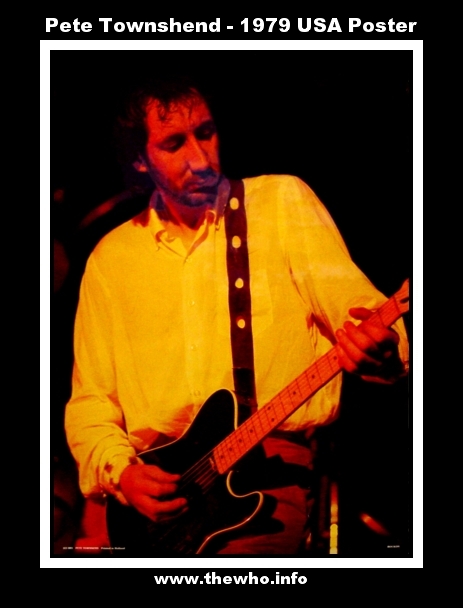 -------------------------------------------------------------
April 28, 2022
John Entwistle - Silas Stingy & Someone's Coming - 1967 UK Acetate 45(s)
It's a long <interesting> story how I came to obtain these, but suffice to say it involved a plane trip and some cash... These are (2) two John Entwistle demos for The Who Sell Out. Unlike Pete's demos at the time (which were pretty much finished songs), John's demos were somewhat crude (however, they were really good and very different than the Who recorded versions). I obtained these during the long stretch of The Who Sell Out Super Deluxe Edition and thought perhaps they could have been used in someway for the same. In fairness, there was a lot of John's material unearthed already and I'm sure the disparity in quality was a concern. Perhaps one day in the future, they will see a proper home in an official release.
You can listen here to samples of Silas Stingy and Someone's Coming.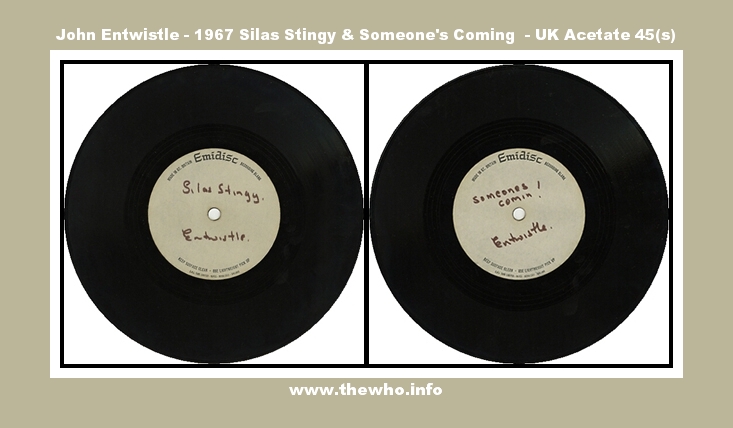 -------------------------------------------------------------
April 27, 2022
The Who - Don't Let Go The Coat - 1981 USA & Canada 45(s)
This was the 2nd single released from the 1981 Face Dances album. However, in the USA (presumably the band's largest market), without a picture sleeve. Many collectors might be surprised that in Canada it was issued with a picture sleeve. I found this out accidentally while scanning eBay one day. I saw the sleeve, passed it by (thinking it was just another UK sleeve) and something about it caught my eye. Sure enough, made in Canada on the Warner Brothers label!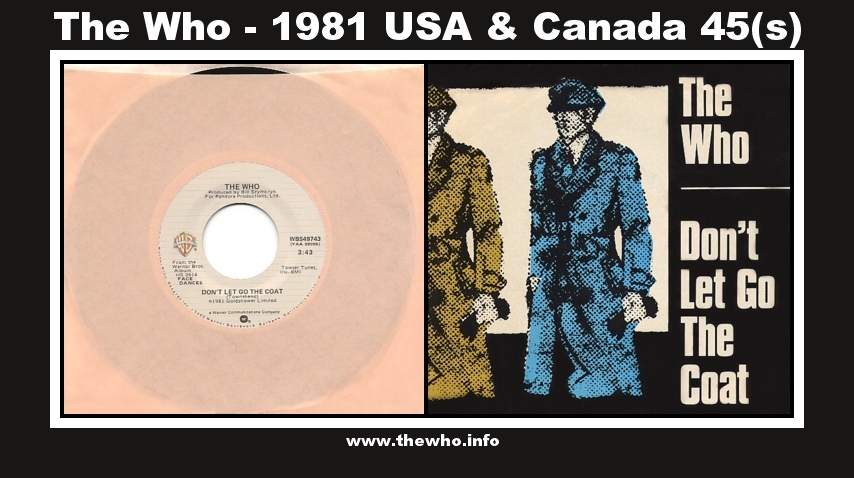 -------------------------------------------------------------
April 26, 2022
The Who - Direct Hits - 1968 New Zealand LP(s)
All collectors need to know... there's always more or something else. Pictured below are (2) two versions of Direct Hits from New Zealand (NZ). The one on the left is the "odd ball" original (much darker cover than the UK pressing, "The Who" in a different color, etc.). In this form/title, the only (2) two countries "Direct Hits" was released <in 1968> was the UK and NZ and the latter decided to be "different". However... they also pressed a UK colored version (which I've never seen before this copy). Just an example why it is never quite over... You also might also want to note that in 2006, Classic Records (USA) reissued "Direct Hits" on LP, using the NZ cover color, but with the UK lettering color. The 2007 Japan CD reissue used the same.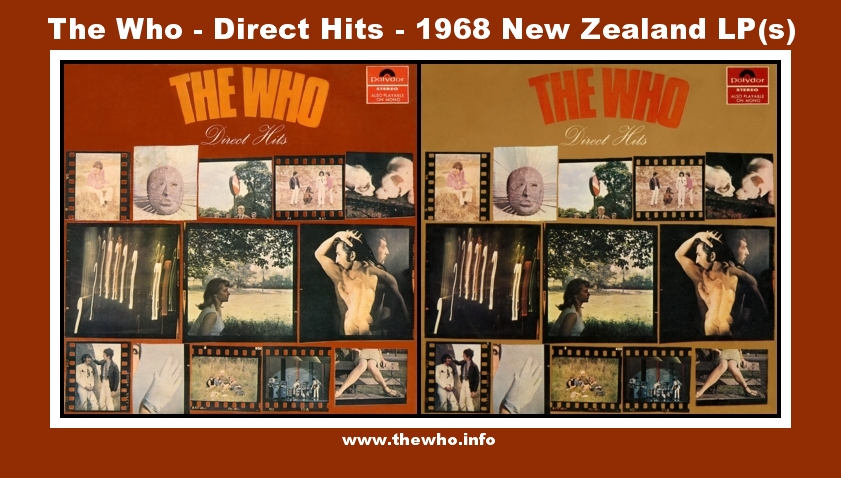 -------------------------------------------------------------
April 25, 2022
Bald Headed Woman - (2) Two Versions: The Mugwumps (1966) & The Sot Weed Factor (1967) USA 45(s)
I used to have a "Who friend" who seemed to love cover versions of Who songs (i.e. songs other bands play from The Who catalog). I never really saw the point of it, because... who can perform Who songs better than The Who? As my website seemed to expand into further horizons and I already had a significant amount of covers, I thought why not expand it a bit more? While not quite The Who, there do seem to be a lot of interesting and cool variations. For whatever reason, the Shel Talmy (former Who producer) penned, Bald Headed Woman ("b" side of I Can't Explain) was never one of my favorite Who songs - in fact, one of my least. I don't think it fit the band. That being said, I picked up these (2) two singles recently and was somewhat intrigued by them. The first version (The Mugwumps) from 1966 is performed in a similar manner to The Who (MP3 Sample). The second version (The Sot Weed Factor) from 1967, very different (MP3 Sample). Apparently, the song has been widely covered, including by Harry Belafonte! I have several other versions on the way. Stay tuned... (or not).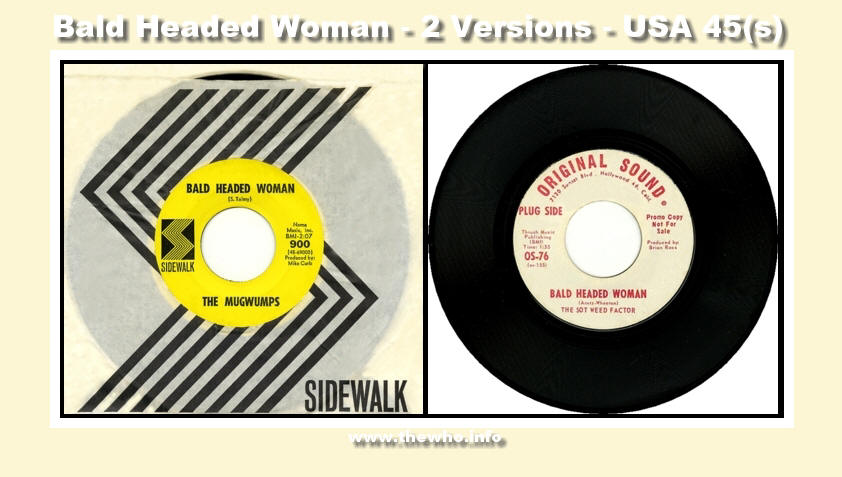 -------------------------------------------------------------
April 23, 2022
Pete Townshend - Face The Face - 2022 Germany Record Store Day (RSD) LP
Record Store Day (RSD)... There were supposed to be (2) two Who-related releases today - this one and It's Hard. However, the latter was delayed until June 18 (and well-worth the wait). I debated actually going to visit a record store today. I'm not a fan of "waiting on line" for anything. Pre-Covid, if I saw a restaurant with any kind of line, I'd go elsewhere. I've done RSD once or twice in the past and the line was short. Fast forward, RSD now a "popular sport". Besides the drive to and fro the store, I was online to cash register in 75 minutes. In fact, I could have purchased the record on eBay for only a few dollars more, but that "instant gratification" factor would have been lost (and you would have been delayed a post). The line itself was OK. Burnt out hippy types with sandals in 60 degree weather... Old, grey haired guys with long beards... A young family with screaming kids. And, most folks with no <Covid19> masks on. Perhaps I'm slow to adopt the post vaccine world, but the last time I checked, people ARE still getting Covid and some are dying. Moving onto the record... Nicely packaged and it sounds decent enough. Better than the CD versions? I don't think so. In fact, I might give a slight edge to the CD. (If you want to listen and compare for yourself, I have sound samples here.) The Japan CD version actually has an extra track! Overall, it's a nice release. Do I want to get on a line any time soon? Probably not, but "each to their own sewage."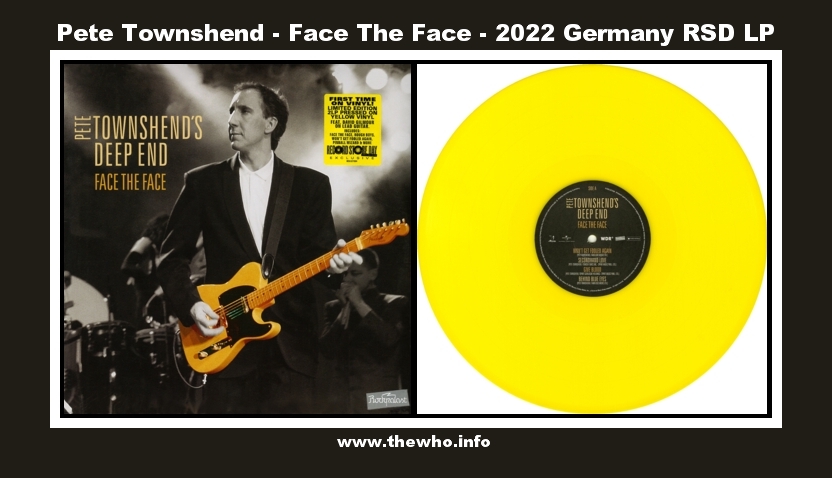 -------------------------------------------------------------
April 22, 2022
The Who - The Last Time - 1967 Spain 45 (EP)
After witnessing the devastation from 9/11 (2001), I decided then and there that "life was too short". I had always heard about the fantastic European record fairs and now I wanted to go - specifically that Barcelona was the biggest and the best. Got a flight to Spain, rented a Renault and took a quick drive around the city to look for a hotel near the fair location. While I found that Barcelona was a beautiful city, I quickly found that parking sucked. Ended up finding a hotel with a parking garage and basically left the car there in fear of not being able to park again elsewhere. The food was excellent, the people really nice and friendly and the coffee was to die for. However, I found myself in the minority of folks who just didn't like Barcelona. The record fair was a lot smaller than I envisioned. This was not the "international phenomenon" that folks bragged about <seemingly> forever, but something that more or less reminded me of the old Philadelphia record show of the 80's and 90's. Larger than most by far, but not outstanding. After getting inside and talking to some folks, I quickly found out that Barcelona was the "ghost of mega fair past", but the one I REALLY wanted to go to was in Utrecht, Holland... And if I was serious about collecting, I should get my butt there in two weeks. So, I shopped the isles of the Barcelona fair, bought about (20) twenty cool items and gazed upon this silly The Last Time (EP). I had to laugh when I saw it because while it was a really cool piece (and an odd combo of tracks), but the artwork was just ridiculous (and certainly unique). I probably paid about $150 and was happy I bought it. On the way out of the fair, there were flyers for upcoming European record fairs. I grabbed the Utrecht one and several others and decided to go to Utrecht in (2) two weeks (and it was HUGE - everything I expected this show to be). I wasn't disappointed that I went to the Barcelona show, but I couldn't wait to get out of there. Made plans to leave a day early, but due to post-9/11 security concerns at the airports, got caught in Madrid because I missed the connecting flight. Getting "stuck" in Madrid turned out to be a good thing. As much as I didn't like Barcelona, I loved Madrid. With only about 6 hours of time to kill (including some sleep), I went to the main square (which was packed with people), found a few record stores, bought a few Who records and had some more Spanish coffee (it's worth going to Spain just for the coffee - it's that good). Life turned out to be a little longer than "short", but I ended up enjoying my trip to Spain and coming back with Who records and more travel plans... Why not?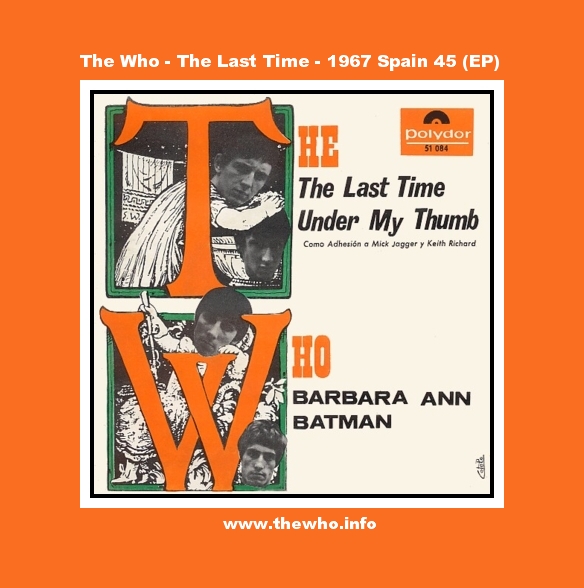 -------------------------------------------------------------
April 21, 2022
The Who - Live At Leeds - 1970 New Zealand LP(s)
Printer out of control? The attack of the stampers? If I recall, I bought my first copy of this on GEMM (Discogs before Discogs). The artwork may have been at a slightly different height, but at the time, the only copy I've ever seen. Time had passed and then I saw another copy on eBay. I recall doing a double take, because the artwork was at a completely different height, so I snatched that up. Long story short, every time I saw another copy, it was different. The promo (top right) seems to be "normal" and a few are normal (or close to normal), but it does appear someone was asleep at the wheel at the printer's. It makes for a great collectable, but are eight copies enough? Haven't seen another copy in a long time, so stay tuned...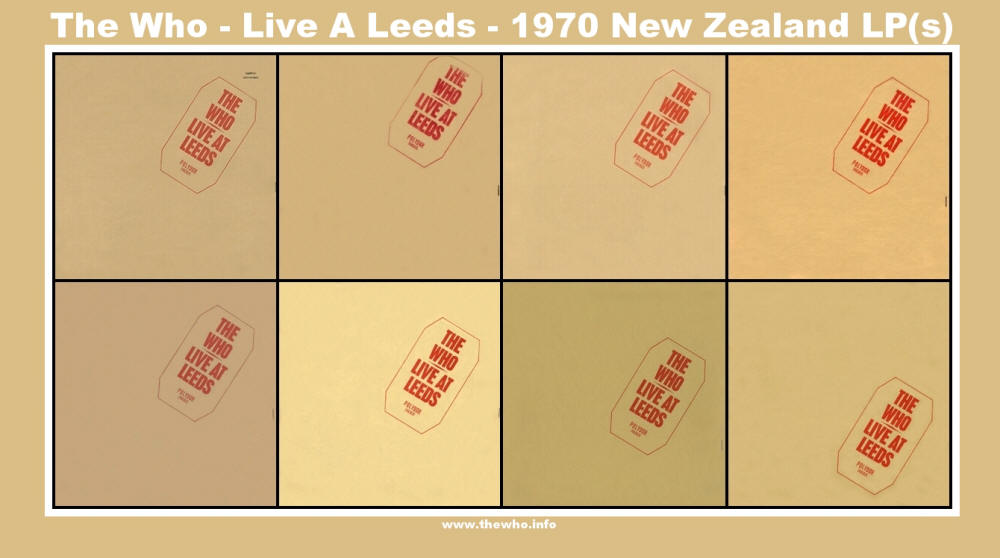 -------------------------------------------------------------
April 20, 2022
Pete Townshend - Let My Love <Open> The Door - 1980 Spain 45
Back in the early 1980's, my friend Bryan and I found a cool record store called Midnight Records on 23rd Street in New York City. The store was a mixture of modern, classic rock, bootlegs and imports. The owner was supposedly from France. Up on the wall, they had this 45. "Do you notice anything different?" No.... "The word, "Open" is missing!" Oh wow! "Let My Love The Door"! Fortunately, he had many copies. We already had an intense like for "mini-LP 45 artwork and this one had a bonus - a factory misprint (which is on the label as well).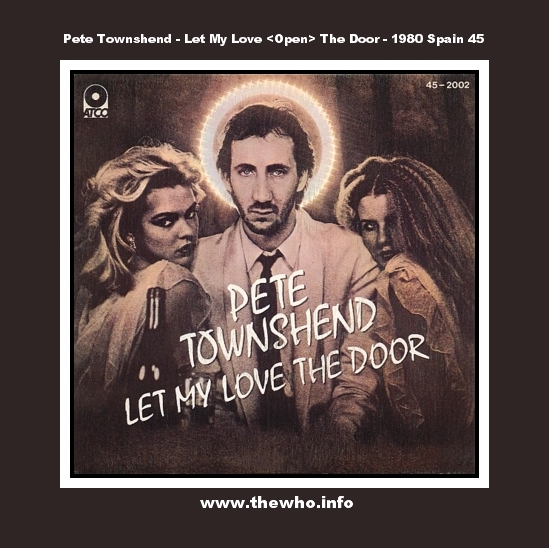 -------------------------------------------------------------
April 19, 2022

The Who - A Quick One & The Who Sell Out - 1966 & 1967 France LP(s)

Another example of overlooked Who collectables are the 2nd (A Quick One - 1966) and 3rd (The Who Sell Out - 1967) LPs from France. So much attention has been paid to the "French EPs", that these (2) two beauties often get ignored by collectors. While their covers are almost identical to their UK counterparts (except for the "value added" Polydor logos), their label faces a quite different. Prices for these range from "dirt cheap" to very expensive. Keep your eye on them, you might get lucky!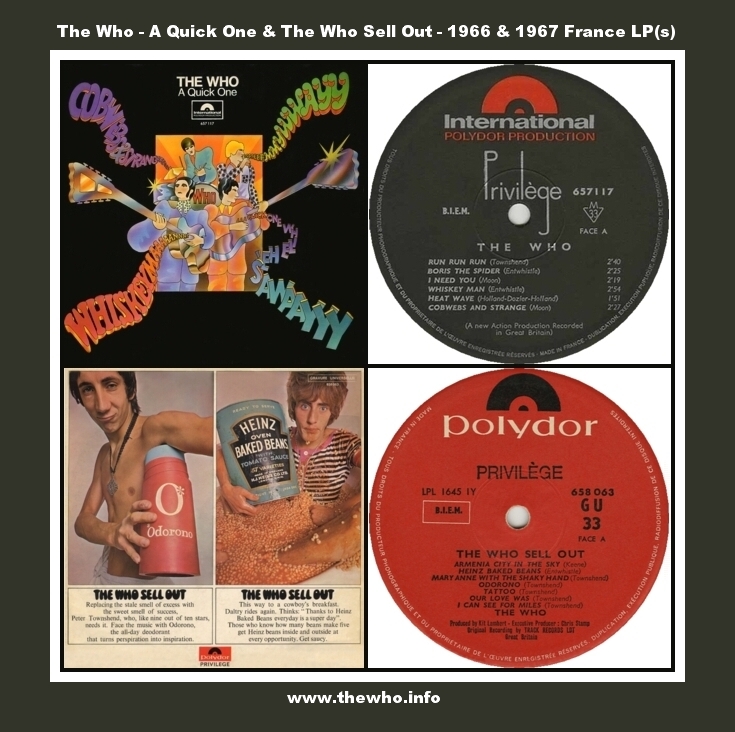 -------------------------------------------------------------
April 18, 2022
The Who - Baba O'Riley - 1971 Portugal 45(s)
Portugal is often overlooked as a great resource for rare Who records. Beautiful, unique artwork and generally a unique style for their singles. Below are (3) three examples, a stock copy on the left and (2) two promo copies. In the early 2000's I believe the only Portugal Who LP I had was the Quadrophenia (Soundtrack). I remember going to the Utrecht Record Fair and asking my favorite Portuguese record dealer, "Did you guys release any Who LPs? I never see any." "Sure we do! They are hard to find though. I will bring some for you at the next Fair!" And, so he did!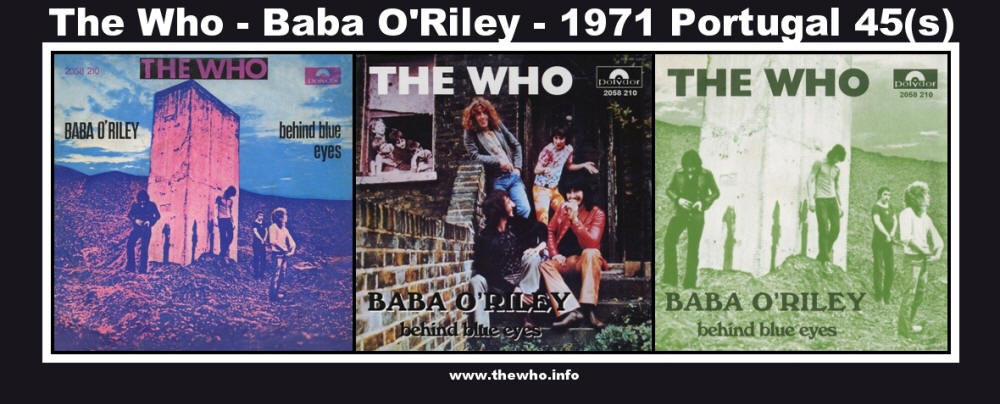 -------------------------------------------------------------
April 17, 2022
The Who Sell Out - 1967 Japan LP(s)
I bought my original copy of this LP, from a fellow collector (and now friend) I met on eBay in 2021. He had a copy of Exciting The Who up for auction and I was "feeling the competition". After <surprisingly> winning the auction and via an exchange of emails, it turned out the seller had some other Who LPs for sale as well! The Who Sell Out was one of them! Japan Who 45s are among the top items that every Who collector wants to add to their collection, but some seem to hesitate on the LPs. The artwork on the original Japan LPs is just as outstanding as the singles, so... why not? Long overdue, the folks in Japan just recently reissued the first (4) four Japan LPs for collectors and did a great job. Speaking of hesitation... I had seen the white label promo online but pushed it off for a while. I finally "gave in" and decided to buy it. I'm glad I did...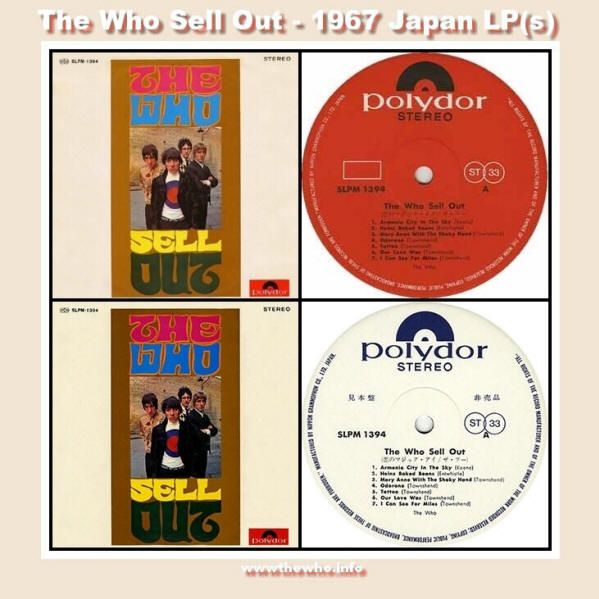 -------------------------------------------------------------
April 15, 2022
The Who - Behind Blue Eyes - 1971 Thailand 45 (EP)(s)
I remember seeing the EP on the left for the first time online and thinking, "I need to get me one of these!" But... then... I then saw the EP on the right and did a double take. Wait... that's not the same EP that I already have, it's different! The style is the same and two of the pictures of Roger and Pete are the same, but that's it. What great artwork... and there are two of them! By comparison, The EP in the center would be a "wow" too, but in comparison to the others... (not so much). The one on the left is on the 4 Track label and includes, Behind Blue Eyes, See Me, Feel Me and Won't Get Fooled Again. The one on the right is on the Cash Box label and includes, Behind Blue Eyes, Summertime Blues and Won't Get Fooled Again. The one in the center is also on the 4 Track label and only includes Behind Blue Eyes, while the other tracks are non-Who...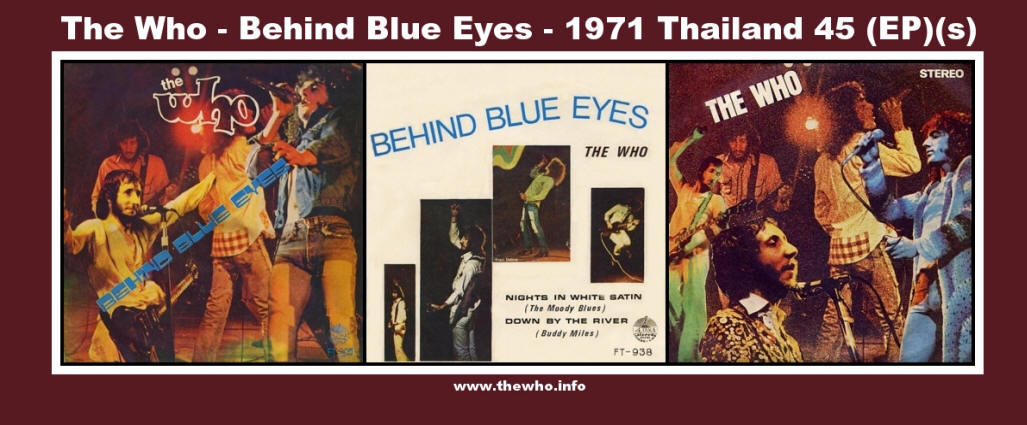 -------------------------------------------------------------
April 14, 2022
The Who - Happy Jack - 1966 Italy 45(s)
Back in the early 1980's, the "wanted" cover of Happy Jack was one of my first European picture sleeves. What made it especially interesting to me is that it paid homage to John Entwistle's "b" side, "I've Been Away". It's a real cool variation of the Steadman artwork. Later on I learned that the blue cover version was released earlier (which is also a fantastic sleeve). Then, I found the punch hole, promo/juke box sleeve variation. I originally thought it was a "sin" to destroy a nice picture sleeve this way, but it's actually pretty cool too.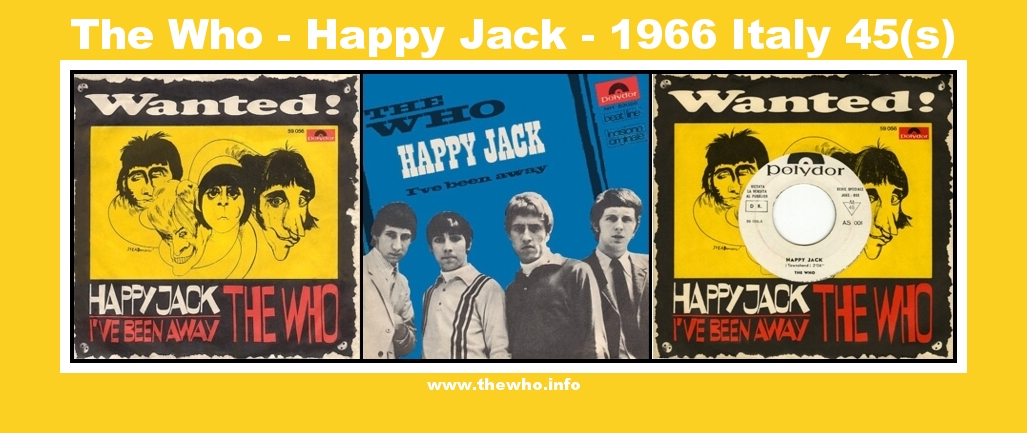 -------------------------------------------------------------
April 13, 2022
Keith Moon - Man From Interpol - 1960 UK / USA LP(s)
Seemingly about 20 years ago or so... I received an email from someone who worked at Intoxica Records (London, UK), who said something like, "I didn't find a copy of Man From Interpol on your website, do you want one?" Huh? He went onto explain that the song, Eastern Journey was actually, Cobwebs And Strange. Really??? So, I bought the LP from him and sure enough, its the same song. "Eastern Journey" was written by UK drummer, Tony Crombie and of course the arraignment is wildly different. What I always wanted to know was what the connection was between Tony Crombie and Keith Moon that Keith ended up covering Tony's song. Fast forward to the 2000's. The album was being reissued on CD. I contacted the record company and became friends with its owner. In 2004 had originally issued the CD with the "purple" cover version in mono and I scanned for him the artwork for the <left> version and wrote the liner notes detailing the connection between Tony and Keith and it was released in 2005. Also note, the white color LP does not contain "Eastern Journey".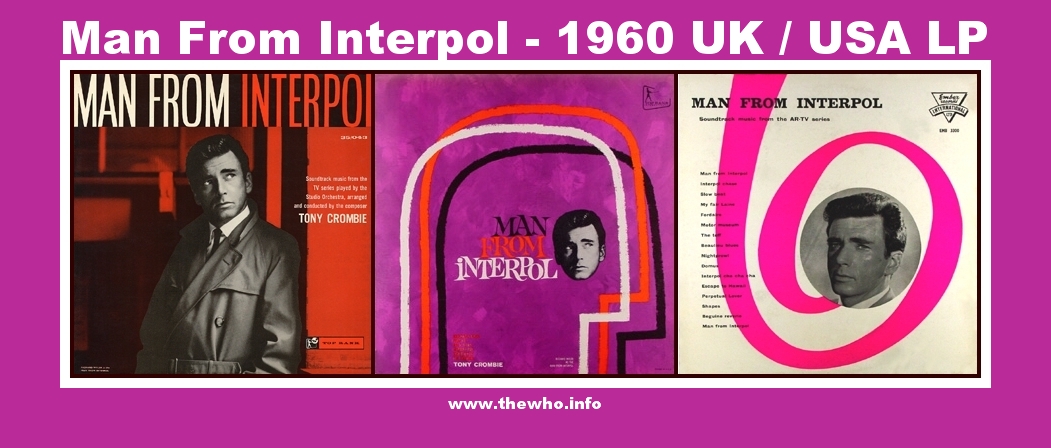 -------------------------------------------------------------
April 12, 2022
The Who - Who's Next - 1971 Barbados LP
Every now and then you find something really bizarre. Something that had you not stopped and done a double-take, you would have continued looking at other things and completely missed something truly unique. Of all places... Barbados? Sure, why not. It's the only Who-related item I've ever found from there. Who would have known?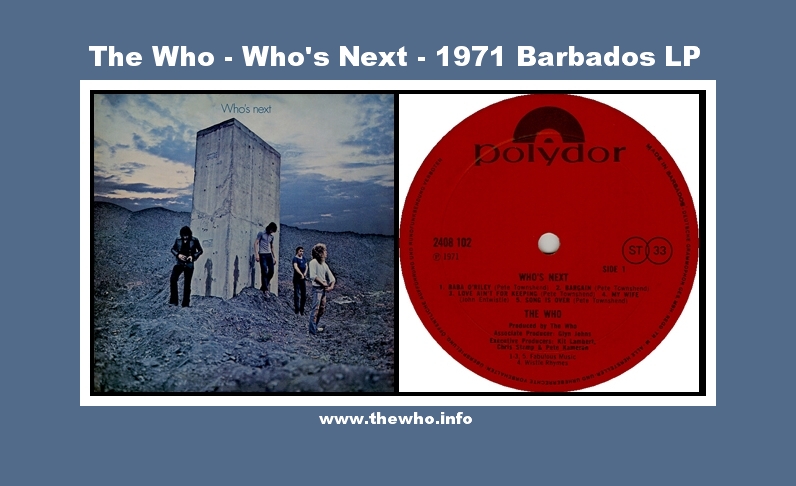 -------------------------------------------------------------
April 11, 2022
Simon Townshend - Among Us - 1996 / 1997 USA CD(s)
At the September, 1995 Who Convention (Shepherd's Bush, London, UK), I saw Simon Townshend perform live for the first time. He was absolutely outstanding. Fast forward to July, 1996 Who "Quadrophenia" concert - last show at Madison Square Garden. I had passes for the "Green Room", which was sort of a band "meet and greet" room for band members and the fans. I had a keen eye on Pete "working the room" while Paul Townshend came over with a stack of CDs in hand. It was the new, Simon CD, Among Us. "Want a copy?" YES! The CD was ultra-impressive. I must have played it daily for a year. Great songs, great performances, great sound. Went to see all of Simon's NY area shows and each was just fantastic. The songs for the album were actually developed prior. First in demo form (Simon produces great demos), then as band versions with his short lived band, Animal Soup. These versions featured Zak Starkey on drums and the music was a bit "harder" sounding than the ultimate CD release. Simon's son, Ben replaced Zak on drums and the music was re-recorded again. If you've never heard Ben, he's a great drummer. Much more creative in the studio than Zak - a true Townshend! This truly was a perfect album. Somewhere along the line, Simon was told that while the album was great, it needed to be reworked in order to be a "commercial success". Enter the 1997 Rising Records version. Remixed, edited and remastered. Some interesting differences, but the heart was removed. The feel of the revised album is day and night different. If you don't have this album, find one. Make sure it's on the STIR MUSIC label. Enjoy!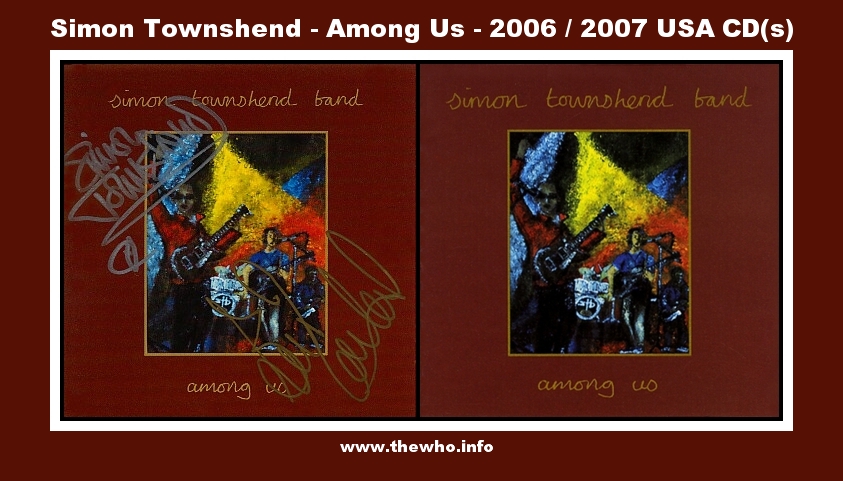 -------------------------------------------------------------
April 10, 2022
The Who - Substitute - UK / Australia / Germany / Sweden - Sheet Music
When I first started collecting Who sheet music, it wasn't to "learn the music", but rather an alternate picture sleeve (like an LP or 45). "Substitute" is a great example of this. (4) four versions (below), but very different from one another. I've been lucky to find some really obscure ones and I'm sure there are more out there. These are fantastic pictures and artwork. Hopefully, I'll be able to track the remaining ones down so I can add them to my website...

-------------------------------------------------------------
April 9, 2022
Pete Townshend - I'm Thinking Of You All The While / Miles & Miles - 1966 UK 45 (Acetate)
I rarely ever make trades as dealing with collectors like myself can be very difficult. Obtaining this by trade was no exception. However, once placed on the turntable, any previous frustration was replaced by a real WOW! This acetate is an alternate <demo> version of "Sunrise" backed with the demo for I Can See For Miles. I had a master tape copy of the latter for years, but this version of "Sunrise" was just spectacular. Whenever I add something like this to my collection, I immediately contact the "powers to be" (Who Camp, Pete, etc...) so that they can double check to see if they "need" a copy for their archives (as you know, many items were lost, destroyed, stolen, mislabeled, etc. over the years). In this case, Pete did not have a copy in his possession and was very happy for a recording. Apparently, this was one of (3) three demos he recorded of the song (the first being included with My Generation Super Deluxe Edition) and another, unreleased version. This version was rejected because <as Pete explained> "the bossa nova–soft jazz version would not work for the band." Fortunately, this acetate recording was included on The Who Sell Out Super Deluxe Edition in 2021, so all Who fans can enjoy it.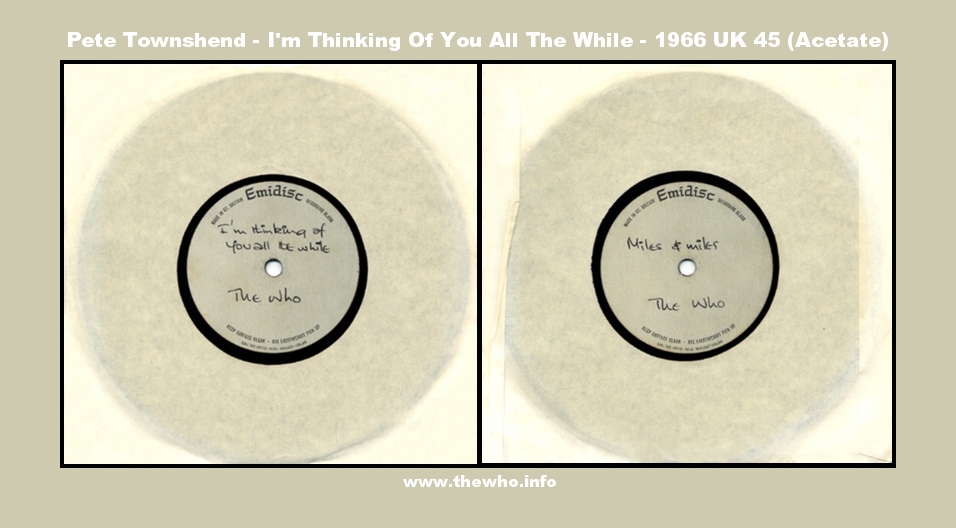 -------------------------------------------------------------
April 8, 2022
The Who - Naked Eye - UK Fanzine / Magazine - September, 1996 (Article I wrote for it.)
"Quadrophenia" at Madison Square Garden
"We're going to see The Who for six nights???" Yeah, how else do you think it would work? "How much is this going to cost???" It really doesn't matter. This is "Quadrophenia" LIVE that we're talking about!!! And so it was... my wife, <Mrs. Fang>, didn't realize just how special these shows were going to be, until she saw them...

The rumor of The Who playing at Madison Square Garden this summer was circulating around for about a year. We had heard that Bill Curbishley had rented it, probably for "Quadrophenia", but nobody would confirm or deny. Even when John Entwistle was asked straight out, he flatly denied it. Perhaps even he didn't believe the "rumors"...

For whatever good (or bad) reasons, it happened. First the announcement of the Hyde Park show, then Pete teasing the fans at his Supper Club show (hMMM... he didn't even play, "Lazy Fat People"!) and shortly afterwards the tickets were on sale...

Now that was a real cluster fuck... I already knew that they had 6 dates reserved, but there was that full-page ad in the New York Times. 3 dates??? And only via American Express with only ONE phone number??? For some reason, the scalpers got through with no problem! There was a lot of confusion over this whole thing as 2 days later, the other 3 dates went on sale to everyone--although people just bought tickets, not really sure what exactly they were doing. The whole thing was a mess and I think a lot of people were pissed off... The poor scalpers were dumping floor seats for $25 after the doors opened. Oh well...

So... opening night--Tuesday, July 16. What exactly did we expect? Good question. We got teased by a "sneak preview" the previous Sunday as HBO had "highlights" of Hyde Park. Gary Glitter? David Gilmore? Geez, this looked a bit fucked up! hMMM... At about 9:00PM, the show started (there were opening acts each night, but we purposely avoided them. Rumor had it that Pete was still annoyed with me for "booing" Bob Mould at the Supper Club), the big overhead screen showing the waves crashing, "I Am The Sea"... "Quadrophenia" had begun...

The first night was kind of an odd experience for me. This wasn't just "Quadrophenia" as on the album, it seemed more like Pete was trying to do "Psychoderelict", but not really. Phil Daniels ("Jimmy" from the 1979 "Quadrophenia" movie) read off the teleprompter in-between the songs. Gary Glitter played "The Godfather", Billy Idol was "Ace Face" and "The Bell Boy"... Simon Townshend (Pete's youngest brother), sang "The Dirty Jobs", with a bus driver's cap and sunglasses... I had to think to myself, "gee, do I like this???" By the end of the 1st night, I wasn't sure. I felt a bit disappointed as this wasn't the way it was supposed to be! The encore didn't help either... The Who's greatest hits!!! I thought they were all tired of this shit??? Yes, they were played a bit differently--almost... "Behind Blue Eyes" (acoustic), "Won't Get Fooled Again" (just Roger and Pete, acoustic), "Magic Bus" (same as the '89 tour version) and "Naked Eye" (which was actually very good, performed as Roger did on his '94 "DST" tour). The performance end of it was great, everyone seemed to be playing in perfect form--especially Roger. Before the shows, there was a lot of talk about whether Roger still "had it" and I'll assure everyone--he does. 52 years old and probably in better shape then 95% of the audience. Not only did he "have it" the 1st night, he had it all six nights! People seemed to be unhappy that Pete didn't play the electric. Yeah... so. With 2 other guitar players (Geoff Whitehorn on lead, Simon Townshend on rhythm) would it have really mattered? Over the 6 performances, he jumped and wind milled a few times, but more importantly, he looked happy to be there. John, of course was John. Perfect performance as to be expected from the world's greatest bass player. Night one, he didn't seem to look too happy--I'm sure he has mixed emotions over this on again, off again every 7 years thing called "The Who". I was hoping that he'd come out and make some jokes and play some of his own songs for the encores, but he seemed to want to stay in the background, distant from Roger and Pete, who seemed as though they were in love with each other... ...on the other hand, perhaps he was just protecting himself from Gary Glitter's mike stand!

Well, if I was disappointed with the first night, it didn't last very long. By night two, I was very much "sold" on this whole thing and very into it. This was a great show. It doesn't get much better than this--or at least I can't imagine it so. I don't know if it was the mix (each night the mix was different) perhaps due to the different seats, perhaps they wanted to change it... or I just got used to the "production". Daniels' narration no longer bothered me and the music flowed. THIS was "Quadrophenia". Twenty-three years after the album came out, it was done right! Wow! This was the Kind of show you could go to night after night for the rest of your life and enjoy it. The band was tight, the drumming was great (a nice combo of Zak Starky and Jodi Linscott) and "Quadrophenia" really came to life. Some of the highlights for me, were: Pete and Roger exchanging vocals and spotlights for "Helpless Dancer", Pete, Roger, Billy Idol and Gary Glitter exchanging vocals for "I've Had Enough" and during "Dr. Jimmy" with Pete yelling out and pointing to Roger, "...he only comes out when I drink my gin..." This was great stuff! For whatever reason, I think they sounded "fresher" than they did in '89. Seven years later... go figure.

The rest of the nights were all pretty smooth. A few technical problems, such as Gary Glitter's mike not working... Overall, I'd say the Sunday night, July 21, performance, was the best. Great performance, great mix, great fun! Of course the encores were just about the same each night. Same songs, different order, played slightly differently and a trade off of "Substitute" for "Naked Eye" here and there. The drunkards in the audience were happy with the greatest hits, but us real fans wanted more. Imagine playing the last half hour with "Heaven and Hell", "The Kids Are Alright", "Bargain", "Slip Kid" and "Relay"??? The only bad thing about it all, was the end. After the sixth show, no more concerts, no more Who (or "TED" as John now calls them)... Yes, there are the newest rumors of the October/November tour, but after that? It's a shame. Here you got three guys who perform magic when together, but for some reason can't (or won't) make it work on a day-to-day basis. To most of the audience these were the best concerts they've ever attended. Sad to think it won't last...

I went to the VIP room (that's the place you get to go if you have one of those "exclusive" passes) after the last show. My wife and I just sat quietly (certainly unusual for me) off to the side and simply "observed". Shortly thereafter, Pete walks in. The "crowd" was kind of divided. People who were special, people who thought they were special, and people who wanted to be special. The latter group seemed to follow Pete around. Pete appeared to be very politically correct--giving hugs to people and all. Roger and John were noticeably absent, but of those of noteworthiness were: Paul & Simon Townshend (very, very nice people--buy Simon's new CD when it comes out, it's truly great), Chris Stamp, Rabbit, Zak Starky, Irish Jack (the real "Jimmy") and John Entwistle's band, without John (I'm still scratching my head over that one...). If you haven't been to one of these things, it's all very nice, but not really the kind of intimate setting where you can really discuss anything in detail. It's a party atmosphere and there's just people mingling, who you get to say "hello" (and a little bit more) to.

Another aspect of the shows that made it all fun and worthwhile, was meeting up with all my Who Internet buddies from around the country (and several long distance pals from Germany, Italy & the UK). For those of you who are unaware, there's an international Who e-mail group, comprised of Who fans from around the world. Mostly people from the USA, but we have members from the UK, Germany, Holland, Australia, Norway, Denmark, Brazil, India, etc. What's nice about this forum is the "instant gratification" aspect of communication. Someone learns of some new information, buys a new CD, etc. and there it is! Anyway, one of our favorite listers, Stacey, picked out a small bar, The Molly Wee, about a block South of the Garden. There, before and after the shows, we Who Internetters met up and hung out together. A nice experience.

So... there you have it!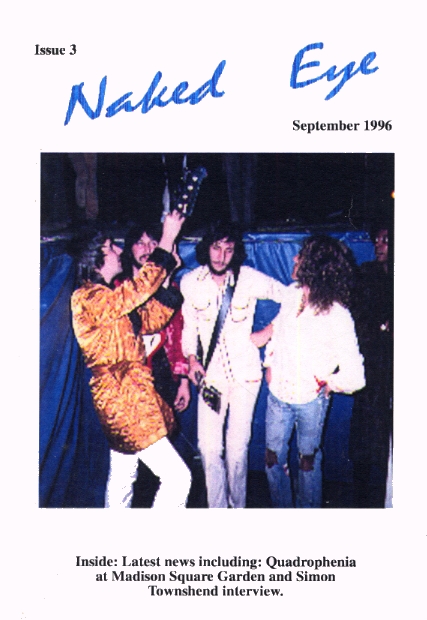 -------------------------------------------------------------
April 7, 2022
Roger Daltrey - McVicar - 1980 UK LP(s)
When the singles Free Me and Bitter & Twisted were first played on the radio back in 1980, everything thought they were listening to songs from the new Who album, McVicar. Shortly after we all learned it was a "Who project", and not a "Who album". The band members played on the album, but also with other artists. The songs weren't written by Pete Townshend, but by Russ Ballard, Steve Swindells and Billy Nicholls. The song "Waiting For A Friend" was assumed to have all Who band members on it and Without Your Love reached #20 in the charts... A fan favorite album and very Who-like... As for collecting... the UK clear vinyl LP was "it". Everyone had to have a copy and many did! Years later I found the 2nd UK pressing with a different color cover and black vinyl - a nice variation.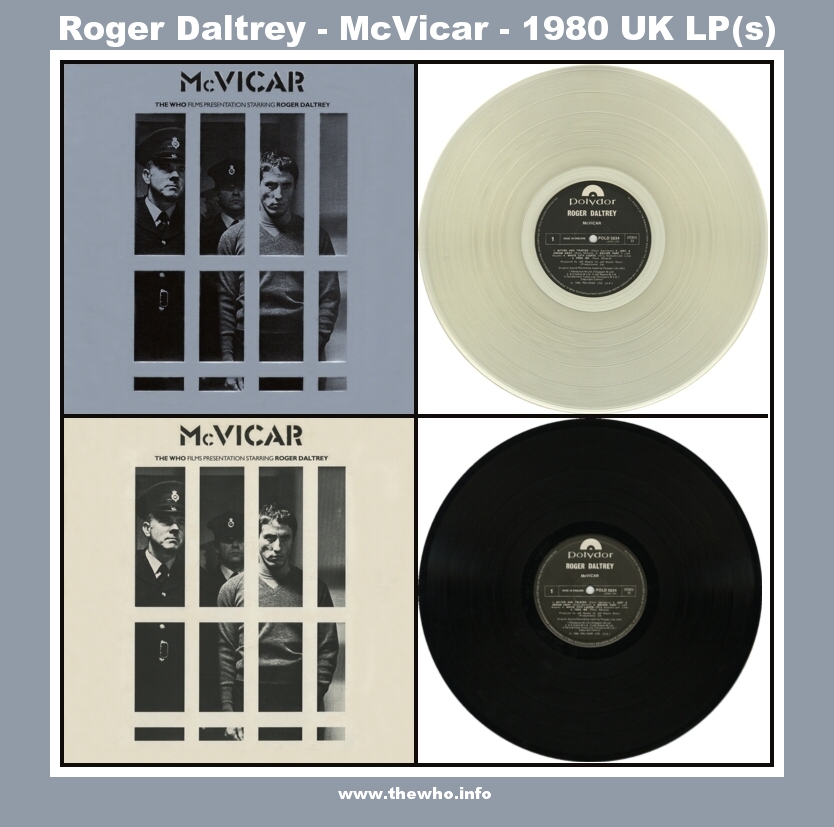 -------------------------------------------------------------
April 6, 2022
The Who - My Generation - 1965 Holland LP
What looks like a UK My Generation LP, but with a surprise inside? This is one of those nice, rare variations that you don't see often (and it doesn't even say "Netherlands", it says "Made In Holland"). There were a lot of interesting Who singles and variations of "My Generation" released in Holland (i.e. "Instant Party", "The Kids Are Alright", "Big Hits Like Who") and of course this beauty. Complete with a UK printed sleeve and a unique Holland, blue label LP. Great stuff! For collectors scanning eBay... this is the kind of rarity you can miss with a blink of an eye. Scrolling down endless pages and passing a "common" cover, but missing what might be inside. Take more time, look carefully and perhaps you will find one too!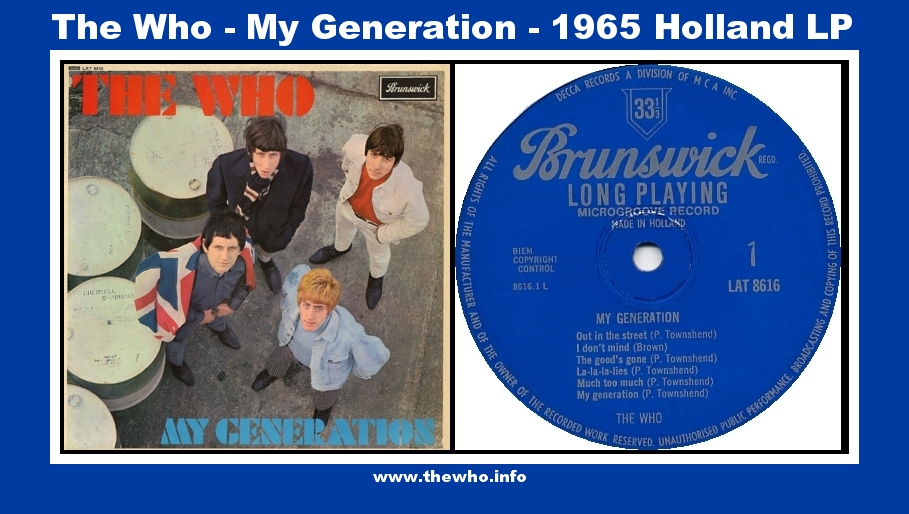 -------------------------------------------------------------
April 5, 2022
The Who - La La La Lies - 1966 South Africa 45(s)
In South Africa, it seems that some of the same Who 45s were sometimes issued with and without picture sleeves, this is an example. This sleeve's artwork was also used for "Instant Party", "Pictures Of Lily" and "I Can See For Miles" (with the first two being issued on Decca and the latter two on Polydor). The only thing differentiating the design was the base colors, the record label and the song titles. At one time, the South Africa singles seemed to be "somewhat" available, but that doesn't seem to be true anymore...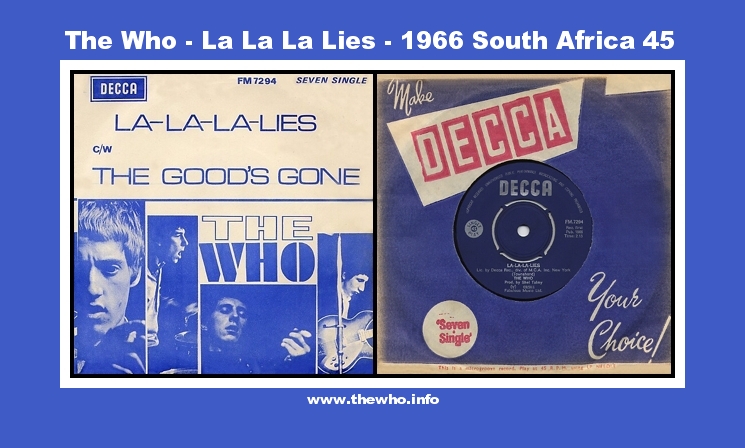 -------------------------------------------------------------
April 4, 2022
Keith Moon - Don't Worry Baby - 1975 Germany & Austria 45(s)
Most (if not all) of The Who / Who solo Austria 7" (45 RPM) picture sleeves are made in Germany, but the vinyl, made in Austria. With the LPs, the same is sometimes, but not always true as Austria has its own unique artwork in several outstanding cases (The Who By Numbers, Tommy (Soundtrack), etc.). Here is Keith Moon's Don't Worry Baby. Both picture sleeves are identical (printed in Germany), but the vinyl, clearly different.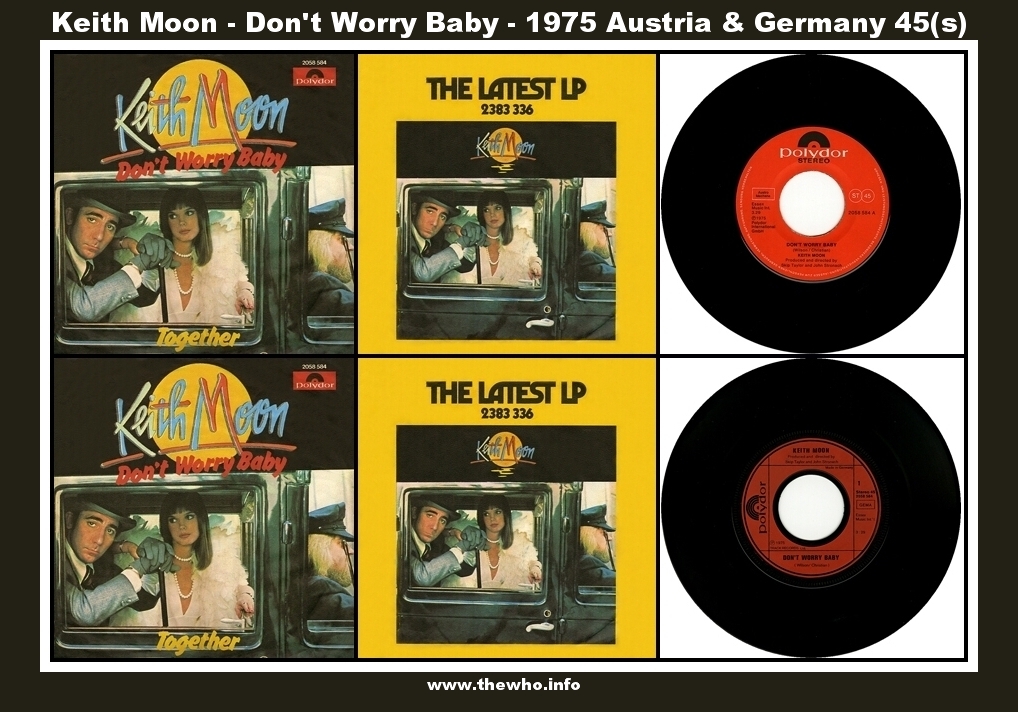 -------------------------------------------------------------
April 3, 2022
The Who - Complete Collection Of Original Japan Singles/EPs
The Japan Who (and Who solo) singles have always been admired by collectors due to their unique artwork and high quality. One of the goals for anyone serious about collecting The Who is... a complete collection of these singles. If memory serves me, the very first one I bought was Rough Boys in 1983. I recall buying all of its other variations and this one was no different (probably paid about $10-$15). I would guess that I purchased "Who Are You" around that same time (and perhaps for about $20).

In 1983, I was going to New York City at least once a week and spending a lot of money buying Who records. The goal at that time wasn't to focus on the rarest or most expensive, but to come home with as many cool records as possible. Filling in the gaps years later was a little more complicated (and expensive). The one single that caught my eye was I Can See For Miles. Something about the "snow scene" that really caught my attention. The one store that had it, was known for its unusual pricing (i.e. $6 records would be marked for $75, some records weren't even for sale, etc.). So one day I went there and almost reluctantly asked "how much?" The owner said, "$35". I said, SOLD! Anyone that knows the owner/store that I'm referring to had the same reaction. It made no sense, but this was one of the few times it worked out in my favor!

Like anything else that you plug away at, eventually you reach closure. A few of these singles are extremely difficult to find and a few were late minute surprises (i.e. never saw these on anyone's list before). As some of you are aware, Polydor/Universal Japan begin reissuing these singles (high quality copies, but with CD singles inside) and then, for no apparent reason, never completed the catalog. Best wishes to all looking to complete their Japan collection - it's a labor of love.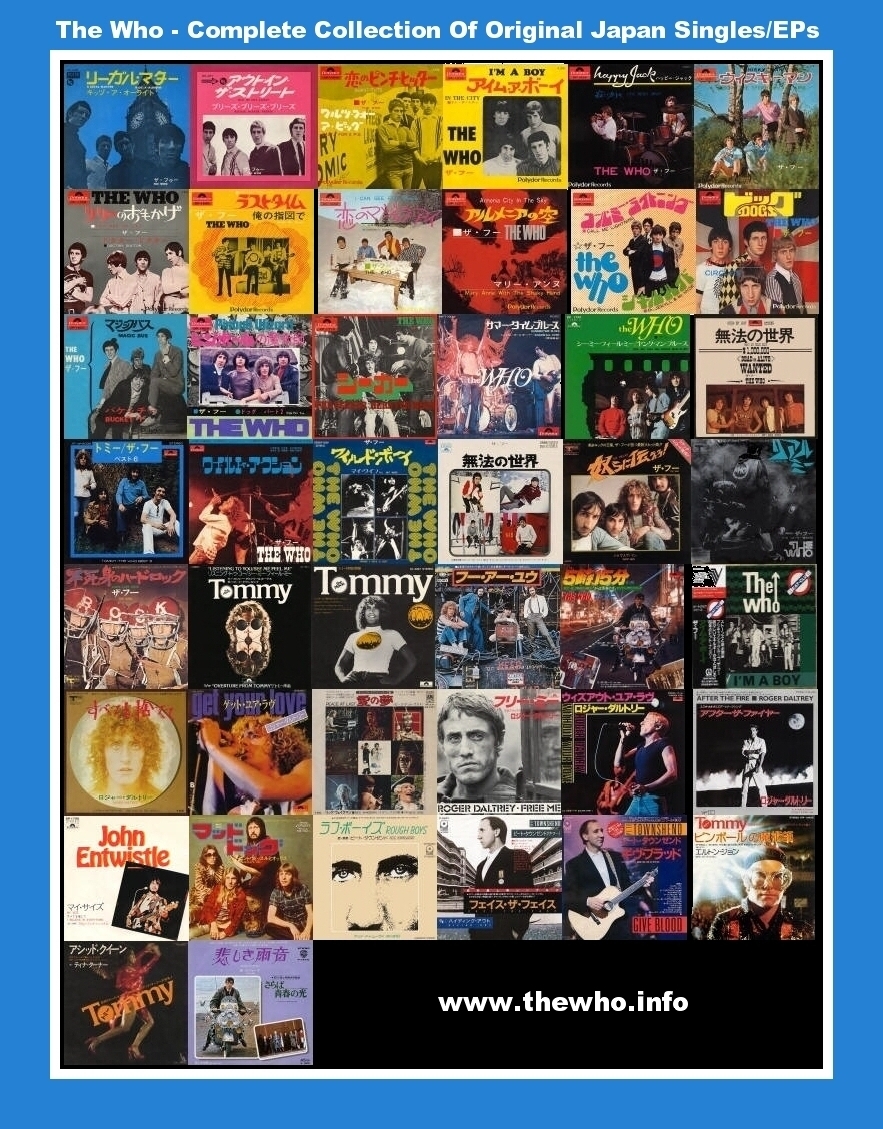 -------------------------------------------------------------
April 2, 2022
The Who Sings My Generation - 1966 Hong Kong LP
In December of 1982 I went to the Miami Record Show. Shortly after I walked in, the owner of one of the best Miami record stores grabs me and says, "How would you like this super rare Hong Kong Who LP for $50?" Before I could say anything, he was ushering me further away "so we could talk". Apparently, he just bought it from another dealer for $10 and didn't want him to know he undersold it. I was new at collecting, but when he said "Hong Kong" and showed me how different it was from the common USA Decca LPs, I was really excited about it. Apparently the Life label was made in Hong Kong and also distributed to Malaysia and Singapore, hence the sometimes confusing and misleading listings.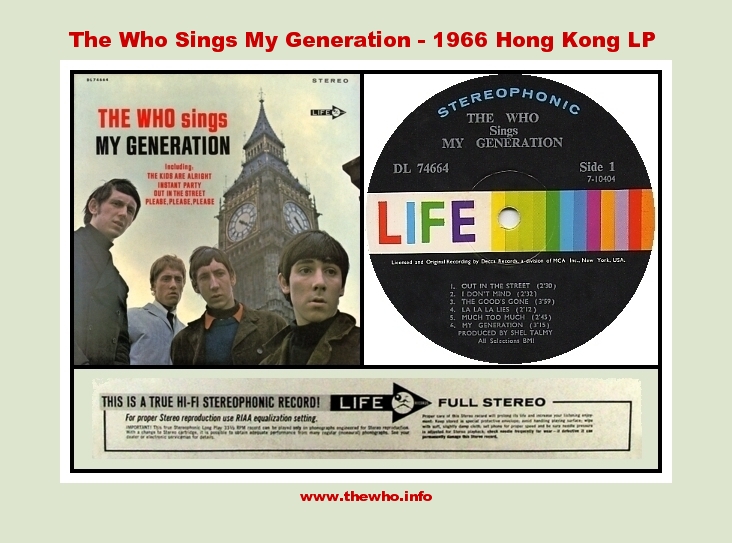 -------------------------------------------------------------
April 1, 2022
The Who - Ready Steady Who - 1966 UK & France (EP) 45(s)
My "Who collecting" began in the fall of 1982. Several books came out with "Who discography" information and it was clear the measly 17 albums I had needed a "few" additions. One of my early goals was to replace all the tracks from Who's Zoo, with the real <official> "b" sides. Over the holidays, I made my first trip to all the New York City record stores in Greenwich Village. One of these stores was the legendary, Bleeker Bob's. At the time, it seemed like he had it all. They initially acted a bit rude and nasty, but by the time I was done with my purchase (the bill came to about $1,000 - which was a lot of money back then!), their attitude improved quite a bit. Included in my "spend" that day were the UK and France versions of Ready Steady Who. I didn't need the latter for its rare tracks (since I also bought the UK copy), but it was so beautiful, how could I walk away from it? If I recall, Bob charged me $80 for the UK and $100 for the France copy. It was a good trip and for the many years that I returned to the store, they treated me like a valued customer. My initial goal in collecting was just to have all of the band's music and the best sound quality pressings. Perhaps I got a little "carried away"...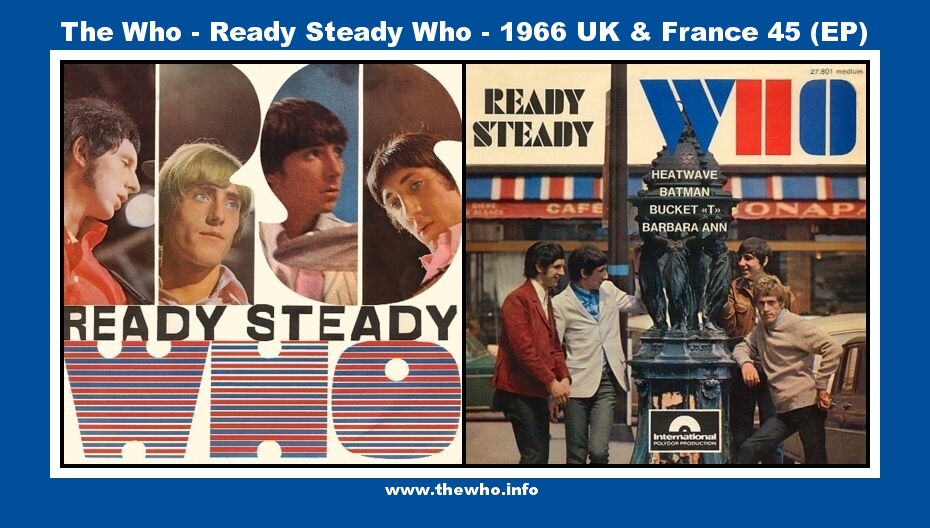 -------------------------------------------------------------
March 31, 2022
The Who - Happy Jack - 1966 Greece 45(s)
Many years ago I met a Who fan from Greece online via eBay. He sold me a record or two and then we began exchanging emails. He ended up selling me several Greece Who singles that were very rare and one day, he sent me a picture of Happy Jack, which he said he was keeping. I had never seen this one before. The non-picture sleeve version was somewhat common, but this one? I made him a few offers, but he still refused to sell it, insisting how rare it was, etc... After 10 years, I still had never seen a copy offered until one day this copy appeared on eBay. Unfortunately, I got into a bidding war with another collector who seemed to have the same "problem" I did and the price got ridiculous. This was one of the most expensive auctions I won, but the record was mint and 10+ years is a long time to wait! Naturally, after other vendors saw the auction, they put theirs out for sale (at above market prices), but that ship sailed.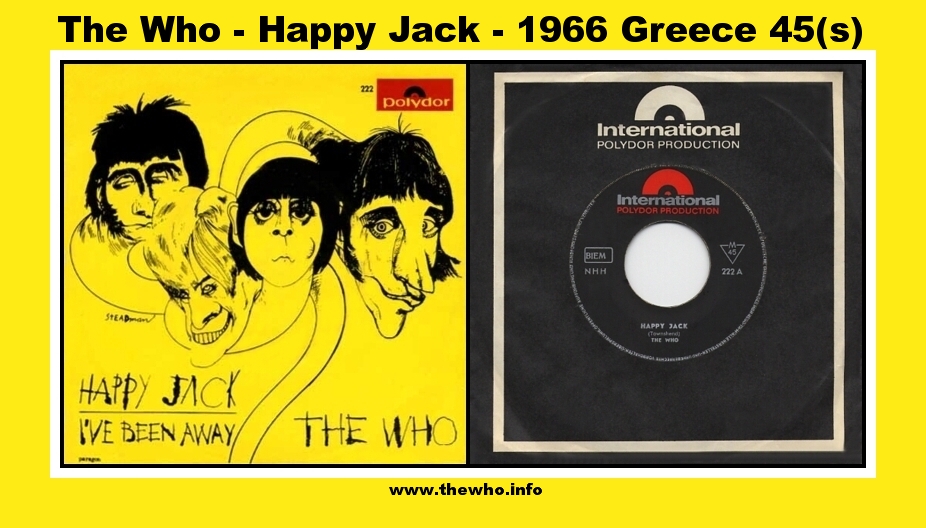 -------------------------------------------------------------
March 30, 2022
The Who - Who Did It - 1970 UK LP
This is an odd, rare, heavy-in-demand LP. One side is side one of A Quick One (simulated stereo), the other side is side one of The Who Sell Out. It was withdrawn almost as quick as its release. When I first started collecting in the early 1980's, I used to see a copy of this hanging in one of the record stores on 8th Street in New York City. It was priced at $300 and it was hanging there for years. I always thought to myself, "Who would want to pay $300 for that???" (It did sell eventually.) I looked at it carefully each time I stopped at that store (they seemed to be the only place that carried magazines like The Relay and Generations) and never ever saw the value in it. In the early 2,000's, I reluctantly bought a copy online for about $250, because I thought it was a "necessary" piece for my website. Other fans seemed to think this was an important collectable, perhaps I was missing something (besides the record)?

Fast forward, today a copy on eBay sold for over $1,000 and there's a copy on Discogs for over $2,000. In retrospect, it's a cool collectable, but you have to ask, why was it released in the first place?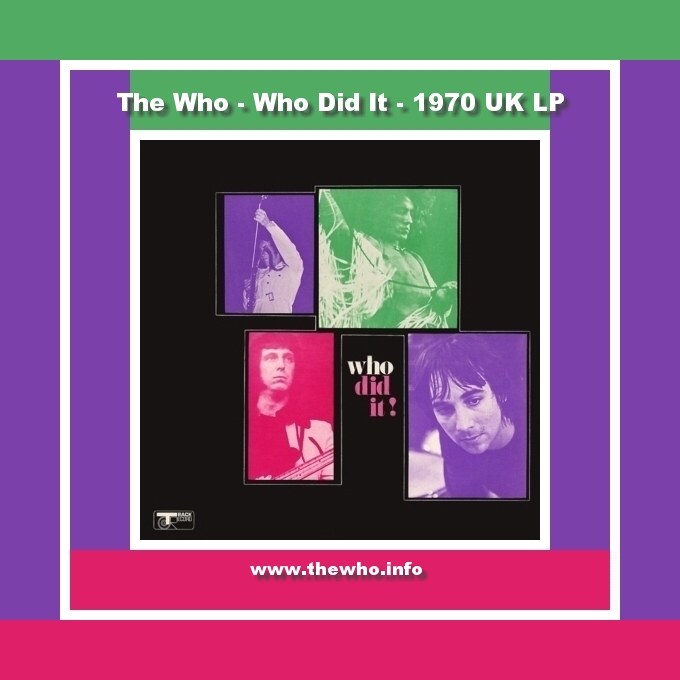 -------------------------------------------------------------
March 29, 2022
The Who - Join Together - 1990 Thailand Cassette(s)
I wrote to Pete Townshend when the tour was announced in 1989 and suggested that the band include some solo material to their set lists. They had never done this before, but with the break-up of the band at the end of 1982 and the many solo projects that followed, why not represent the "greater" Who catalog and present something a little different? Included in the shows were several songs from Iron Man (which was also released in 1989) as well as Pete songs such as "Let My Love Open The Door", "A Little Is Enough", "Rough Boys", "Face The Face" and John Entwistle's, "Too Late The Hero" (Roger didn't sing any of his solo music).

Fast forward to the Join Together release, I was discussing the forthcoming album with the person in charge of The Who catalogue at MCA and they were in a bit of a quandary. They preferred the Radio City concert over the LA Show (and its guest singers), but since Radio City was broadcast over the radio (for free), how were they going to "charge" for it? I had suggested doing a hybrid (taking the best tracks from both). Unfortunately, at the time I was completely unaware of the fantastic "Tommy" rehearsal they did in Glens Falls, NY (just prior to the start of the tour). That would have been a great choice, but...

The second disappointing thing was the track list. Another LP (or CD) would have greatly helped because too many great songs they performed on the tour weren't included. The package seemed more like, "Live Tommy", "Greatest Hits" and "Who performed Pete Townshend song" crammed together.

Lastly, with a bit too much compression and without a powerful mix, the presentation was a bit weak. It helped to reinforce the notion that this was "The Who On Ice" (a nickname fans used to slag this tour), vs. an opportunity to represent what a really great tour this was... A missed opportunity.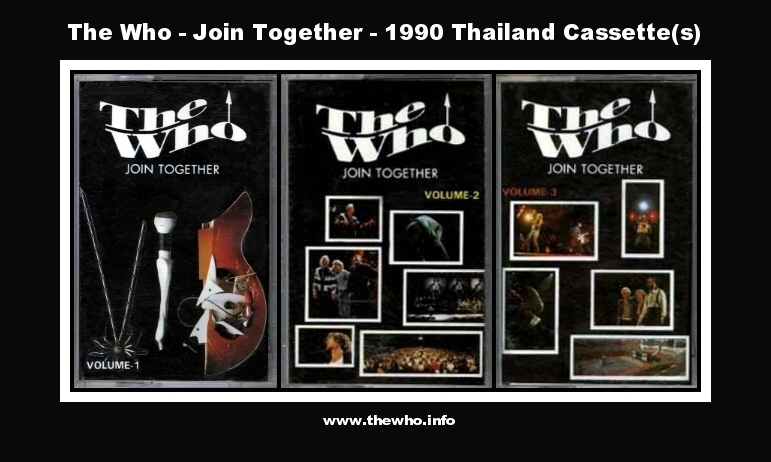 -------------------------------------------------------------
March 28, 2022
The Who - My Generation - 1965 Denmark 45(s)
Back in 2001, I started going to the Utrecht Record Fair twice a year. After 9/11, I thought... if not now, when? One of the dealers I began to see (and buy from) regularly (now my friend, Erik), had a nice display of Denmark records. At every show, I would stop at his table, see what he had for me and hopefully buy something. He was always extremely nice and a big Who fan too! The Denmark Who records were unique and featured great artwork. In fact, My Generation was issued with both an orange and white sleeve. All of the Denmark Shel Talmy produced singles were on the Brunswick label, except "My Generation", which was on Decca. The sleeves were all made in Denmark, but the vinyl were actually UK singles.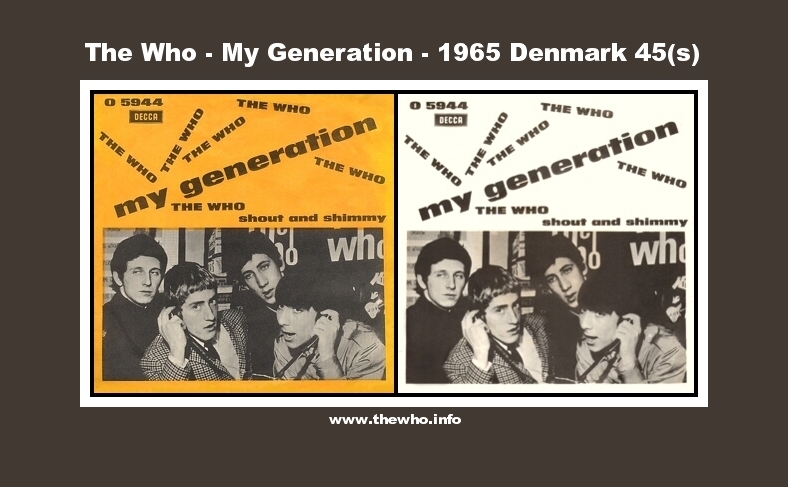 -------------------------------------------------------------
March 27, 2022
John Entwistle - 1975 UK / Brazil / Spain LP(s)
John Entwistle's Mad Dog was his 4th album. Here are (3) three LP variations. The UK (autographed), the Brazil with Portugese lettering (and a browner color) and the Spain, which uses the artwork from the poster and changes the title to "Perro Rabioso". (The latter is my personal favorite.)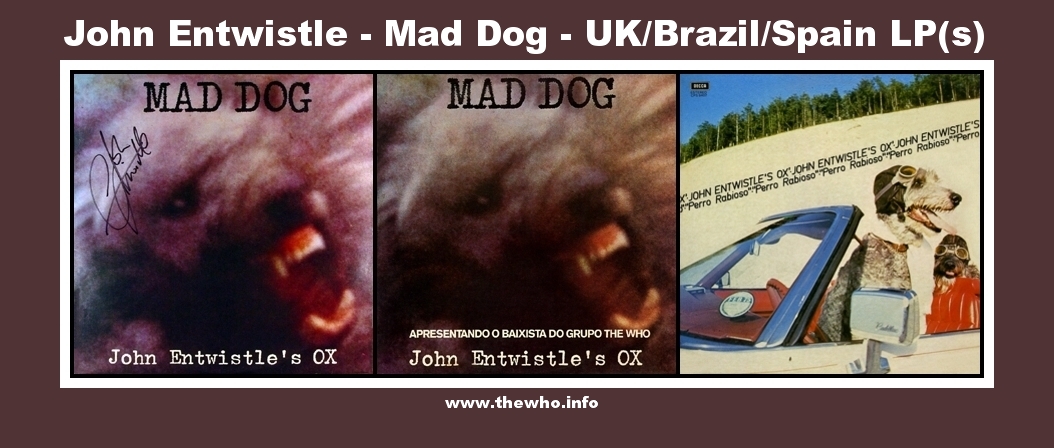 -------------------------------------------------------------
March 26, 2022
The Who Sell Out - 1967 Australia LP(s)
You can't have a Who collection without at least one copy of the Australia version of The Who Sell Out. At the 1995 Who Convention, I had a sweatshirt made up of the front and back cover and fans would walk up to me asking how I got "Clearasil" vs. "Medac" in the artwork. I had to explain, that's how the album was released in Australia! There are (3) three versions of the "Clearasil Cover" - Black labels mono and stereo and a reissue red label (stereo only). These are the kinds of unique differences that make collecting fun. In fact, I was once told the New Zealand version also has the "Clearasil Cover" (it doesn't).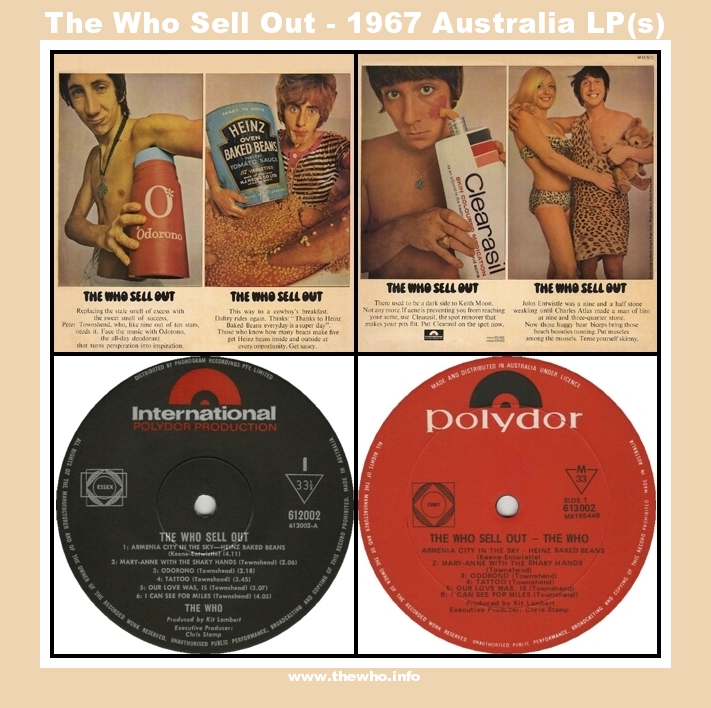 -------------------------------------------------------------
March 25, 2022
The Who – Live At Shea Stadium 1982 - 2015 UK/Japan CD (Promo(s))
This appears to be the CD that "almost was". Released in both UK and Japan as a "promo only" CD (in support of the DVD release), these could have been testing the waters for a regular CD release, or just for radio stations to play tracks from the DVD to promote it. Either way, these are extremely rare and haven't seen them anywhere else.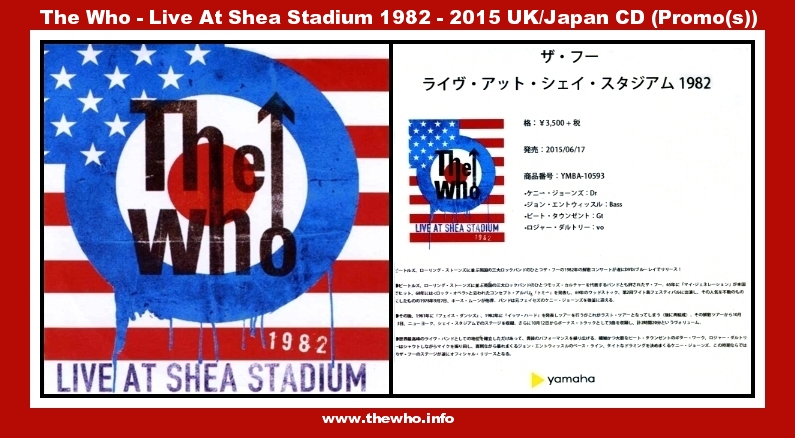 -------------------------------------------------------------
March 24, 2022
The Who – Won't Get Fooled Again – 1971 Italy 45(s)
Speaking of colored vinyl, the very first official release of the same for The Who was in Italy, with the 1971 Won't Get Fooled Again single. At the time I bought this, these were considered rare and in demand. Later on I discovered that the single was also issued in black vinyl, which leads to the question - which version is rarer?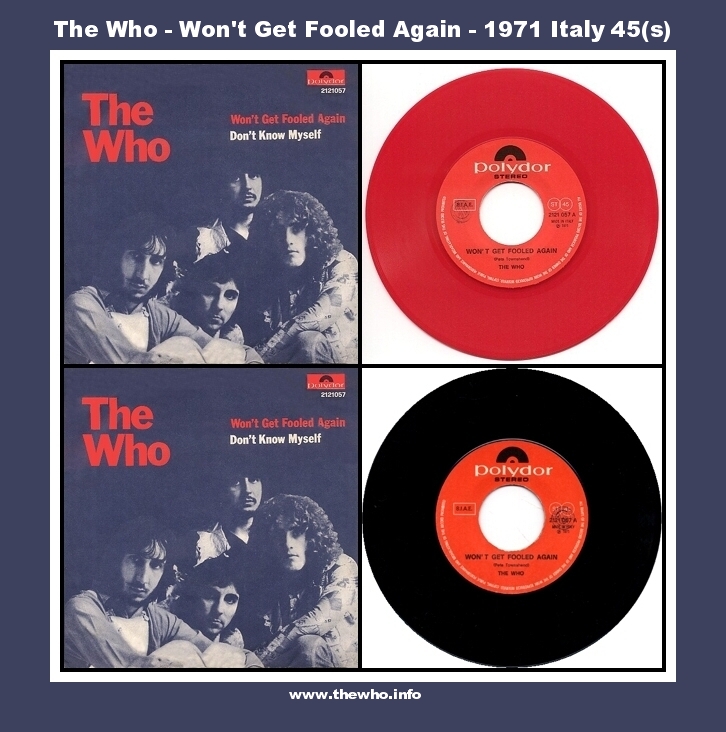 -------------------------------------------------------------
March 23, 2022
The Who – Join Together – 1972 Lebanon 45(s)
Prior to the Lebanon Civil War that began in April, 1975, the Lebanese had a thriving music industry, which included... Who records! What made several of these even more interesting was that they were released on splash wax (multi-colored vinyl). Displayed here is "Join Together", which both the stock copy (left) and the promo copy (right) use two different splash wax color sets.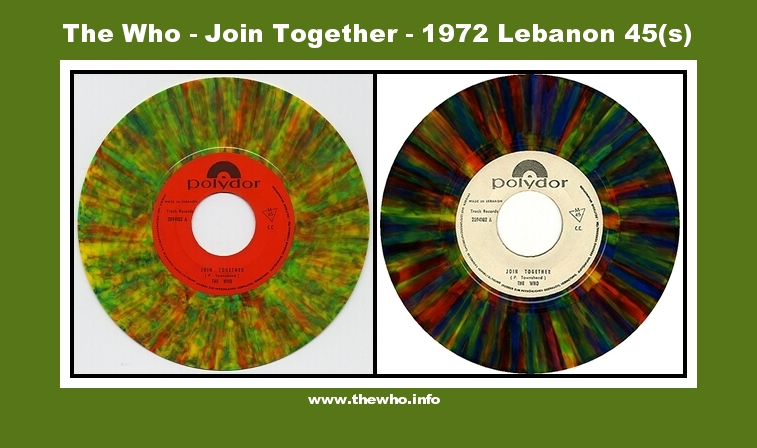 -------------------------------------------------------------
March 22, 2022
Oscar – Join My Gang – 1967 UK 45 (Written By Pete Townshend)
Between 1964 & 1967, (3) three Pete Townshend songs were covered by other bands, but not released by The Who. It Was You (recorded by The Who in 1964, but unreleased and covered by The Naturals in 1964 and Chaos & Co in 1966), Join My Gang (covered by Oscar in 1966, performed live by Pete at his first solo performance at the Roundhouse London in 1974) and Lazy Fat People (covered by The Barron Knights in 1967 and released as a Pete Townshend demo in 2000 on Pete's old website). These songs are fascinating and "Join My Gang" would have made a great Who song. "Oscar" as some of you might know, is actually Paul Nicholas, who played "Cousin Kevin" in the "Tommy" movie. His real name is actually, Paul Oscar Beuselinck (hence the "Oscar").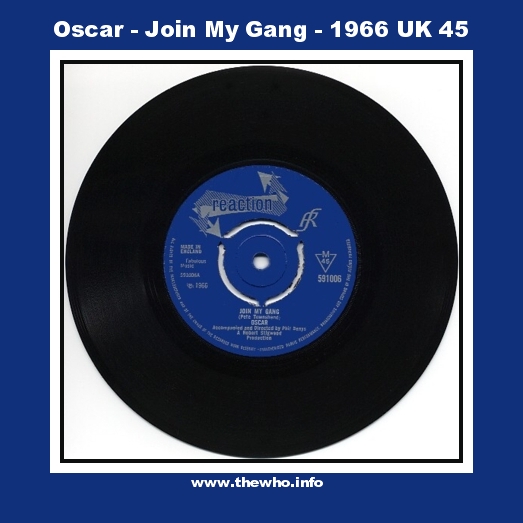 -------------------------------------------------------------
March 21, 2022
The Who – Meaty Beaty Big & Bouncy – 1971 Germany LP(s)
What makes the Germany issue a bit more interesting is that, they initially issued the front cover as the "reverse cover" version, then reissued it as the common version. Several countries issued Meaty Beaty Big & Bouncy with the reverse cover, but Germany was the only one which... quickly changed their mind.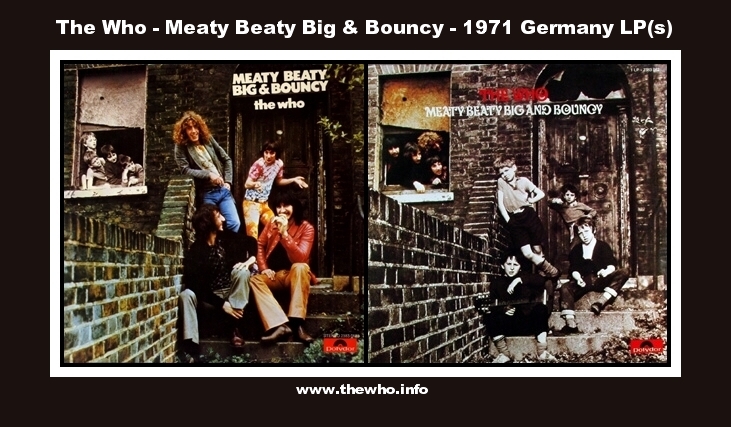 -------------------------------------------------------------
March 20, 2022
The Who – It's Hard – 1982 RIAA Gold Award
Something to note about Gold and Platinum Awards… There are a lot of fake ones and folks get ripped off all the time. I have a few friends who are experts on these and I'm generally able to spot a fake. These awards are pretty cool. I only have a handful of them because most of them sell at "silly" prices. The ones dedicated to individual band members are worth the most.

It's Hard came out at the time I started collecting. I initially liked (2) two songs on it and didn't like the rest of the album. After about (10) ten plays, I liked it more and more. It's still one of my favorites and I enjoy the live versions of the songs from the 1982 tour. The album is about to be re-released as a Record Store Day (RSD) special edition (April, 2022) and will feature (3) three unreleased tracks.

Way back in 1997 during the remix program, I recall debating the live bonus tracks (i.e. "Oh no! Not Toronto again! Use Orlando instead!" We did get a Pete snippet!) and shortly after I learned that Roger Daltrey has recorded lead vocals for "Eminence Front" and they were preserved on the multi-track tape! Unfortunately, that info was too late and unable to be used for the CD reissue.

Fast forward to 2015, we were working on a "Rarities" project and "Eminence Front" was remixed once again. I remember being told, "Well… you might be a little disappointed, it's not all Roger's vocals, but mostly Roger's vocals and a duet with Pete." Oh? I'm thinking that's even better! And when I received a copy of the song, I was like "Wow!!!" This is just fantastic. (Some of the best Who songs have Roger and Pete exchanging vocals and this is no exception.) Every time I listen to this version I have a huge smile on my face. It's amazing it was never released previously…

The other main unearthed bonus track is the Pete vocal version of "One Life's Enough". Pete had written at the time of the album's release how proud he was of Roger's vocal performance on that song. This led me to believe there was an interesting Pete vocal version buried somewhere – and there was! Roger even has a "surprise performance" on it! It's a really great version!

Lastly, an unedited version of "Cry If You Want". This is the song that Roger believed should have been the single (vs. "Athena"). Roger also complained about the trouble he had singing the song live because of the "wordiness" of it. He is right that it's a classic Who song and grossly underappreciated. UK Who fans seemed to always have an intense dislike for this album. After all these years, it may have stemmed from the fact that the band was supposed to tour the UK in 1982/83 and… didn't. Enjoy your RSD version – I'm sure you will love it!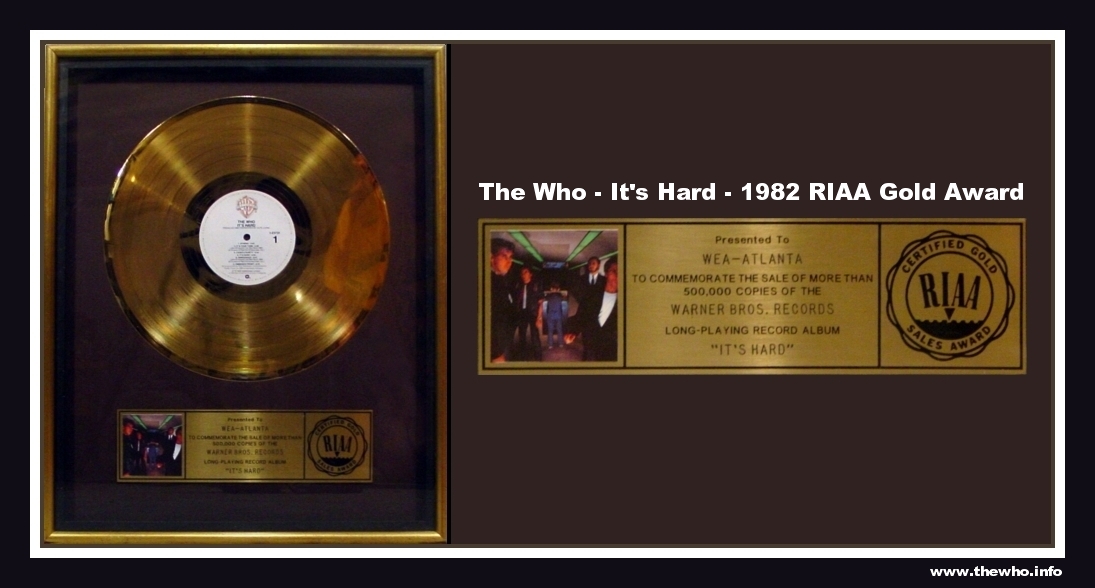 -------------------------------------------------------------
March 19, 2022
The Who - BBC In Concert - 2022 Japan CD (Stereo)
This <bootleg> CD is a great example of what The Who should be doing with their mono-only back catalog. New technology exists that can take mono tracks and divide the components (bass, drums, guitar & vocals) into separate tracks, which can then be mixed into stereo. I'm not a fan of mono-anything. Stereo is the natural way of listening to music. This CD is very good, but I think the folks in Japan could have done a better job with it. A bit wider in the stereo mix and a less compressed mastering would have been my preference, but it is what it is and for The Who's music catalog, a first. 14 sound samples have been provided via the link above...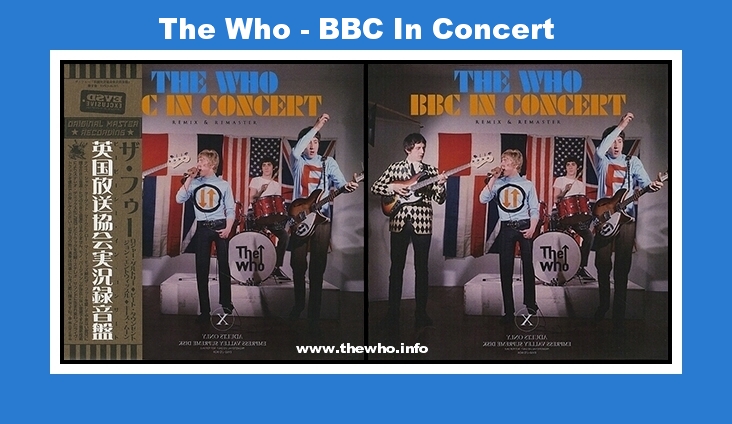 -------------------------------------------------------------
March 18, 2022
The Who – "My Generation" – 1965 Rhodesia (Zimbabwe) LP

This was a recent find. I learned all about Zimbabwe Who records from a recurring vendor at the Utrecht Record Fair. He was from Holland and travelled all over the word. His "crates" were full of Who records from South Africa, The Philippines and… Zimbabwe. When he first mentioned them to me (circa 2001), I was like… whaaaaat??? Yeah, sure! I bought a few at the time (as if all the ones I didn't buy would be there on my next trip) and then a few more on subsequent trips. His prices seemed high, but he had really rare stuff and in a declining market (even then), you buy what you can.

Fast forward to the peak of Covid19, I see this beauty show up on Discogs. The seller was asking ~$200 and surprisingly, nobody was "biting". I offered him $100 plus postage and he accepted. He warned me that due to Covid19, shipping is taking forever, but I wanted it and eventually it arrived.

Another Who collector swore up and down that "there's no such thing as Rhodesia/Zimbabwe Who records." He said, "They are all from South Africa but with higher prices!" While some of the records are almost indistinguishable and may have even been made in the same record plant, there are some unique differences. Hey, this one has an origin sticker on it!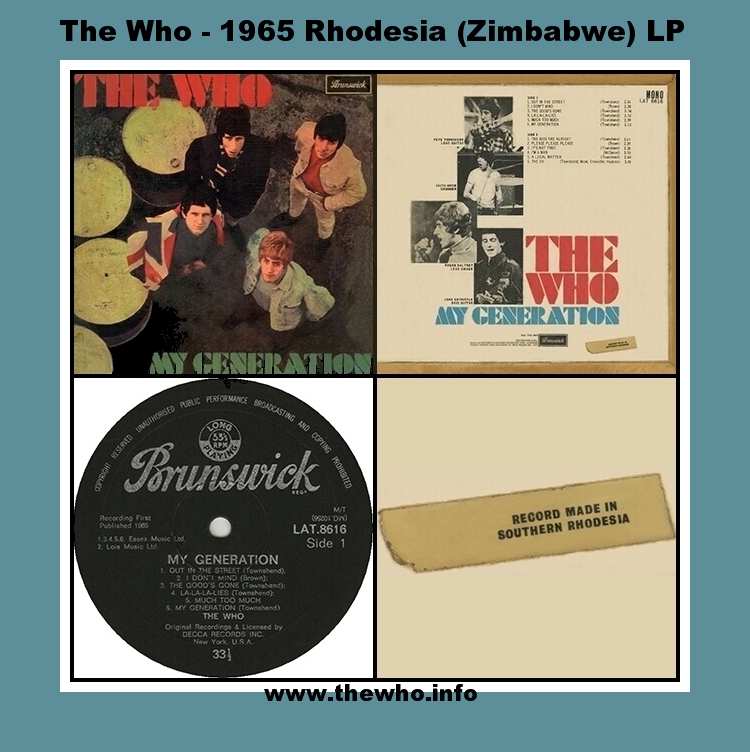 -------------------------------------------------------------
March 17, 2022
The Who - Pinball Wizard – 1975 Canada (Promo)
This singe, issued with both a picture sleeve and stock sleeve (with the latter being much more common). If you take a look at the label credits, you will note John Entwistle credited for Pinball Wizard.

One of the disservices of using the Illustrated Who Discography as an early guide was that it lumped Canada together with the United States. Not only are they (2) two different countries, but in terms of Who collecting, there were many unique differences (i.e. this picture sleeve was never offered in the USA).

When I made my first trip to Canada in 1996 (very cold – dress warm if you go!), I spent a lot of time walking around Toronto to all the record stores and also went to a small record show. I found a lot of cool stuff that I didn't even know existed. While there are many similarities with the USA releases (i.e. same record company – mostly), there are many differences worth seeking out as well…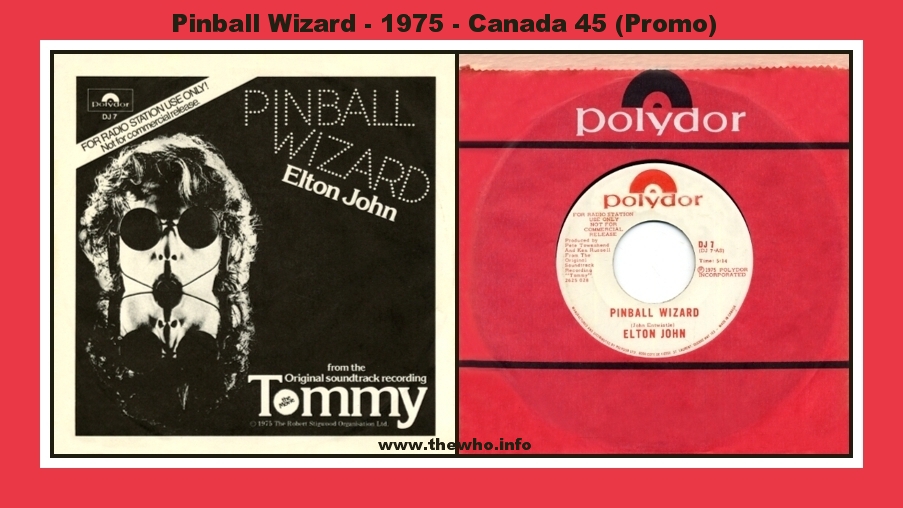 -------------------------------------------------------------
March 16, 2022

The Who – The USA Decca White Label Promo LPs – 1966 – 1969.

The Who Sings My Generation -> Tommy. Issued in both mono and stereo * versions except for Tommy (stereo only).

The Who Sell Out was also issued as "banded" and "un-banded" (one of each pictured). I bought my first one in 1982 – the "Sell Out" promo for only $10. The store owner claimed he "mismarked" it and tried to sell it to me for $25, but the label said $10, so he said " 'uck it'.

When I was scanning the labels for my website, I realized I was missing the mono "Happy Jack". Not a fan of mono anything, I could see why, but I had to now find one. Took about 6 weeks until a decent one showed up… Probably the most desirable in the series is the mono Magic Bus since the LP was never offered in mono to consumers (a promo only thing).

The banded/unbanded Sell Out thing is more of a novelty at this point. Different catalog # and space between the tracks. The original mono Sell Outs sounded awful. Its as if several people mastered different tracks – it does not sound cohesive. When Classic Records released their mono version, it was Bernie Grundman who "figured it out" and got it right. All subsequent mono releases have been just fine.

* The Who Sings My Generation was not issued in true stereo.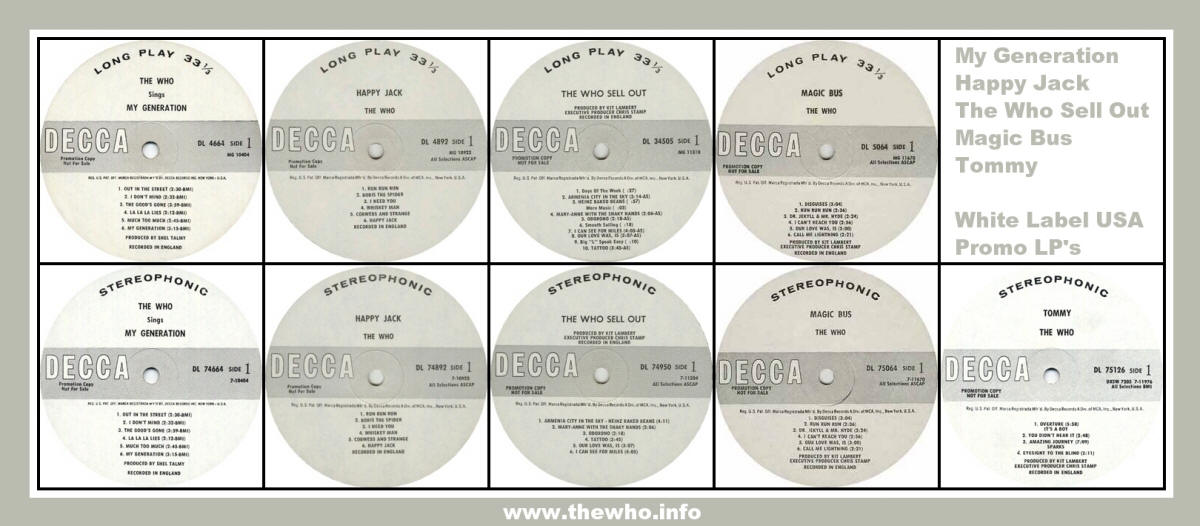 -------------------------------------------------------------
March 15, 2022

The Who – I'm A Boy – 1966 Norway 45(s).

Once upon a time, it was deemed that the blue/red version was more common than the green/orange version. However, that opinion may have changed. Years ago I saw more of the former, now, I see more of the latter. Perhaps it's a draw – they are both rare…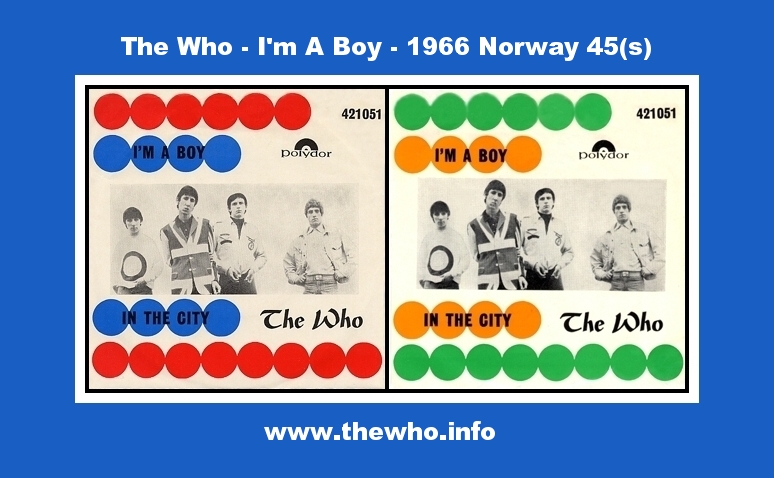 -------------------------------------------------------------
March 14, 2022
Pete Townshend – "Rough Boys" / "And I Moved" – 1980 France 45 (x3)
Here are (3) three variations of Pete's single, Rough Boys. From Left to Right: "B" side emphasized title (rare), Common version, Juke Box Sticker version. I remember when I first saw the rarer version with the bold "And I Moved". I was like, this is really cool! Unfortunately, another friend snatched It up (and I didn't). Years later I found a copy and was very happy. The Juke Box Sticker version was just a fluke…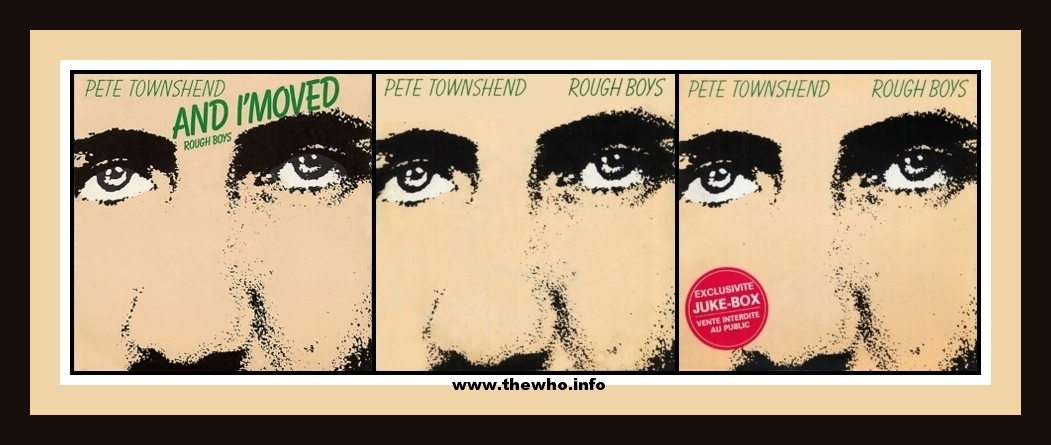 -------------------------------------------------------------
March 13, 2022
The Who – The Kids Are Alright – 1979 USA Standee
I used to see this all the time at the Golden Disc record store in NYC. If I recall, Keith's head was flopping forward. Prices for these seem to be all over the place. I probably paid about $25, but I've seen them as high as $1,000. Must have collectable for any Who fan!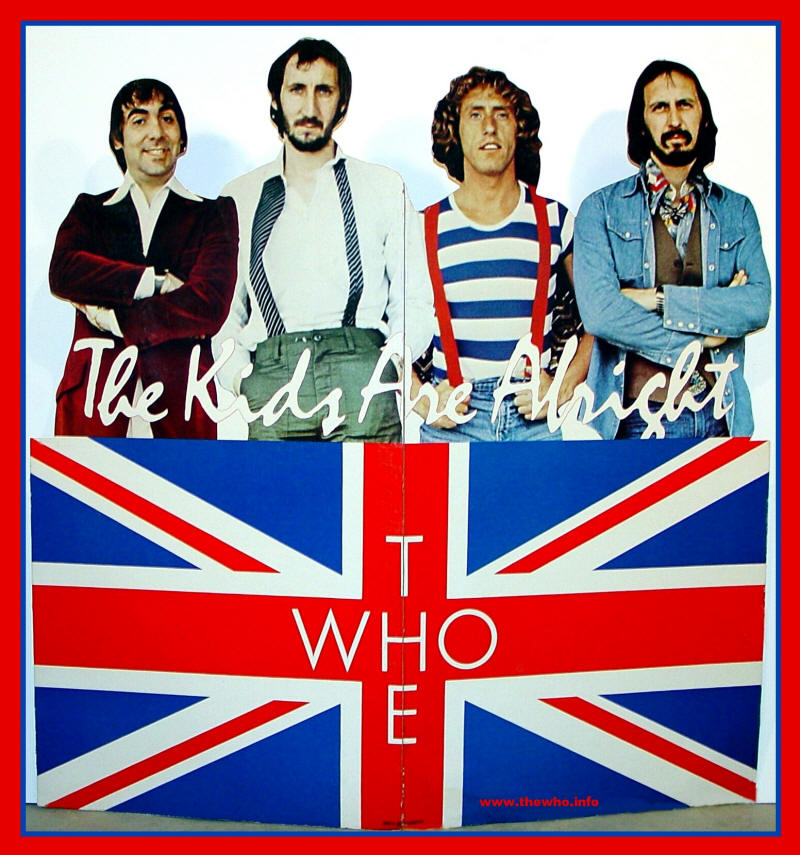 -------------------------------------------------------------
March 12, 2022
I'm Free / Go To The Mirror - 1969 Chile 45(s).

This rare single was offered in both a picture sleeve and stock copy version. I haven't seen many of the picture sleeve versions. In fact, I got into a bidding war over it years ago and then ended buying it from the winner, years later...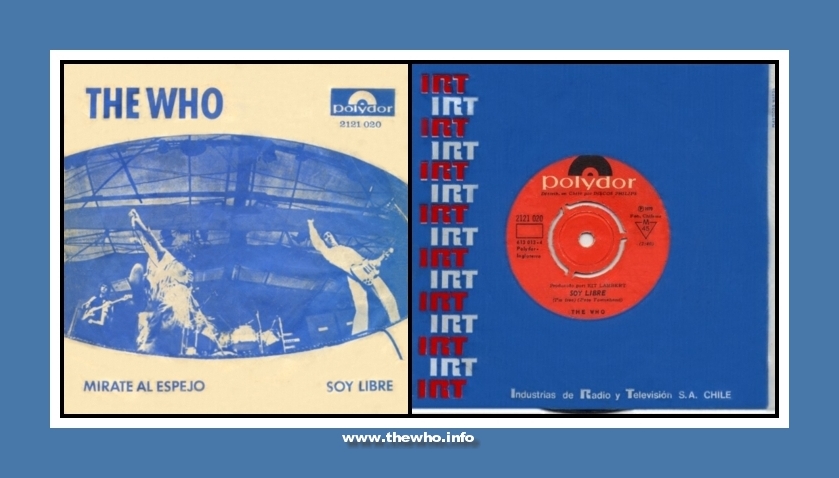 -------------------------------------------------------------
March 11, 2022
The Who – "My Generation" 1966 Italy 45(s)
I remember missing the chance to buy the white one from a friend of mine, thinking at the time - $100 is too much for it… However, in 2002, I went to the Milan Record Faire. There was a dealer there who had both of these for $150 each. I remember they were becoming super hard to find and the prices were rising, so I grabbed both. It was a smaller, but good faire, except… EVERYBODY SMOKED. After a few hours of trying to breath, I "had enough". Found a bunch of things and left. There were a few record stores in Milan that I walked to from the hotel and also picked up some odds and ends. The most fascinating thing about the trip to Milan was that they sold pizza *everywhere*. Had Chinese food one night – PIZZA was on the menu (I had to try it just to say I had Pizza from a Chinese restaurant). Took the train to Lake Cuomo. I *think* there was a record store there and bought something… Good trip for 4 days. Saw Duomo di Milano (walked past it several times), bought Who records, ate pizza, train to Lake Cuomo and Genoa for Gelato…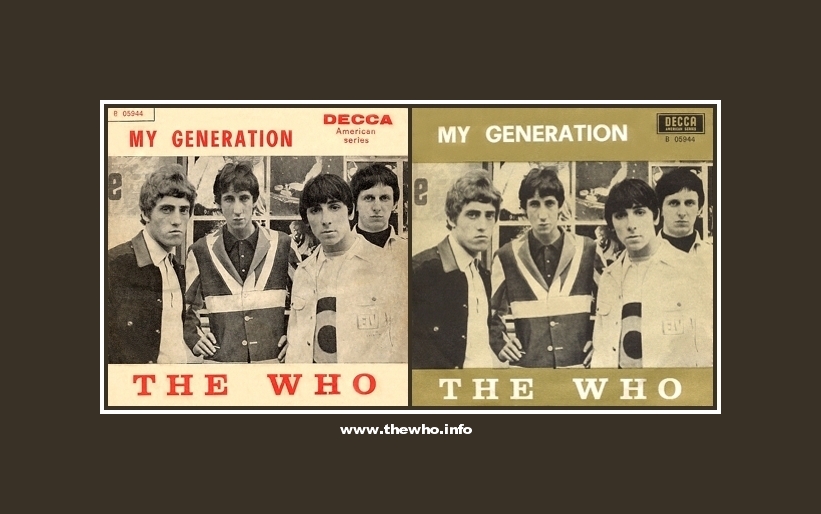 -------------------------------------------------------------
March 10, 2022
The Who - "Substitute" - 1966 & 1967 USA Atco 45s...
Looks like this is a case where the record company went a bit mad... The (4) four on the top are from 1966 and the 4 on the bottom are reissues from 1967. I believe there's at least 2-3 more versions... Incidentally, the "rumor" of the "USA-only" vocal ("I try walking forward but my feet walk back") is untrue. This version of the song was released in Canada, South African and Rhodesia (now Zimbabwe)...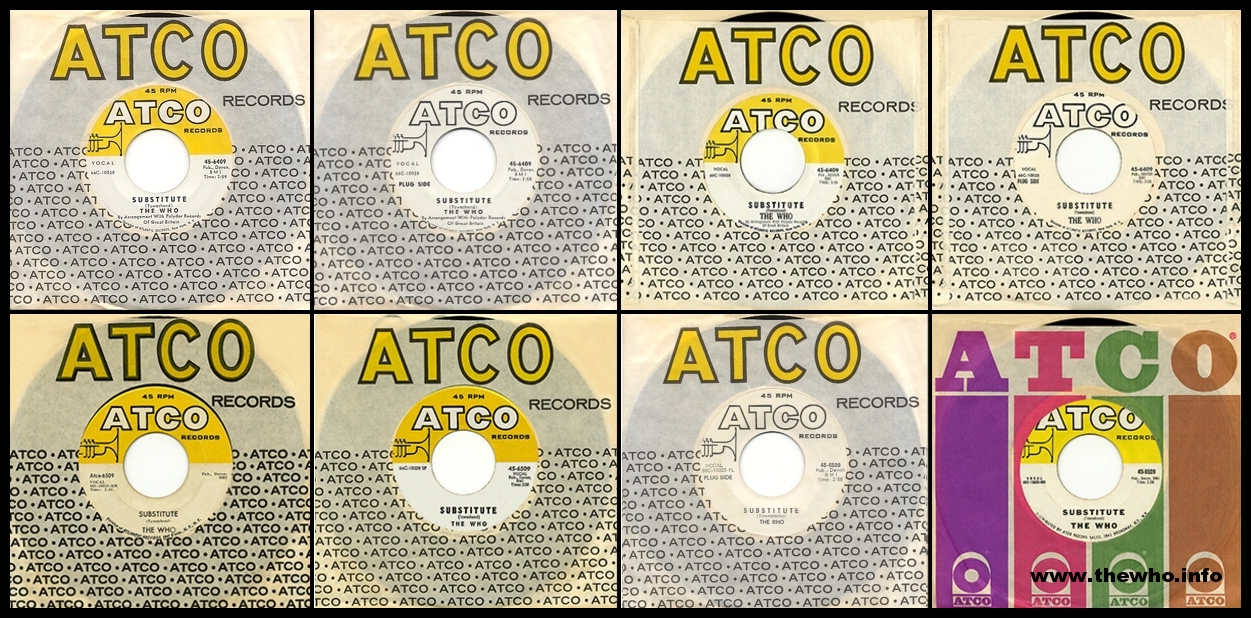 -------------------------------------------------------------
March 9, 2022
The Who - "Summertime Blues" Studio Version(s)
Recently I pulled out all of the various versions of "Summertime Blues" to figure out what was different about all of them (besides the obvious). It was actually interesting what occurred over the years. Below is a UK 10" 1968 acetate, backed with "My Way" that was intended as a possible single... If you are interested more than just the picture, here's a page with the "deep dive" and various versions...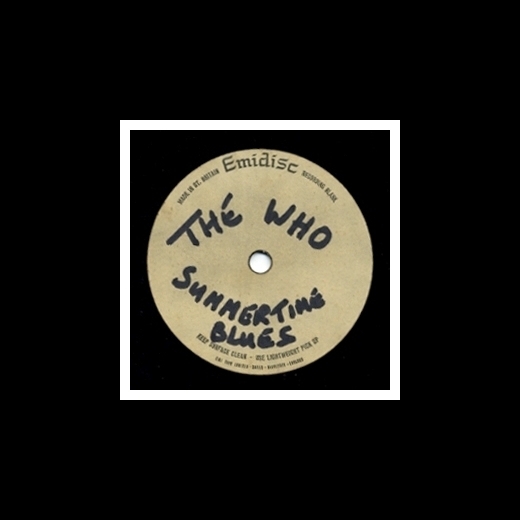 -------------------------------------------------------------
March 8, 2022
The Who/Various Artists – Woodstock – 1970 India LP(s)
These were sold as (3) three individual LPs. What makes them great is the back covers which share the same artwork as the 1970 Live At Leeds India LP (but in 3 different colors). I bought these in Utrecht, NL (Holland) at the Record Faire from a seller from France (who traveled worldwide). At that time, I never saw them before and was amazed how cool they were. For years, I only had the back cover scan of "Record #2" (Blue) on my website, but I just remedied that by scanning the other back covers and here they all are, shown together…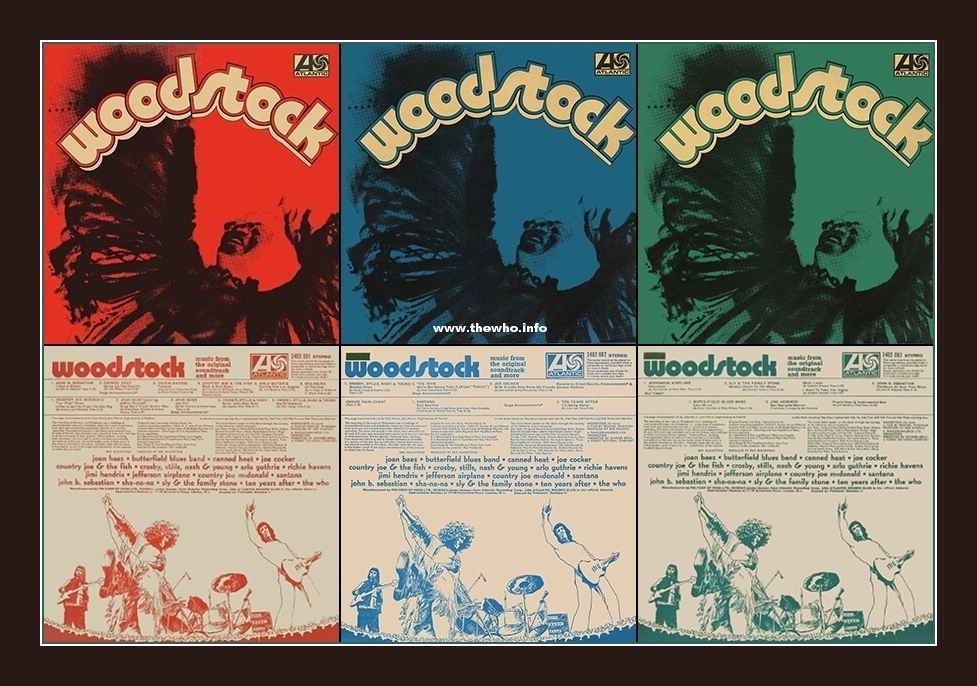 ___________________________________
Copyright 2002, 2003, 2004, 2005, 2006, 2007, 2008, 2009, 2010, 2011, 2012, 2013, 2014, 2015, 2016, 2017, 2018, 2019, 2020, 2021, 2022 | RWhiteFang | All rights reserved. No part of this website may be copied or used for any other purpose without the express permission of the site owner. | This page was last updated on Thursday June 23, 2022 07:00 AM