The Who Info Blog:
August 8, 2022
A Bunch Of New Boots (1970 - 2022)
I spent the last <almost> 3 days updating my website with a lot of "new stuff". Some of those items included the boots you see pictured. I had been recently contemplating creating a whole new website in order to make something that's more functional for mobile users. In the process, I got hooked on making some <hopefully> cool changes to this one.

Boots are a lot work. Scan the pix, listen to some/all of the tracks, create 30 sound samples that either represent the concert (or in some cases, rare tracks often or never played otherwise). While most of these boots sound pretty bad, the sound quality is good enough for computer speakers and with all the performances, helps create a representative history of the band - which is a good thing. If John Entwistle were still alive, he would have liked this a lot.
So... what is there to say about this weekend's batch? Mixed results. Cleveland 1970 was pretty bad, The Forum '73 OK, (2) two of the (3) 1975/76 pretty decent and lastly - Roger's 2022 decent and great performances (God bless Roger Daltrey!).

If you go to the New Stuff link, you can find the specific pages where the track listings and sound samples are hiding in plain site... Enjoy!

---
August 4, 2022
The Who - Who Are You - 1978 UK LP Proof Copy
This unique item is a <rejected> proof art cover for the Who Are You album. They had their band photo finalized, but couldn't decide on the lettering apparently. What's interesting here, is that "The Who" was used for their Japan pressing (but with the same yellow print color as the final UK copy) and they retained the <orange> color of the print for the USA and Canada markets (in a no good idea shall go unused scenario).
I bought this on eBay after much ado (that lasted a long time). The seller initially had this listed for ~$1,500. I contacted him, told him I was interested but that collectors are generally nervous over such items and don't pay a lot *. He asked me what I thought it was worth (I told him I thought it was worth his price, but in the marketplace - nobody is going to pay that much, so I would give him $100). That didn't go very far... So, he kept listing and re-listing the sleeve and over time, gradually reducing the price. About a year (or two) later, the price was a lot closer to what I wanted to pay. I contacted him again and expressed my continued interest. By this time, he saw that I was right, but he had paid more than what I initially offered. So we worked out a price and that was that. Just like Archie Bunker used to say, "Patience is a virgin."
* I've noticed over the years, that many collectors are "risk adverse" as in... ...they don't want to be the first to make a mistake and overpay for something that may turn out to be a fake. Sometimes I will get the "what do you think?" email or, "well if it's on Fang's site, then..." (Of course this seems to be completely out the window lately as a few misguided numbskulls are paying ridiculous prices for fake Mexico sleeves, but that's a different story...)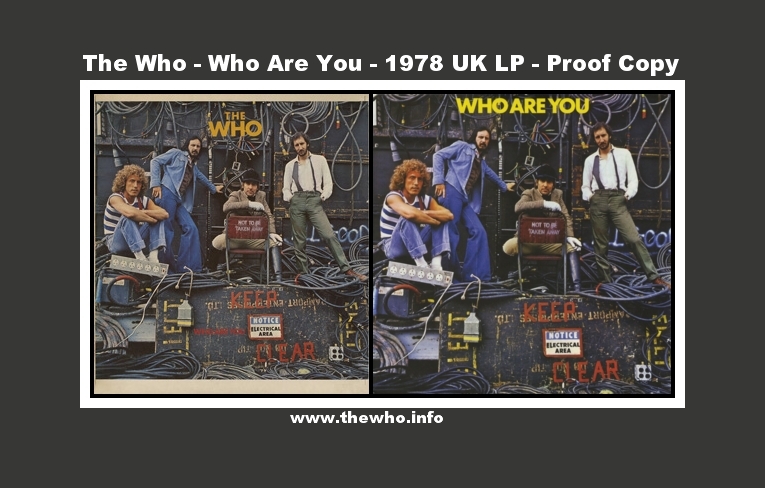 ---
August 3, 2022
Electric Tommy - 1971/1975 USA LP(s)
I used to see these LPs in the Who record bins in the late 1970's. I had no idea what they were, but saw them everywhere. Then (naturally), the day I decided to buy a copy... all gone!
This morning I was reminded of this album when scrolling on Facebook. My friend, Isao is doing a Tommy special and had a copy displayed. So... why not do a post on this album?
There are (2) two different versions of the LP - Viva label (left) and Chelsea label (right). Same track list and contents, different cover art and label...
There's also some confusion regarding the release date(s). Some sources list 1971 and others, 1975. Apparently the Viva pressing was released in 1971 and the Chelsea pressing is the1975 reissue. What's interesting is... the music arraignments sound more like Tommy Soundtrack versions (1975) than the original "Tommy" (1969)... go figure...
The album itself is actually pretty cool. Synthesizer, drums, guitar and keyboards. Never available on CD, but apparently you can buy this as a digital download...
Track listing: Tune Up / Overture, Pin Ball Wizard, Amazing Journey, Christmas Tommy, Tommy Can You Hear Me?, Fiddle Around, Sally Simpson, Sparks, Welcome, Go To The Mirror Boy
Sound Samples:
Amazing Journey Christmas Go To The Mirror Boy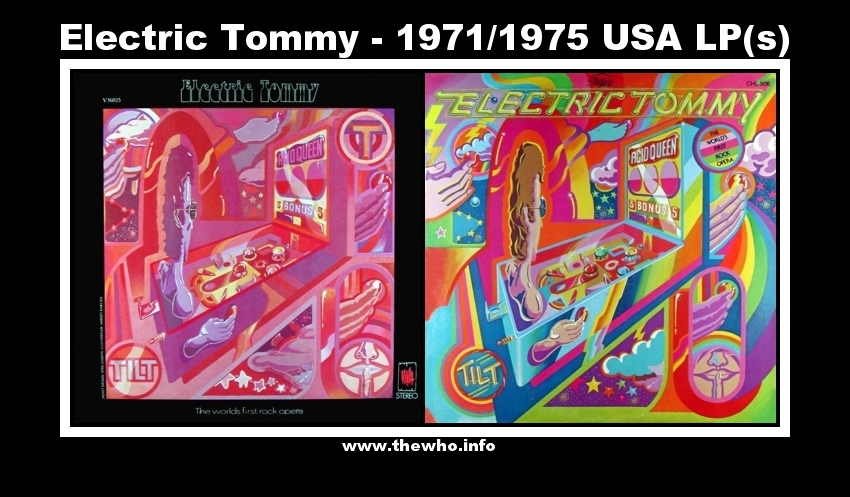 ---
August 2, 2022
John Entwistle - Reboots Solo Career - Part 2B
The fax... In late 1995, Mrs. Fang was working with John designing his Left For Dead Tourbook. Occasionally, there was the late night call. On this particular night, I was fast asleep at 2AM, only to be woken up with,
"Where can I find the sheet music for '905'?"
Whaaaaaaat? Apparently John had looked all over Quarwood looking for an LP of Who Are You to rehearse "905" for the upcoming tour. Since he couldn't find it (extremely large mansion with a lot of "stuff"), he knew I would have a copy of the sheet music. I did (it was included within the Who Are You song book).
What John wants, John gets. I scanned in the (7) seven pages, added the text and page numbers and faxed him the sheet music...
I somehow thought at the time (even while mostly asleep), that this would make a good story one day...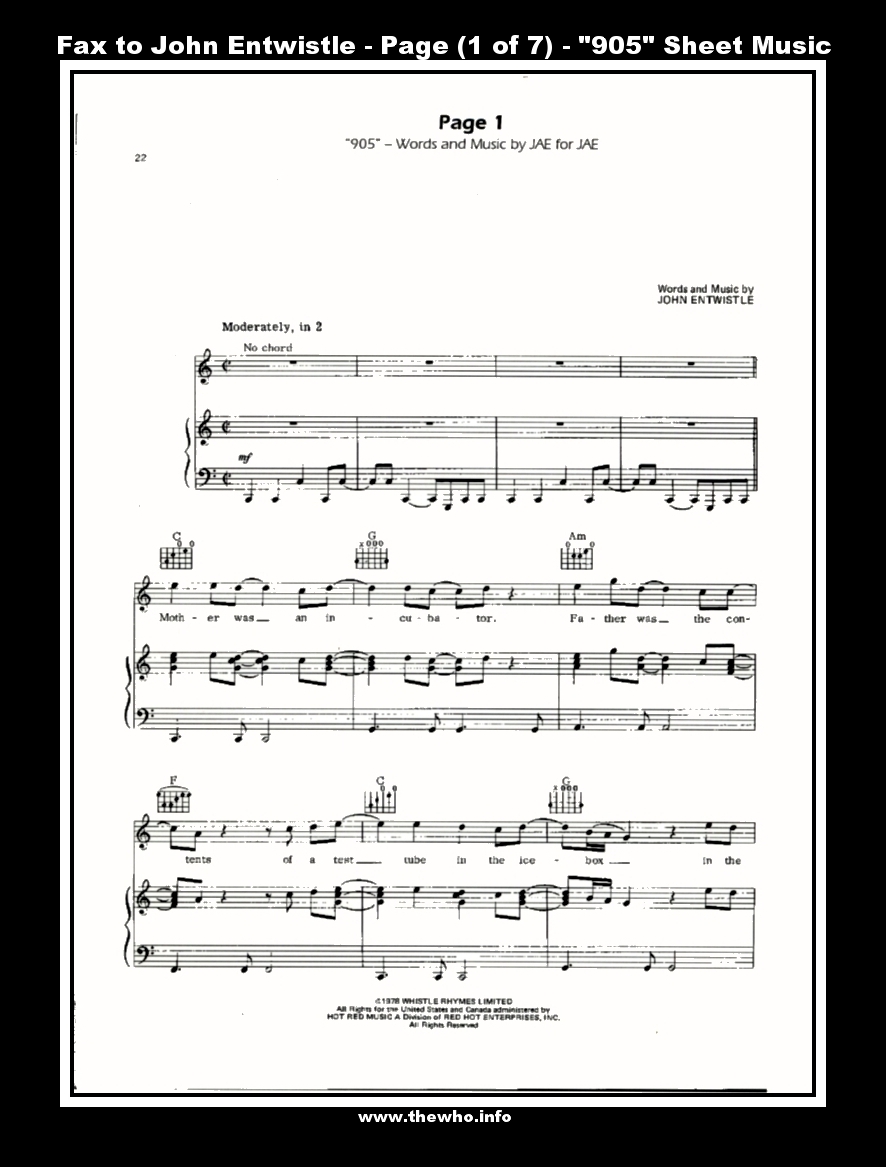 ---
August 2, 2022
John Entwistle - Reboots Solo Career - Part 2A
Well lookee lookee here! While searching for something else, I accidentally found this! This is the track list of the tape I sent John (& Co) in December, 1995.
Several songs were never played (i.e. "Dr. Jekyll" and "I Can See For Miles"). Some of these songs, John said, "...impossible to play live." (i.e. "When I Was A Boy", "One At A Time" & "Dancing Master").
For some reason, I thought I had hand written this with the tape, but... (obviously not!)
I also recall (and perhaps will find), a "part 2" to this. "905" is not included here, but John needed me to fax the sheet music to him at 2AM!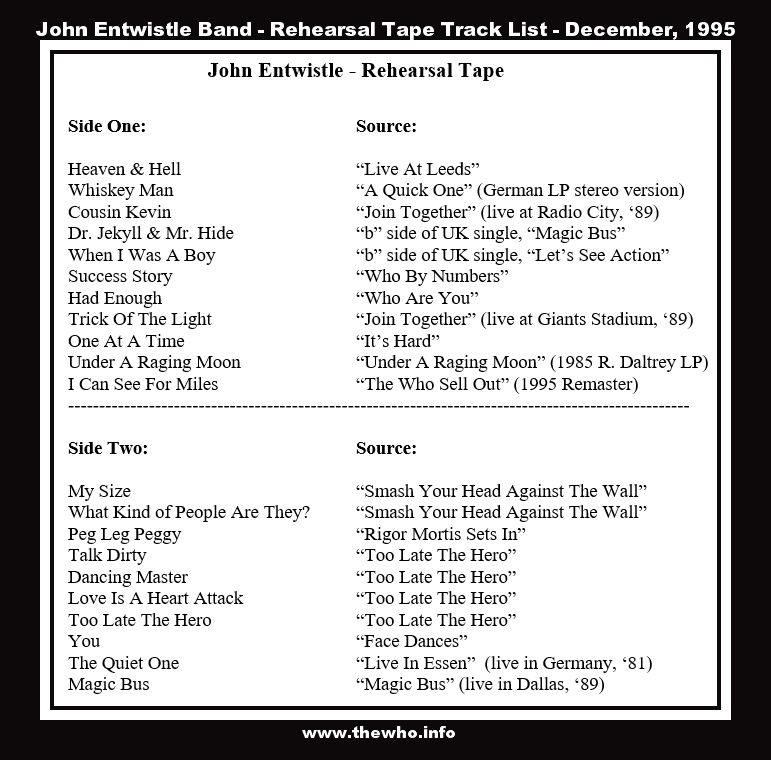 ---
August 2, 2022
John Entwistle - Reboots Solo Career - Part 2
Just prior to joining Rat Race Choir on the road in 1987, John had finished recording another solo/solo band album in 1986... The Rock. This album was a departure from John's previous solo albums as he wanted it to be a "band album" (of which he was a member), vs. a solo album (which was all about him). The album was set to be released in 1988. I recall being out to lunch one day and hearing John on the Scott Muni Show playing tracks from and promoting the "soon to be released album". Unfortunately, just prior to the release, the record co was "busted by the FBI". John had already assembled a new band, comprised mostly of band members that played on the album (but substituting Zak Starkey for the drummer from Rat Race Choir).
I was fortunate enough to see this band on July 2, 1988 at the Stone Pony in Abury Park, NJ. One of the first in the door, I planted myself right in front of John. It was a tight, powerful show, with a set list mostly comprised of songs from "The Rock", as well as some of John's Who and solo songs. I will never forget the bass lines belted out from "Love Is A Heart Attack" - a fantastic rendition. Lead singer, Henry Small sang most of songs.
The 1988 band didn't hold together. The Who reunion of 1989 and stories of band member "infighting", left many bad feelings.
John's next attempt at a band, was a very short lived "superstar" band called The Best (band members included, Jeff "Skunk" Baxter, Simon Philips, Joe Walsh and Keith Emerson). Not exactly sure what happened here, but they really sounded good.
In 1995, a new John Entwistle Band was being formed. A member of that band popped into my Who forum and announced himself. Nobody responded, but I immediately sent him a private message asking him what the plans were. Basically, they was looking to recreate the 1987 set list of Who covers. I explained to him that John's fans didn't want a "Who Cover Band" and were greatly disappointed with that concept in 1987. We discussed set lists at length and I created a "set list tape" of what I thought would be a great fit for the band - most of the songs were adopted (with a few exceptions that John later told me, "...were impossible to play live.").
The newly formed band got off to a great start, initially supporting "The Rock" (again), but this time, copies of the newly released CD were for sold at the shows. Fans were thrilled over this version of the band, but the band was not without its share of problems... (Stay Tuned For Part 3)

Sound Samples:
Love Is A Heart Attack 1988 You 1988 Bridges Under The Water 1988 Bridges Under The Water 1996 Life After Love 1988 Life After Love 1996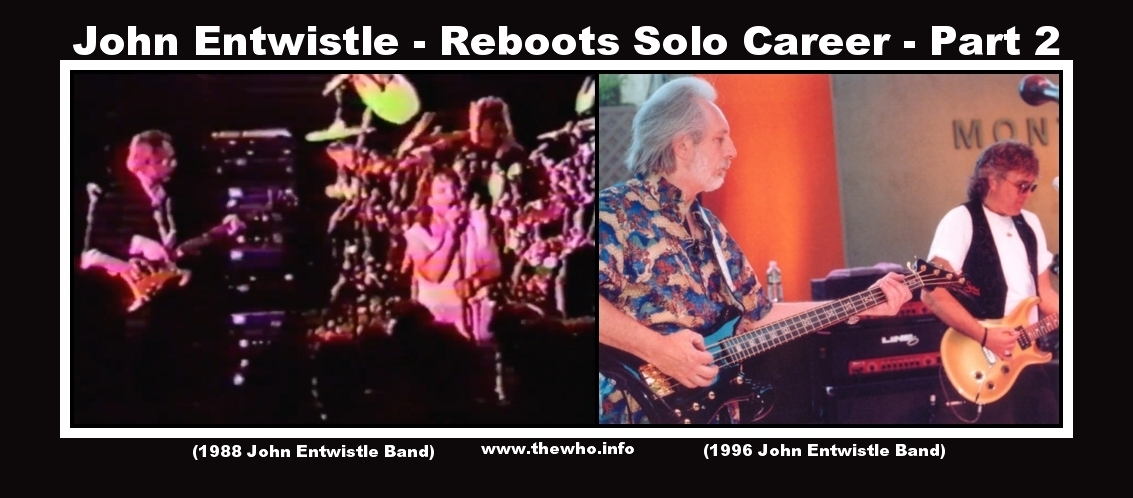 ---
August 1, 2022
The Who - The Beat - 1967 Germany LP
Before the days of eBay and easy Internet shopping, "The Who - The Beat" was considered a rare and expensive item. In the late 1980's through the 1990's, prices were typically between $100 and $250 (if you could find one). I found this copy in 1995 at a small record show for only $80. I couldn't have been happier. One of the best Who LP covers (and check out Pete's tie).
Essentially, this is a colorful Germany reissue of My Generation. Note the big "stereo" print on the label. Back in the 1960's, there were several methods to simulate stereo, but none of them any good. For this album, they drowned it in reverb.
Here's a sound sample of My Generation
Thanks to eBay (and similar), copies of this album can be obtained for even a fraction of what I paid. It may not sound great, but you can't beat the cover...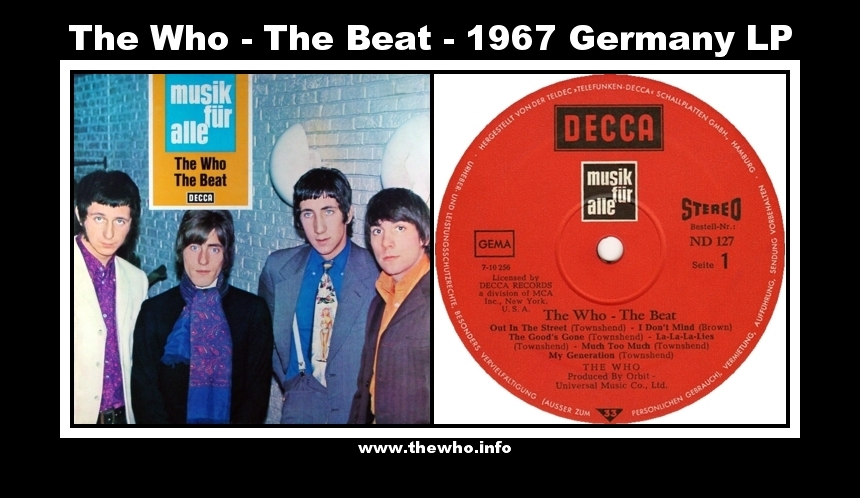 ---
(FOR PREVIOUS BLOG POSTS - CLICK NEXT)
___________________________________
Copyright 2002, 2003, 2004, 2005, 2006, 2007, 2008, 2009, 2010, 2011, 2012, 2013, 2014, 2015, 2016, 2017, 2018, 2019, 2020, 2021, 2022 | RWhiteFang | All rights reserved. No part of this website may be copied or used for any other purpose without the express permission of the site owner. | This page was last updated on Monday August 08, 2022 06:43 AM